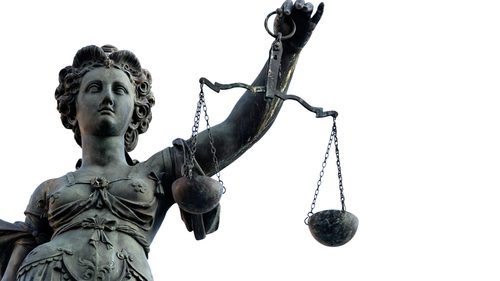 Interested in the but don't want to be a lawyer? You might want to consider some of these alternative legal career paths!
Here are the first five out of nine alternative careers in the criminal justice system.
1. Court Officer
Job Description
Love a bit of courtroom drama but don't want to be a player?
Working as a court officer, you'll be exposed to all the ins and outs of court processes – from liaising with judicial officers, lawyers, witnesses and defendants, to administrative tasks such as administering oaths, preparing court equipment, and maintaining exhibits.
Some specialist court officers such as sheriffs also provide security services to the courts.
Court officers work in all levels of the court system, as well as tribunals, so no matter where your interest in the law lies there will be something for you.
Skills
You'll need to have good communication skills, be well-mannered, have good organisational skills, be responsible, and have good character – which means no criminal record.
Qualifications
HSC at a minimum – but tertiary qualifications are desirable.
Consider TAFE courses such as a Certificate in Government – Court Compliance, or university courses such as an Associate Degree in Law or Justice Studies.
Most of the training, however, is on the job.
2. Prison Guard
Job Description
Enjoy a challenging workplace and interested in law enforcement?
Prison guards, also known as correctional officers, are responsible for the custody, care and supervision of inmates within prisons.
Besides providing security services, they play an important role in ensuring the needs of inmates are met and even preparing prisoners for their transition into society by supervising rehabilitation programs and liaising with discharge and parole officers.
But it's not a job for the faint-hearted – prison guards often have to make quick decisions when dealing with difficult people, and maintain a positive and respectful relationship with inmates while exercising authority appropriately.
Prisons are located all around the state and country, which means you may have the opportunity to work in a wide range of environments and locations.
Skills
The ability to work with others in a challenging and stressful environment, and exercise authority appropriately.
Skills such as patience, discipline, empathy, communication skills and a sense of cultural awareness are also necessary.
Qualifications
Year 10 at a minimum.
After leaving school, you'll have to undertake a literacy and numeracy assessment, as well as a police check and medical and psychological assessments.
You will then have to complete a 9-week, full-time, paid training course before commencing employment in a correctional facility.
You will need to have a current driver licence and first aid certificate.
3. Paralegal/Law Clerk
Job Description
Have good organisational skills and want to work with lawyers and clients?
If you're interested in a career in the law, working as a paralegal in a law firm or government agency is a great way to get a foot in the door.
You'll be responsible for carrying out administrative tasks such as preparing and filing documents, undertaking legal research, communicating with and assisting clients, lawyers and courts, and in some cases, billing and invoicing work.
For those studying law at university, it's a great way to pick up some practical skills and gain exposure to the legal profession – but you can also work as a paralegal if you don't want to end up working as a lawyer.
Skills
You'll have to be highly organised, have good time management skills, be able to communicate effectively in both a written and verbal manner, and be able to priorities and work to deadlines under pressure.
Qualifications
You won't normally need any formal qualifications as a lot of training is on the job, but employers may be more interested in applicants studying law or with a legal background.
For career paralegals, tertiary qualifications are desirable – consider a TAFE certificate or diploma in Legal Services or an Associate Degree in Law – Paralegal Studies.
4. Judge's Associate
Job Description
Judge's Associate positions are coveted by law students around the nation, and positions are notoriously competitive.
You will usually be in your final or penultimate year of legal study to apply, and top marks, excellent research skills and a good knowledge of the law are usually necessary for these positions.
Working in the District, Supreme, Federal and High Courts, you'll be responsible for providing assistance to judges in court proceedings.
It's a fantastic way to build connections within the legal community and develop valuable skills which are easily transferable to legal practice.
Positions are normally for 12 months on a non-ongoing basis, and students are encouraged to apply directly to particular judges that they have an interest in working with.
Skills
A good sense of ethics and justice, an interest in court procedure, an exceptional knowledge of the law, and fantastic research and organisational skills are a must.
You must also be able to work under pressure, have excellent oral and written communication skills, and have a strong work ethic.
Qualifications
Applicants are often in their final or penultimate year of studying law at university. Stellar grades and extracurricular involvement are looked upon favourably.
5. Psychologist
Job Description
Enjoy problem helping people with their underlying issues?
If you've also got an interest in understanding human behaviour, a career as a psychologist may be something to consider.
Psychologists often work with criminal defence lawyers to assess those charged with offences in order to identify any underlying mental health issues, and proposed treatment plans.
They will often be asked to prepare reports that aim to achieve certain outcomes.
Background reports may be used to achieve a more lenient penalty, while other more specific reports may assist a section 32 application, which is an application in the Local Court to have charges dismissed due to a mental health condition as long as the sufferer completes a treatment plan.
Psychologists play an important role in promoting the rehabilitation of those facing mental health, drug and alcohol problems.
Those who write these reports will gain insight into the criminal justice system and mental health laws.
Skills
People skills are obviously a must – psychologists must possess excellent written and verbal communication skills.
They must also be able to demonstrate empathy and understanding towards those who are battling drug, alcohol or mental health problems.
Highly developed analytical skills are also beneficial.
Qualifications
To become a psychologist, you will need to complete a university degree (such as arts, science or social science) majoring in psychology, or alternatively a straight Bachelor of Psychology which takes 4 years.
You will then need to undertake a 2 year postgraduate qualification course in which you will specialise in a particular field of psychology, before undertaking 2 years of supervised work experience.
So there you have it. The first five of nine alternative careers in the criminal justice system.
Stay tuned for part two!
Receive all of our articles weekly