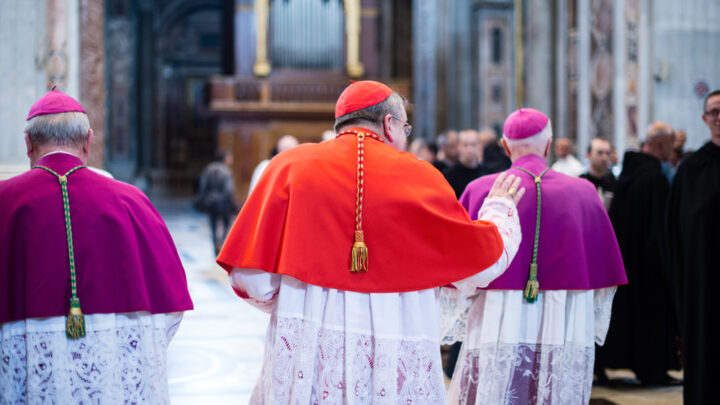 Last year, financial crime watchdog AUSTRAC identified a $1.1 million transfer from the Vatican to Australia in 2017, the same year George Pell was charged with historical child sex offences.
But law enforcement agencies responsible for ascertaining the purpose of large transactions have ceased their investigations into the transfers, despite not ascertaining their purpose and amidst lingering suspicions the money may have been used as 'hush money' for complainants – conduct which, if established, could amount to the criminal offences of attempting to pervert the course of justice or influencing a witness not to attend court.
What is AUSTRAC?
AUSTRAC is the Australian Government agency responsible for detecting criminal abuse of the Australian financial system. It was instrumental in gathering evidence and laying charges against Westpac over alleged money laundering and enabling transactions which supported child sex trafficking.
The story so far
When AUSTRAC discovered the transaction in October last year, following media reports in Italy, it shared the intelligence with three investigative bodies — the Australian Federal Police, Victoria Police and the Independent Broad-based Anti-Corruption Commission (IBAC)
But it seems that any investigations have come to a halt. Victoria Police said that AUSTRAC had not advised it of any "suspicious activity related to these transactions''. While confirming the payments had been wired from the Vatican over a ''period of time'', Victoria Police said it was not prepared to investigate further without other evidence or intelligence.
IBAC also dismissed the case stating the "investigating threshold" had not been met for it to conduct further inquiries. It said the matter would only be further considered if it received any additional, credible information relevant to its jurisdiction.
Large sums of 'unexplained' money
AUSTRAC also appears to have walked away from the issue despite reporting that the Vatican has transferred about $9.5 million to Australia between 2014-2020.
Senior Australian Catholic Church officials deny knowing anything at all about the money. Some have suggested that transfers usually occur the other way – money from various countries is sent to the Vatican.
A Vatican spokesperson also appeared to have no knowledge sof the transactions, telling Australian media that about €800,000 (AUD $1.2 million) had been sent to Australia since 2014, mostly for expenses such as salaries, wages, pensions and travel costs.
Questions remain unanswered
But legitimate questions remain unanswered about these large sums of money – where they are going? Who is controlling them? What is the money being used for? Why cease the investigations when the payments are so large and unexplained?
There have been suggestions that the money may have gone to pay George Pell's accuser, Witness J, who testified that he was sexually abused by Cardinal Pell in 1996 and 1997 at St Patrick's Cathedral in Melbourne with a view to potentially attempting to pervert the course of justice or influencing a witness not to attend court (a complainant being classed as a witness), both of which are criminal offences under the law.
There are also suggestions that the money was used to pay George Pell's legal bill, but without a proper investigation no one will ever know.
Where is George Pell now?
The High Court of Australia acquitted Georgel Pell in April 2020, overturning his 2018 conviction for committing historic sex crimes. He has since returned to the Vatican and despite the fact that The Pope has not officially made any official statements with respect to his return, it would appear that he is actively involved in representing the Church. He recently gave the 2021 commencement address to students of the Catholic Ave Maria University, and was referred to by the title 'Cardinal.'
But while George Pell  may have been acquitted of charges against him personally, he is still guilty in the eyes of many Australians for failing to protect young children from sexual abuse by Catholic Priests.
Shortly after Pell's acquittal by the High Court, the Royal Commission into Institutional Responses to Child Sexual Abuse released the redacted pages it had withheld during criminal proceedings. On these pages, it's summation was clear: Pell was aware of children being sexually abused and failed to do anything about it.
Receive all of our articles weekly