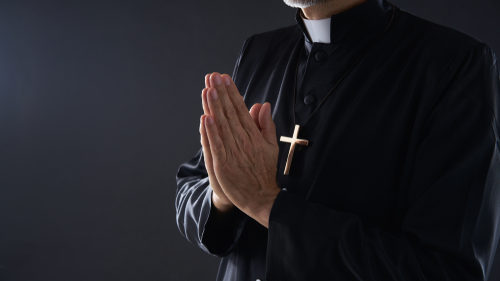 Another priest is behind bars as a result of complaints received in the lead up to the 2014 Royal Commission into Institutional Responses to Child Sexual Abuse.
James Joseph Cunneen has been found guilty in Parramatta District Court of 10 counts of indecent assault against six teenage boys in New South Wales in the late 1980s.
Originally charged with 10 child sex offences against eight teenagers, a jury found James Cunneen guilty for acts committed against six of them.
Molested, even in their sleep
During the trial, the court heard the former Catholic priest molested the boys in different places and situations, including while they were sleeping.
The boys were all friends at a Marist Brothers school in Sydney, and attended the Holy Name of Mary Parish where Father Cunneen was a priest between 1987-1989. The court heard he befriended the boys after they lost one of their friends in a tragic accident.
The former priest, who is now 60 years old, came to the attention of New South Wales police as a result of information given to Australia's Royal Commission in 2014.
After an extensive investigation, police extradited Mr Cunneen back to Australia in 2017. He had moved back home to his native New Zealand in 1997, where he worked for the Department of Education for three years, after which he took a job running betting agencies across the country's north island.
Mr Cunneen will be sentenced in Downing Centre District Court in December.
It has been reported that of the 201 Catholic Church authorities surveyed by the Royal Commission, 92 of them (46%) admitted to having received at least one report of child sexual abuse.
The Royal Commission
During the Royal Commission, 4,444 claimants made reports of abuse against 1800 church officials between 1950-2015.
The Commission found the church had been engaged in a systemic culture of denial, cover-ups and complicity in the sexual misconduct of officials.
It found that children who made allegations were ignored or worse – punished, and that incidents were not investigated. In many cases, priests were simply moved to new parishes, free to re-offend because their new communities knew nothing of their prior conduct.
Since the Commission's final report, several high profile Catholic priests including George Pell have been tried and found guilty of sexually abusing children.
Investigations are continuing, and complainants are continuing to come forward.
Pell's High Court Appeal
In September, lawyers for George Pell filed an application for 'special leave' (permission) to appeal to the High Court of Australia, seeking to persuade the court there are legal grounds to hear the appeal against their client's child sexual assault convictions.
In October, Victoria's Office for Public Prosecutions Prosecutors filed its response to Pell's application.
A jury found the Cardinal Pell guilty of sexually assaulting a 13-year-old choirboy and another boy in 1996. Victoria's court of appeal upheld the convictions by two votes to one.
Pell's application to the High Court is the last chance he has of having his convictions overturned.
His legal team is arguing that, firstly, there was an error in the judicial process, whereby Pell was required to prove the offending was impossible, rather than the prosecution having the onus of proof.
Secondly, they argue, the appeal judges made a mistake in not finding the jury verdict unreasonable because they say there was 'reasonable doubt' regarding whether the opportunity for the crimes actually existed.
The High Court will now consider Pell's special leave application, and decide whether or not it will hear the appeal.
If it decides to do so, then Pell's lawyers need to lodge a formal appeal.
The process could many months or more.
Receive all of our articles weekly