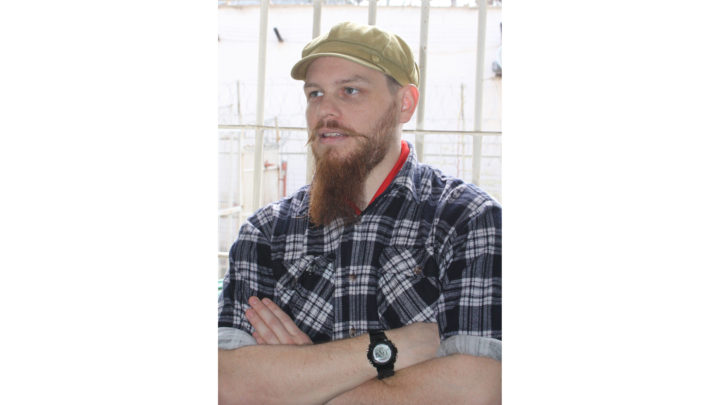 Sydney man Jock Palfreeman has ended his month-long hunger strike inside correctional facilities in Bulgaria. The 32-year-old began his protest on 21 April, with the aim of drawing attention to rights violations in the local prison system, as well as his persecution for speaking out against them.
Mr Palfreeman is into his eleventh year of a twenty year prison sentence, which was imposed over an incident where he stepped in to help two men from a minority ethnic group being pursued by a gang of threatening football supporters in a square in the capital of Sofia.
The 2007 incident tragically resulted in a fatality. Jock has consistently asserted that the death was a result of his defending himself in a situation where he was outnumbered. However, the Bulgarian authorities refused to even consider his position.
Over his years inside, Palfreeman has campaigned to improve the human rights situation of inmates in the Bulgarian prison system. And to provide the cause with a unified voice he established the Bulgarian Prisoners' Rehabilitation Association (BPRA) in July 2012.
Palfreeman's work has been pivotal in bringing about much needed prison reforms. And the BPRA has successfully argued cases in both Bulgarian and European courts. However, Jock's fight for justice has drawn the ire of the reactionary Bulgarian establishment.
Retribution for bringing justice
A local friend of Jock's Dessi Tzoneva explained that he was "striking because of the general repression that is carried out against him by the prison authorities at the instigation of the deputy minister of justice Nikolai Prodanov." She added that he's been targeted for his BPRA activism.
"In this capacity he has been alerting the relevant European authorities about the poor conditions in Bulgarian prisons and the violations of the prisoners' human rights," she further told Sydney Criminal Lawyers just days before he broke his strike.
Prodanov is the minister charged with prisons under the conservative Third Borissov government. Prior to its formation in May 2017, a caretaker government reinstated Petar Krestev to director of Sofia Central Prison: a position he'd lost in 2014 due to human rights violations.
Not only had Palfreeman drawn attention to Krestev's record of abuse, but he also won a case in the European Human Rights Court against punishments the notorious director was meting out. Indeed, for Prodanov stepping into his new role, Palfreeman's crusade was a problem.
And over the last two years, the model prisoner, who had no marks against his name, has had his day release revoked, and has been accused of breaching a number of prison regulations. And while his supporters maintain these are fabricated, they have hindered his chances of parole.
Close to critical
Ms Tzoneva reported on Tuesday that his condition was "more or less stable". He had "naturally lost weight, and, in his words" he was "mostly sleeping or lying in bed" and he was having "difficulties walking."
On 4 May, Palfreeman was transferred from Kazichene low-security prison to the hospital at the Sofia Central maximum-security prison.
A BPRA spokesperson warned via email on the same day that the danger of permanent damage to his health was "becoming increasingly real". They asserted that Jock is being targeted not only for speaking out against the prison administration, but also for criticising the Ministry of Justice itself.
The BPRA asserted that a month into the strike there was still a "deafening silence" from the Justice Ministry and the Sofia Central Prison administration. And the rights group explained that the authorities have been subjecting Jock to "systematic pressure and harassment" over the last years.
In self-defence
"The charges for "murder with hooligan intent" were fabricated and trumped-up as he was acting in self-defence against a group of 15 drunken football fans," Ms Tzoneva stressed. In 2009, Palfreeman was found guilty of the murder of Andrei Monov and the attempted murder of Anton Zahariev.
In the early hours of 28 December 2007, then 21-year-old Palfreeman went to defend a Romani man being set upon by a group of local students in a town square. But, the men turned on him, and Palfreeman pulled out a knife from his pocket, which he claims was to scare away the attackers.
During the ensuing melee, 20-year-old Monov – the son of a prominent politician – received a single fatal stab wound to the side of his chest, while 19-year-old Zahariev was slashed on the side of his torso.
"The court decided to completely ignore the line of the defence, their witnesses and crucial evidence," Tzoneva continued. "And important CCTV footage went mysteriously missing."
Support, but not government
Jock's father, Dr Simon Palfreeman, told the ABC a few weeks back that the Department of Foreign Affairs and Trade have repeatedly failed to address his son's concerns about his treatment under the Bulgarian government. DFAT said he's receiving high-level consular assistance.
Renowned human rights lawyer Geoffrey Robertson has called on the Australian government to give "immediate representations" on Palfreeman's behalf, as he's "a human rights hero being made to suffer extreme privations because of his good work".
And Australian film director Rachael Ward has stepped forward to provide her support, as her "government has dropped the ball". She and other celebrities are trying to get the Bulgarian authorities to move his case forward. And she said he's being "persecuted for telling the truth".
Reform from the inside
The BPRA spokesperson explained that besides local neo-Nazis and those who are a part of or close to the "corrupt political-economical elite", the rest of the Bulgarian population is well-aware that what Mr Palfreeman did was an act of "righteous self-defence".
The Bulgarian Prisoners' Association is a syndicalist human rights movement. Its members are either current or ex-inmates collectively campaigning for their basic rights. The BPRA provides legal support to those suing Bulgarian authorities over rights violations.
And in concluding on Tuesday, the spokesperson stressed that for the BPRA what someone has done prior to being sent to prison, is not as important as what they do on the inside.
"That's because our core goals are rehabilitation and change," the spokesperson made clear, "the exact opposite of the policy of the Bulgarian authorities, which is punishment and repression."
An end to the strike
Late on Thursday night AEST, the BPRA messaged through a statement explaining that Mr Palfreeman had ended his hunger strike on its 33rd day for personal reasons.
"On one hand, this weekend he will be visited by his family, traveling all the way from Australia," the statement reads. "On the other, he wants to be able to speak with the media who have contacted the prison requesting interviews."
Photo credit: Dani Dobreva
Receive all of our articles weekly