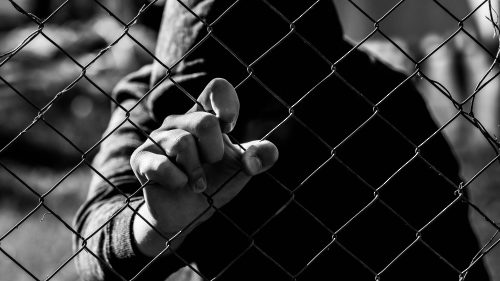 Sunday night's riot and the subsequent standoff at the Frank Baxter Juvenile Justice Centre has drawn keen attention towards the broken NSW youth justice system, which sees highly disadvantaged children and youths locked away in under resourced facilities.
The riot began at around 8.30 pm on 21 July, when four youths reportedly surrounded a juvenile justice officer and stole their set of keys to the Kariong facility situated on the NSW Central Coast, nearby to Gosford.
After they obtained tools to use as weapons from the maintenance shed, the detainees set about releasing around 30 other youths from their cells. And then the larger group set about targeting inmates who are known sexual offenders.
Around 20 youths took to a rooftop of one of the buildings, which is where they spent the night in near freezing conditions. Guards retreated and police took over the situation, forming a perimeter around the facility. And six injured youths were hospitalised.
By 2 pm Monday, eight juvenile detainees had climbed down from the roof and surrendered themselves to police, while just prior to 5.30 pm, a tactical response group brought the 21 hour standoff to an end, when it rounded up the remaining dozen or so youths.
Pushed to the brink
"It will be interesting to hear what it was about from the detainees, because I don't think there's been any clarity around what the trigger was," said Youth Action CEO Katie Acheson. "But, what we do know is that the centre has been under investigation for a number of years."
"Both detainees and the guards have said that the prison needs reforms and more investment," the youth advocate further told Sydney Criminal Lawyers. "And there's been concerns over the safety of detainees."
The Frank Baxter Juvenile Justice Centre is the largest youth justice facility in the state, with a capacity to detain 120 young males. The centre is designed to incarcerate offenders aged between 16 and 21.
In January 2017, the centre made headlines, when a brawl broke out between detainees, which resulted in three staff being injured. And since 2016, the number of incidents in the Baxter facility has increased, particularly for self-harm and injury.
According to Ms Acheson, the rooftop standoff points to deep-seated issues within the juvenile justice centre, as what took place was no "walk in the park". The youths involved were putting themselves at risk on what was a particularly cold night to be stuck on a roof.
"There are obviously significant problems going on if the detainees are making a stand," Ms Acheson emphasised. "The question behind it is, what's going on in there that it's got to the point where detainees feel like this is what they need to do?"
The greatest child incarcerator
Youth Action is the peak body representing young people in NSW. The organisation asserts that youths should only be sent to prison as a sanction of last resort. And when locking up a young person is warranted, the environment they're sent to should be safe and rehabilitative.
Over the four year period ending in June last year, NSW consistently had the largest number of youths locked up, compared with all other Australian states and territories, a 2018 Australian Institute of Health and Welfare report sets out.
There were 246 youths being held in NSW juvenile justice facilities in March this year, according to NSW Bureau of Crime Statistics and Research figures. Of these, 220 were boys, while 26 were girls. And the average age of these detainees was 16.6 years old.
What's more disturbing is that around two-thirds – 149 – of these incarcerated children were on remand, which means either they hadn't been sentenced or some even convicted. So, it's very likely that more than of few of those youth remandees were eventually found not guilty and released.
In keeping with the racism inherent in the NSW criminal justice system, this state was incarcerating 118 First Nations youths. This accounted for 48 percent of the entire youth detainee population, while Indigenous youths only make up around 5 percent of the state's populace under the age of 18.
And a 2013 UNSW report found that 87 percent of youths being held in juvenile justice centres in this state had a mental health condition or cognitive impairment, which compared with just 22 percent of the general population.
Entrenched disadvantage
"The young people who are being locked away are extremely vulnerable," Ms Acheson continued. "They're coming from communities and places where they haven't had the support that's been necessary."
Indeed, 2015 research by Jesuit Social Services found that those living in the 3 percent most disadvantaged suburbs in NSW were 3.6 times more likely to have spent time in prison and more than three times more likely to experience long-term unemployment.
These figures – which remain consistent when looking back over 15 years – also reveal that children and youths from these areas are three times more likely to have a low level of education or to experience domestic violence, and twice as likely to have a disability or mental health issue.
Violating the rights of children
Of particular concern to Youth Action, Ms Acheson said, is the age of criminal responsibility in Australia. In NSW, as well as all other jurisdictions in this country, children as young as 10 years old can be incarcerated.
"Many nations around the world say it is 14 at the very lowest," Ms Acheson went on. "Some say it's 15. So, you're not locking up children early in their development in centres where there are young adults in the same place."
And the youth advocate also warned that the numerous reports that have been carried out on the NSW juvenile justice system reveal that the use of strip searches and solitary confinement is rife within the facilities.
Indeed, the Mandela Rules – the UN Standard Minimum Rules for the Treatment of Prisoners – recommend that solitary confinement should be prohibited in cases involving children. And the UN Rules for the Protection of Juveniles Deprived of Their Liberty does the same.
A major system overhaul
Authorities had 21 youths in custody on Monday night in relation to the Baxter riot. And police are now threatening them with a charge of riot, which comes with a maximum sentence of up to 15 years inside.
NSW minister for families and communities Gareth Ward has called for an "urgent independent review" of the incident. And he added that this would be in addition to plans that are already underway to establish a high-risk offenders unit at the facility.
Ms Acheson outlined that what the Baxter riot clearly points to is the need for a review of not just state juvenile detention centres, but also on how the community responds to juvenile offenders in general, with a focus on alternatives to locking up kids.
"These are some young people crying out for our help and we need to be able to listen to them," Ms Acheson concluded. And as the system is "not producing the outcomes that we want, then we need significant reform immediately before somebody dies."
Receive all of our articles weekly