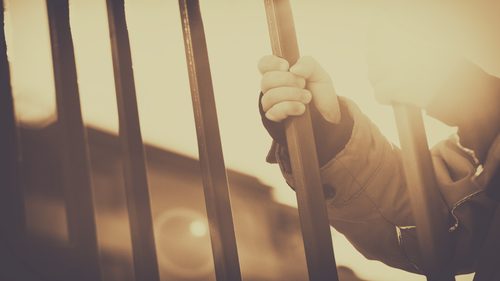 Four more young people have been sent to an adult prison in Victoria, after allegedly being involved in the state's continued rioting at juvenile detention centres. On Monday, a magistrate ruled the youths couldn't be controlled in youth custody, and threatened the safety of the juvenile detention centre.
Rioting broke out at Malmsbury youth justice centre in central Victoria last Thursday, when six detainees are said to have refused to follow orders by corrections staff to move into another unit of the centre. The youths were allegedly armed with metal bars and locked themselves in a secure area.
Fifty police were called in to quell the unrest at around 2pm that afternoon.
Continued rioting at Parkville
It was the second riot to break out at a juvenile detention centre in Victoria in less than a week. On January 7, seven young men threatened staff with metal bars and caused damage at Parkville youth justice centre. They climbed into a roof cavity and had a prolonged standoff with police.
More than half the centre is now closed due to rioting that first occurred in March last year. Four units that were destroyed during several riots in November are still inoperable and 73 of the centre's 120 beds have been lost.
The Victorian Liberal party said there have been 28 riots within the state's overcrowded juvenile detention facilities over the last 12 months.
The minister says she still has control
In the wake of the Malmsbury riots, Victorian youth affairs minister, Jenny Mikako, denied that her government had lost control of the state's youth justice system. She said the riots were not unique to Victoria and blamed them on the increasingly violent nature of offenders.
The minister added that those usually involved in the rioting are on remand.
Ian Lanyon, the director of secure services, agreed with Ms Mikakos' comments and added that the increasing violence could be attributed to use of the drug ice. He went on to emphasise that there were no drugs within the centres, but said ice stays in young people's systems for a long time.
Locking up Victorian youth in adult prisons
The four youths, aged 18 and 19, who were sent to the Barwon prison on Monday are not the first youth detainees to be sent to the adult facility over recent months.
After the Parkville riots in November last year, the state government announced it would be sending up to 40 youth detainees to the maximum security prison.
A last minute deal was struck with the Victorian Aboriginal Legal Service that resulted in no Indigenous youths – who make up 80 percent of all children in youth detention in Victoria – being sent to the facility.
The remaining 15 non-Indigenous youth detainees were sent to the prison, eleven of whom are still said to be held there at present.
The Victorian Supreme Court ruled that the detaining of the youth offenders in the adult prison was unlawful in late December and ordered that the inmates be moved into juvenile detention that same day.
However, on the following day, the Andrew's government announced it was reclassifying the Grevillea unit of the prison – where the young inmates are being held – a juvenile detention centre and that the remaining 12 youth detainees being held there at the time would continue to be so.
The government's answer is more facilities
Minister Mikakos also outlined on Friday that the government was undertaking a review of youth facilities and their behaviour management training. She said that fortification works were underway at the Parkville youth justice facility. This includes placing steel in the ceilings to prevent inmates from entering them again.
The minister further added that a business case being drawn up for a new youth facility has been expedited. There has been suggestions that Parkville might be closed and the land sold in order to help fund what has been described as a massive project.
The underlying causes of crime need to be addressed
However, building additional and larger juvenile detention centres doesn't address the underlying issues that are leading Victorian youth to end up in the state's overcrowded youth justice facilities.
It's been shown that a quarter of Victoria's adult prisoners come from just 2 percent of the state's postcodes and half are from 6 percent. And it can be assumed that a similar pattern is occurring in regards to the state's youth detainees.
Experts argue that the government needs to provide greater funding programs that deal with the social disadvantage that is leading these young people into a life of crime. These programs could provide encouragement to young people who find themselves isolated from the rest of the community.
The revolving door of the criminal justice system
Victorian adult recidivism rates are high. Around 44 percent of inmates return to prison within two years of release. And these numbers are even higher for people aged between 18 and 25, more than half of whom return within 24 months after release.
Placing young offenders into correctional facilities is simply placing them into a system that creates "revolving door" criminals. However, the Australian criminal justice system's answer at present is to hand down harsher sentences and incarcerate more people.
Restorative justice: an alternative
The European model of restorative justice for juveniles emphasises reintegration over retribution and focuses on the underlying causes of offending. This method involves strengthening a youth's bond with the rest of the community and stimulates an awareness of their responsibilities.
Young offenders that participate in community-based processes – such as mediation and conflict resolution – are made to meet the victims of their crimes and learn of the impact that their actions have actually had.
These methods have been shown to lead to lower recidivism rates.
Rather than building larger detention centres and sending youth detainees to adult prisons, it's time for Australian authorities to invest in programs that will address young offenders underlying social disadvantage and release them from the cycle of crime that they find themselves within.
Receive all of our articles weekly