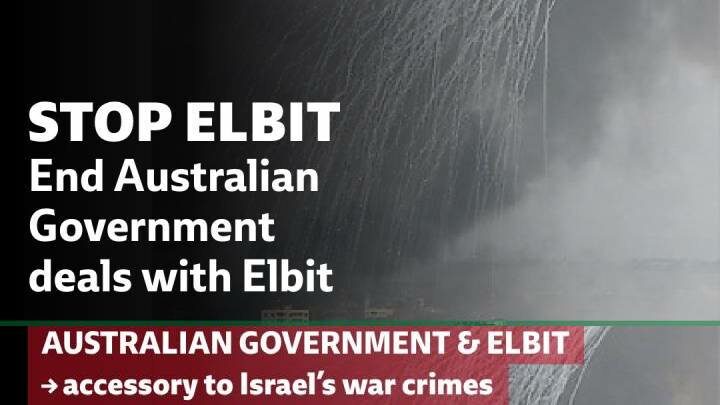 A coalition of civil society organisations supporting the rights of Palestinians are calling on the Morrison government and the Andrews government to boycott their involvement with Israeli-based defence intelligence and weapons company Elbit Systems.
This campaign was sparked by recent successful lobbying that saw Australian sovereign wealth fund Future Fund pull out of its dealings with local subsidiary Elbit Systems Australia on the basis that the transnational has links to the manufacture of internationally illegal cluster munitions.
"The Australian government's eagerness to enhance defence industry cooperation and partnerships with Israeli defence firms has been forged in complete disregard of Australia's international legal obligations, and respect for Palestinian rights," explained lawyer Rawan Arraf of the new campaign.
As Australian Centre for International Justice (ACIJ) executive director, Arraf played a key role in getting the Future Fund result across the line. And the Palestinian Australian is also calling out the Victorian government on it establishing a joint research venture with Elbit Systems in Melbourne.
Rising Palestinian support
Although it wasn't the first time Israel has been classified as an apartheid state, the Amnesty International report released in February, which details why Palestinians are being subjected to the crime of apartheid, carries the most weight due to the authority of the human rights organisation.
And while governments and much of the media have played down the report's findings, its impact is likely to grow exponentially as other publications become less hesitant in using the term apartheid in reference to Israel, which will then lead more to see reason as to why to add their support.
Amnesty's report, however, isn't the only recent development that reveals that there's now heightened grassroots support for the plight of the Palestinians, as the internationally recognised boycott of this year's Sydney Festival was unprecedented and is sure to inspire further such actions.
The boycott was triggered after festival organisers accepted funding from the local Israeli Embassy, which further involved its logo being displayed on official merchandise. 
Over 100 artists and crew members eventually withdrew their participation, with a number of First Nations performers leading the way.
Nonviolence can end apartheid
Of course, the festival boycott was using one of the key methods Boycott, Divestment and Sanctions (BDS) advocates as a proven nonviolent way that civilians can partake in forging real political change in Israel to bring about an end to the oppression of the Palestinian people.
BDS has based its model on the global boycott campaign the Anti-Apartheid Movement brought against South Africa in the 1980s. It placed such pressure on the De Klerk government that the nation's decades-long system of racial segregation was brought to an end in the early 90s.
Sydney Criminal Lawyers asked BDS Australia secretary Sonja Sedmak and deputy convenor Peter Slezak about why the Future Fund's boycott stance didn't go far enough, the reasons for Australia's blind support of Israel, as well as what Palestinian liberation will look like.
BDS Australia was amongst the coalition of civil society groups welcoming Future Fund for taking a stand on withdrawing investment from Elbit Systems due to its alleged association with cluster munitions.
However, you've further suggested that the sovereign wealth fund ban should have included concerns about how Elbit is operating in Israel and the Palestinian Occupied Territories in its reasoning.
Can you talk on why this is important, and what Elbit's operations consist of?
Elbit Systems is the subject of international condemnation and divestment due to its complicity with Israel's grave violations of international law and human rights conventions.
As Israel's largest privately-owned arms and security company, it's responsible for the production of 85 percent of the drones and land-based equipment used by the Israeli military against Palestinians.
It's a major arms exporter that markets its weapons as being "field tested", which refers to the Israeli Defence Force's extensive use of Elbit weapons against Palestinian civilians in the Occupied Palestinian Territories and in Gaza.
Elbit drones were used in successive attacks on civilians in Gaza in 2009, 2012 and in Israel's 2014 Operation Protective Edge, which is now the subject of an International Criminal Court investigation.
Elbit drones are also used for 24/7 surveillance throughout the occupied West Bank, East Jerusalem and Gaza.
They're used to monitor a civilian population, who are subject to arbitrary arrest and imprisonment, which is enabled by these drones and other surveillance technologies that Israel uses to control and dominate Palestinians in these areas.
Elbit provides electronics for the "separation wall", which was deemed illegal by the International Court of Justice in July 2004.
In 2018, Amnesty International reiterated its call for a comprehensive arms embargo of Israel as a result of the indiscriminate shooting of unarmed protestors at the Gaza fence using weapons produced by IMI: an Israeli arms manufacturer taken over by Elbit that same year.
The involvement of Elbit Systems in supporting Israel's ongoing grave violations of human rights and international law, some of which are considered to be war crimes, are reasons for divestment.
By limiting its reasons for divestment to Elbit's involvement in the production of illegal weapons, the Future Fund is failing to acknowledge these crimes and the complete reasons for divestment.
The coalition is also calling on the Australian and Victorian governments to abandon their dealings with Elbit Systems Australia. The federal government has contracts with the local subsidiary going back to 2008.
However, the Victorian government only recently announced it's entering into a partnership with Elbit Systems Australia involving the establishment of an AI research centre. And the Andrews government press release makes it sound like a wholesome proposition.
Why is it problematic that the Labor state government moves in this direction? And beyond the gloss of the release, how would you describe the real implications of this centre?
The Victorian government has supported Elbit Systems of Australia in the establishment of an AI Centre of Excellence in Melbourne, which it's claimed will produce applications that can be used across the defence, homeland security, and emergency services sectors.
This centre will facilitate collaboration between people and autonomous systems, with the support of Victorian universities and research organisations.
Supporting or entering into agreements with an arms company, which has such an appalling record of supporting Israel's crimes against Palestinian civilians for the development of hi-tech weapons makes the Victorian government and any universities that enter into similar agreements or partnerships, complicit in the ongoing violations of human rights and international human rights law by Israel.
Additionally, by supporting Elbit's development of this form of AI weaponry or security technology, Australia is potentially breaching the Arms Trade Treaty, to which it is a signatory.
In terms of the federal government, it's moving forward with its defence contracts with Elbit, while DFAT is running a feasibility inquiry into whether Australia should enter into a free trade agreement with Israel.
These growing industry relations have been accompanied by stronger rhetoric of support of Israel. Why does this nation have such a strong commitment to that nation? And how do you consider the current drive to push this support even further?
BDS Australia supports the position of the Australian Centre for International Justice, whose submission on the proposed free trade agreement with Israel included ten detailed recommendations against pursuing such a trade agreement.
These include that the Australian government undertake an extensive review of investments, trade agreements, cooperation schemes and programs with Israel and cancel those.
These current ties contribute to breaches of international humanitarian law and directly contribute to international crimes, including the commission of the crimes against humanity of apartheid and persecution.
In the United Nations, Australia has a consistent record of voting against international consensus but rather votes in line with the US to support Israel on resolutions critical of Israel.
The Australian government has even been unwilling to acknowledge Israel's occupation of Palestinian territory as illegal under international law and a violation of the Fourth Geneva Convention.
Australia has several influential pro-Israel lobby organizations, including the Australia Israel and Jewish Affairs Council (AIJAC), the Zionist Federation of Australia (ZFA), and the Executive Council of Australian Jewry (ECAJ), amongst others.
These organisations are well-funded and active in political lobbying and seeing the mainstream media present an uncritical, false narrative about the facts in Israel-Palestine concerning the vast violations of human rights and international law in the West Bank and the crushing blockade of Gaza, which is an ongoing war crime of collective punishment.
The widespread support for Israel is due not only to our firm commitment to the US in foreign policy but also to the significant influence of pro-Israel lobby groups on mainstream media and politicians.
This influence has been extensively documented in the books by journalist John Lyons. Those being Balcony over Jerusalem, and Dateline Jerusalem: Journalism's Toughest Assignment.
Amnesty International just released a report declaring Israel is running an apartheid state with 280 pages of evidence as to why this is the case. This isn't the first document to make this assessment, but it carries the most weight.
How significant is the Amnesty report? And what sort of ongoing impact do you expect it will have?
Three of the most important human rights organisations Amnesty International, Human Rights Watch and Israel's own B'Tselem have published detailed reports providing evidence to justify declaring Israel guilty of the crime of apartheid as defined under the 1973 Apartheid Convention and the 1988 Rome Statute of the International Criminal Court (ICC).
The Amnesty report sets out massive seizures of Palestinian land, unlawful killings, forcible transfer, drastic restrictions on movement and the denial of nationality and citizenship to Palestinians.
The facts reported are not new since Israel's NGO Adalah documents 50 discriminatory laws, while, in 2018, Israel legislated its fundamental "Nation State Law", according to which the right to exercise national self-determination is "unique to the Jewish people."
The significance of the Amnesty report is that it signals a shift from a human rights policy focused only on Israel's occupation since 1967 to also encompassing the Palestinian people as a whole.
The report declares Israel to be a regime of Jewish supremacism not only in the West Bank and Gaza but also in Israel "proper" within the "Green Line".
The Amnesty report carries weight because it has been joined by other prestigious human rights organisations, like HRW and B'Tselem, and because of Amnesty's record, reputation and global influence as an impartial human rights organisation.
Amnesty has a large international support base, and this report will mean that the actions of Israel against Palestinians are more widely exposed.
The recent reports support earlier detailed analyses including by former US president Jimmy Carter in his 2006 book 'Palestine: Peace Not Apartheid'.
Similarly, in 2017, Richard Falk and Virginia Tilley wrote the UN report Israeli Practices Towards the Palestinians and the Question of Apartheid.
Adding to these reports, the Amnesty report will have an impact by supporting worldwide political activists and advocates, including the growing BDS movement.
Above all, it becomes increasingly difficult for governments, institutions, companies and individuals to ignore the reality of Israel's human rights abuses.
Moreover, it is increasingly difficult for the Israel lobby and other organisations or governments to deny or discredit this report's findings as they have consistently attempted in relation to other reports of Israeli human rights violations.
Despite the growing rhetoric of support coming from the federal government, there does seem to be a significant shift in grassroots support for the plight of the Palestinian people. The boycott of the Sydney Festival was a prime example of this.
How do you consider this change? Is it an occurrence that's just happening within Australian borders? And where's it heading in?
Among the most significant shifts in popular public opinion has been the documented shift in Jewish communities around the world, particularly in the USA.
American Jews are progressive on issues of human rights and justice and are now recognizing the impossibility of reconciling these values with what they're learning about the crimes of the state of Israel.
Significant figures in provoking this shift include, particularly, Professor Peter Beinart, who has shaken the Jewish establishment with his critical public writings, even rejecting the traditional conception of Israel as both Jewish and democratic.
A Roy Morgan Poll in 2017 revealed that the Australian public is much more sympathetic toward the Palestinians than the Turnbull government's position.
An overwhelming majority of survey participants expressed support for the recognition of Palestinian statehood: 73 percent, which was up from 62 percent in 2011.
A majority of 55 percent indicated that they regarded the Palestinians' call for "a boycott of Israeli goods, services, companies and institutions profiting from the occupation of Palestine" as reasonable.
Only 8 percent opposed recognition of Palestinian statehood, while 25 percent described the call for a boycott as unreasonable.
Of those surveyed, 61 percent opposed the construction of Israeli settlements in the Occupied Palestinian Territories and 53 percent said that they opposed the Turnbull government's rejection of UN Security Council Resolution 2334.
This resolution reaffirmed the UN's opposition to settlements and called upon Israel to halt settlement activities in the Occupied Palestinian Territories.
Only 17 percent of those surveyed indicated support for Israeli settlements, while 29 percent supported the government's rejection of UNSC Resolution 2334.
Increased use of social media has meant that the traditional media coverage of the issue has been bypassed as people have been able to more easily access information about the shocking human rights violations committed by Israel against Palestinians.
In May 2021, a public Sanction Israel petition was tabled in federal parliament. It received 21,991 signatures and was presented to parliament in August 2021.
The petition requested the Australian government publicly condemn Israel's assaults on Palestinians and support targeted sanctions and an arms embargo on Israel.
It also called for the government to support the suspension of defence cooperation with Israel and end defence industry partnerships, as well as introduce legislation to ban all settlement goods and services from entering Australia.
And finally, it called on the government to prevent Australian companies from operating, trading, or investing in settlements or contributing to their maintenance and/or expansion.
The Boycott Sydney Festival campaign in January 2022 was a highly significant and effective cultural boycott campaign globally.
It showed a level of support for Palestinian rights that stretched beyond the more than 100 artists and arts workers, who led the campaign and withdrew their participation in opposition to the Sydney Festival taking sponsorship money from the Israeli Embassy in Australia.
The campaign was supported by over 10,000 people, who wrote to the festival to demand they review this sponsorship deal and called out the festival for its double standards in promoting its respect for First Nations Australians, while ignoring the calls from Palestinians and other artists to return the sponsorship and end all ties with the Israeli state.
This campaign will have worldwide ramifications in relation to all major arts festivals because it was so visible and so effective.
It will mean that festival boards worldwide will be very wary of accepting money from the Israeli state due to the potential huge backlash from the public who want to know that major arts organisations do not support or condone Israel's grave human rights abuses.
And lastly, looking beyond the Boycott Elbit campaign, what is the end goal that BDS Australia is working towards.
We hear a lot of people saying they support the two-state-solution, but how would you describe what liberation for the Palestinian people looks like?
BDS is a peaceful and non-violent means to pressure the state of Israel to end the illegal occupation of the West Bank and East Jerusalem and the blockade of Gaza.
It's campaigning for the internationally recognised right of return to be allowed, so Palestinian refugees can return to the land and homes from which Israel forcibly expelled them in 1948.
And BDS also wants the establishment of equal rights for all Palestinians living in Israel according to international law and human rights conventions.
Palestinians must have freedom with justice, which means that all those who've committed, planned or enabled atrocities against Palestinians should be made to account for their crimes.
And finally, Palestinians must be given the opportunity to decide their future and how to achieve it on their lands, which have been progressively colonised by Israel for more than seven decades now.
Receive all of our articles weekly