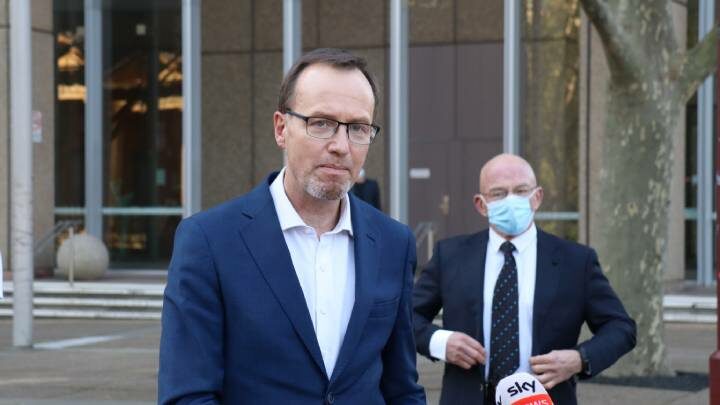 The catastrophic flooding experienced along the eastern seaboard, and the federal government's now common attempt to avoid taking viable action whilst trying to shift the blame, seem like the final straw in a series of mounting multiple crises that all had this tinge of finality about them.
Besides the feeling of "things couldn't get any worse" that the megafires, the COVID-19 pandemic and the recent rain bombs have all held, another common aspect to them has been their occurring while the Morrison government was overseeing the administration of the nation.
PM Scott Morrison has made it well known that he believes in miracles, yet he's also shown an inability to perform them in the slightest. Not only is this obvious in his not actually bringing the rains, but it's apparent in the failed approaches he's taken to handling the multiple crises.
What the last decade of Coalition rule, and especially the Morrison years, have shown us though, is that this government is more than willing to compound the climate crisis and many other key issues being faced to the detriment of "quiet Australians" and to the profit of corporations.
A conduit for the people
However, with the current general despondency in the Coalition, as well as in the opposition, there's an accompanying growing understanding that a strong crossbench made up of Australian Greens and progressive independents could commence the turnaround this nation so sorely needs.
Key amongst these politicians with a vision for people and planet is Greens Senate candidate for NSW David Shoebridge, as he's a politician well known to have a knack for forging social change despite major party opposition, which he's developed over his 12 years in the NSW upper house.
From these political successes, Shoebridge, an ardent advocate for a more equitable and just society, has come to the understanding that parliaments will finally deliver on the necessary changes that the public have long been screaming for in terms of social, economic and environmental justice.
And following the next election, Shoebridge sees his role and that of his fellow Greens Senators to be that of acting as an "essential bridge" to bring grassroots voices and concerns into parliament and have the want of the people directly shape and reform the corporate-driven policies of the majors.
Progressive change on the horizon
Morrison's term hasn't only been marked by extreme weather events and pandemic strollouts, it's also seen multiple pork barrelling scandals, a reneging on the anticorruption watchdog promise, a string of sexual harassment and assault allegations and severe erosion of citizens' rights.
Indeed, these are the types of destructive practices that Shoebridge has displayed an ability to combat during his time in NSW parliament, despite the tackling of these entrenched habits, requiring the taking on of those forces holding the reins of the key institutions of power.
Sydney Criminal Lawyers spoke to Greens candidate for NSW Senate David Shoebridge about the performance of Morrison, his concerns around the government's rising war rhetoric and push for arms, as well as why this election holds great potential to bring better outcomes for the nation.
David, you're heading up the NSW Greens Senate ticket in a federal election that follows a period of multiple crises at multiple levels under Morrison.
So, broadly, how would you sum up this government's form?
This has been a disastrous three years. Since the last federal election, we've seen a government lurch from crisis to crisis and fail in everyone, whether it was the fires, the pandemic or the floods.
What it has demonstrated is how little vision there is in the Coalition to deal with these pressing climate and public health emergencies.
But it also shows a much deeper failure in the Coalition, which, when push comes to shove, doesn't actually believe in government having a role in making our lives and our planet better.
The most urgent issue our nation is facing is climate inaction. With a likely strong Greens presence in parliament working with a minority Labor government, what could this mean in terms of climate? And what needs to happen in this regard?
We have a very real chance of having a record 12 Greens senators, after this federal election, which would be the largest block that a third party has ever held in the Australian Senate.
That will mean that whoever is in government will need to deal with the Greens to ensure that legislation passes through parliament.
I can tell you from the outset, we will be saying to a Labor minority government that the coal needs to stay in the ground, the gas needs to stay in the ground and to insist that be one of the highest priorities of the new parliament.
Labor may say they don't want to deal with the Greens. But, at the end of the day, if you want to get something through the parliament, you need a majority in each house, and that gives an empowered crossbench the ability to exercise real political power.
The other key issue with global ramifications is war. And while there's Putin's invasion of Ukraine, there are other issues growing closer to home.
Morrison and Dutton have become some of the strongest voices pushing for war with China internationally. We're now fronting up AUKUS and the Quad. And Labor just nods along.
Most Australians feel helpless to any of this. How will you be approaching it?
As a party which has one of its four pillars as peace and nonviolence, the Greens will maintain that position in the federal parliament.
That means opposing the appalling expenditure of Australian tax dollars – well over $100 million – to become part of the nuclear-powered arms industry for submarines that won't be in the water for at least 25 years.
That is obscene on a variety of levels. First, it makes Australia no safer in the next 5 to 10 years. And secondly, it drives a regional arms race.
The Greens have a different strategy about regional defence and security, which would involve investing record sums in climate resilience, in strengthening economic relations with our neighbours, and in addressing what may be one of the biggest causes of regional instability, that being the debilitating impacts of climate on food security and indeed the social makeup of societies in our region.
As a NSW MP, you've exposed multiple pork barrelling cases, concurrently this has been happening at the federal level. Morrison has bluffed his way through on not establishing a promised federal anticorruption commission.
Can we trust Labor to deliver its similar promise? And how do you consider the need for a federal watchdog?
It's extraordinary how time after time, when a party moves from the opposition to the government benches, their love of transparency and their love of accountability dies with that move.
No one can trust a majority Labor government, and they certainly can't trust the Coalition, to deliver a fully funded and fully empowered ICAC with retrospective powers.
But that's the Greens commitment in terms of a national integrity body.
I look forward, if I'm supported in this campaign for the Senate, to adding one more crucial Greens vote to deliver that fully empowered ICAC within the first month of parliament returning.
Over your 12 years in the NSW upper house, you've championed social justice issues. You're well-known for having brought about real and significant change.
So, looking at the federal level, what sort of changes are you going to prioritise in terms of social justice?
I will always approach my work in politics by trying to join together the principles of social justice and ecological sustainability.
In my view, those two causes march together in progressive politics.
It's been a privilege to work with First Nations communities in NSW, and work within the Aboriginal justice portfolio.
I look forward to being an ally of extremely powerful First Nations Greens Senators in federal parliament to do what I can to drive our commitment to truth, treaty, justice and land.
The federal parliament is also the place where we can finally change the legislation, so that nobody lives in dire poverty in Australia.
That means raising social security benefits to at least $80 a day and putting in place job guarantees and pathways for everyone.
Underpinning all of that work is a commitment to getting climate action into every aspect of federal government activities.
If we don't deal with the climate disaster that's coming, the communities that are going to face the brunt and face it the earliest are First Nations communities and people with less economic assets.
They'll face the double disaster of the economic and climate impacts. We've already seen this in the flooding of the Northern Rivers.
And lastly, these are bleak times. Many have lost faith in both the old majors. But together with this, there's a growing understanding that this next election does have the potential to see change.
David, how do you account for this rising hope?
This is the first and best chance for more than two decades to have a parliament that closely resembles the community's desire for climate action and for social justice.
We can get that through an empowered crossbench of Greens and progressive independents.
There are a series of distressing crises in front of us. Our job in politics is to build a pathway through the next election to the positive hopeful resolution of those crises – and we can do that.
Receive all of our articles weekly