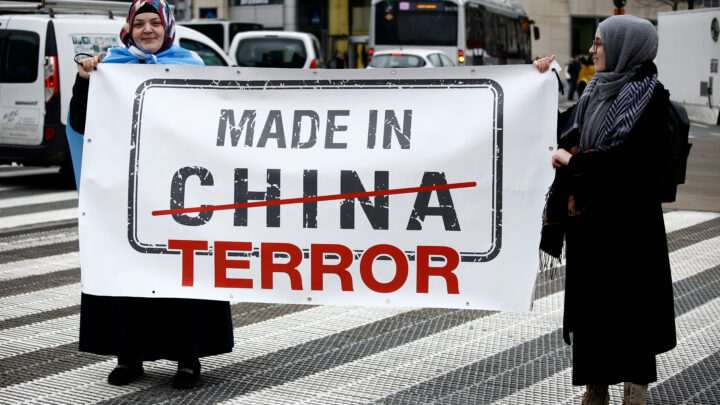 Since April 2017, the Chinese government has been operating a network of extrajudicial political re-education camps involving the incarceration of at least one million Uyghur people in the far western province of Xinjiang.
Reports of the mass detention of Uyghurs, without charge or trial, occurring in their own homeland – known as East Turkestan – were slow to trickle out from the highly restricted region, and so too, has been the news of the next phase in this social engineering and cultural genocide program.
"Xinjiang Aid" is the official title for a system of forced Uyghur labour that Beijing commenced in 2017, which has involved the transfer of 80,000 of the mainly Muslim Turkic people into provinces in China proper to work in factories under military-style conditions.
Earlier this year, the Australian Strategic Policy Institute (ASPI) released its Uyghurs for Sale report. Based on official documents, satellite imagery and media reports, the document details 82 global brands that researchers identified as having benefited directly or indirectly from this forced labour.
The implications are that certain products currently sold on Australian shelves are being produced – at least in part – by Uyghur labourers working under conditions that constitute modern slavery.
So, Australian consumers ought to think twice before buying.
Akin to slavery
"There is clear evidence. They found a lot of pictures of them transporting Uyghurs," said Talgat Abbas, a Sydney-based Uyghur human rights advocate. "We didn't know where they were going, but later we discovered they were taking them inside China."
"There are pictures of Uyghurs working in the factories," he told Sydney Criminal Lawyers. "They're unpaid and treated like prisoners. All they give them is food, and whatever they need to survive."
The International Labor Organisation lists eleven indicators of forced labour. The ASPI notes those of relevance to the Uyghur factory workers being the use of intimidation and threats, detention, surveillance, restrictions on movement, isolation, abusive working conditions and excessive hours.
Beijing claims the labour transfers are voluntary. However, those who've been able to leave China deny this. Many of the workers have come directly from the detention camps. And those held at the factories are subjected to similar political indoctrination programs after working hours.
Abbas added that there are adverts detailing groups of labourers ready to be sent to businesses. One reproduced in the report reads, "The advantages of Xinjiang workers are: semi-military style management, can withstand hardship, no loss of personnel… Minimum order 100 workers".
Modern slavery in the supply chain
The ASPI has listed 82 international companies implicated as having links in their supply chains to 27 identified forced labour factories in nine provinces. They include Amazon, H&M, HP, Jack & Jones, Land Rover, Nintendo, Nokia, Sharp and Victoria's Secret.
The report further provides three case studies: one involving a factory "equipped with watchtowers, barbed-wire fences and police guard boxes" producing shoes for Nike, another supplying Adidas and Fila, as well as several factories supplying Apple with components made by Uyghur forced labour.
All these companies have been linked to the forced labour program up to as recently as last year. The researchers state that a small number of the brands have notified their vendors to terminate relationships, while some advised they had no contractual relationship with the suppliers implicated.
However, "no brands were able to rule out a link further down their supply chain".
Australia now has laws designed to require companies to be actively responsible in eradicating forms of modern slavery from supply chains. Under federal law, modern slavery includes forced labour, servitude, forced marriage, slavery, human trafficking and the worst forms of child labour.
The federal Modern Slavery Act 2018 and its NSW counterpart require large companies, with a sizable annual turnover, to produce yearly reports detailing how they've sought to identify modern slavery risks in their supply chains and how they've dealt with them.
The mass detention continues
"The Uyghurs believe that genocide is happening – ethnic cleansing is happening," Abbas remarked in relation to a question about the ongoing mass detentions. "A lot of Uyghurs are thinking that it looks like they're going to kill most of our population."
Hailing from Urumqi, the capital of East Turkestan-Xinjiang, Abbas said that many Uyghurs had thought the camps would at least have been wound back after the international community became aware of them, however research from the ASPI's Xinjiang Data Project indicates otherwise.
The Canberra-based thinktank revealed in September that it had located 380 detention facilities still operating in Xinjiang, some of which are expanding, with a growing shift towards higher security prison-style facilities. This is despite earlier official claims that all detainees had "graduated".
According to Abbas, there are also reports emerging from the region of entire villages and towns in the countryside being cleared of their populations, and the empty houses and farming properties being advertised to attract Han citizens from eastern China to resettle in the far west.
Boycott forced labour products
Currently, the Uyghur Forced Labor Prevention Bill is before the US Senate, having passed the lower house of Congress in September. The bill would impose restrictions on products produced in Xinjiang, where the practice of Uyghur forced labour happens inside and outside the camps.
The bill has enough support in the upper house to see it likely passed, however it does not address the issue of forced Uyghur labour occurring in factories throughout the rest of China.
Abbas said the local Australian Uyghur community were pleased with this development, as most other governments remain silent on the issue. Although, he said the current Biden-Trump post-election spat has been overshadowing the continued passage of the bill.
The Uyghur man believes that the Australian public need to be better educated about the mass detention centres, the forced labour program, as well as the fact that certain products they're buying could have involved a form of modern slavery in their production.
"There definitely should be boycotting because this is an evil act," Abbas made clear. "I am sure people will stand with the Uyghurs and say they're going to join this boycotting activity."
"All the world should be boycotting any company benefiting from Uyghur forced labour," he concluded. "At least this will start punishing the Chinese regime."
Receive all of our articles weekly