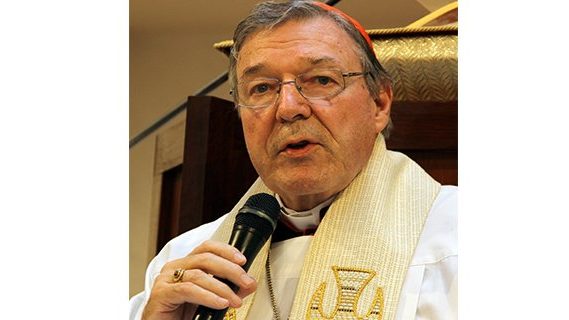 Tonight, Cardinal George Pell starts his sentence behind bars.
Australia's highest ranking Catholic Church official has been sentenced to 6 years in prison, with a non-parole period of 3 years and 8 months.
Pell was found guilty in December last year of five counts of sexually abusing two choirboys while he was Catholic archbishop of Melbourne in the 1990s, although the verdict was supressed and only made public last month.
The sentence
During the sentencing hearing, the County Court Chief Judge Peter Kidd described the offences as 'brazen, forcible and breathtakingly arrogant', adding that Pell must have been aware of the added layer of degradation and humiliation, knowing that each of the boys had witnessed the abuse of the other."
He also remarked that while Pell has maintained his innocence, he has showed no evidence of remorse or contrition to reduce his sentence.
The Judge had given permission for the sentencing to be broadcast live across the globe. He described the offences a 'grave' breach of his position, and the trust placed him, as well as an abuse of power.
But was careful to condemn the 'lynch mob' mentality that has at times, surrounded the case of Pell. He also stressed that, in accordance with the law, Cardinal Pell was only punished for crimes which relate to him, and which he was found, by a jury to be guilty of.
Protective custody
Pell will be placed in protective custody which is granted to some offenders, as part of the corrective service's policy to ensure a 'duty of care' to all offenders. Protective custody is granted in situations where it deemed that 'association with other inmates constitutes, or is likely to constitute, a threat to the personal safety of the inmate as per Section 11(1) of the Crimes (Administration of Sentences) Act 1999.'
It affords the inmate no special privileges nor, conversely, any deprivation of rights.
Protective custody will ensure a higher than normal security for George Pell, who's personal safety is considered 'at risk' in the general prison environment because of his profile, and the nature of his crimes. Prisoners in protective custody only interact with 'vetted' prisoners during meal times and exercise.
In sentencing, the Judge also said he also took into consideration Pell's age (he is 77 years old), his health problems, his 'good character' and the fact that he was satisfied Pell posed no threat to society.
Shorter non-parole period
As a result, Judge Kidd explained: "I will impose a shorter non-parole period than I otherwise would have been inclined to impose in recognition in particular of your age, so as to increase the prospect of you living out the last part of your life in the community," the chief judge said.
There is no indication where Pell will serve out his term. Up until now, he has spent two weeks in custody in Melbourne's Assessment Prison.
Normal procedure will now see Pell transferred back to the Melbourne Assessment Prison in West Melbourne, where the Vatican treasurer has spent the last two weeks awaiting sentencing.
For the most part, during this time, inmates keep their civilian clothes. Now, George Pell will give those up, and he be issued with a prisoner's uniform, and then be transferred to the correction centre where he will serve out his sentence.
Victim 'thankful'
Pell's surviving victim, said in a statement through his lawyers that appreciated that the court had acknowledged what was inflicted upon him as a child". But his moment of victory was short-lived. Pell's lawyers have already lodged an appeal, which will be heard in June.
Pell has vigorously maintained his innocence and fought long and hard to clear his name.
The trial has been lengthy for all involved. Prior to the trial which concluded in December last year, Pell had faced trial on the same charges in August and September. That trial resulted in a hung jury and the retrial was then ordered.
His defence has reportedly cost Pell's defence has reportedly cost around $2 million. Last year, Catholic Church goers were asked to donate to an appeal in order to provide funds for the legal battle.
The Court of Appeal is expected to hear Pell's appeal over two days in June.
What will the Vatican do?
Now that the treasurer of the Vatican is behind bars, Catholics around the world are waiting for the response of Pope Francis who recently held a summit of senior church officials to deal with the issue of systemic abuse within the church, not just abuse of children, but nuns too.
The Pope has previously said that the church has 'zero tolerance' for child abuse, but has so far remained silent on the Pell case, which was originally investigated by a special Victorian Police taskforce in the wake of the Royal Commission into Institutional Child Abuse, which uncovered 4,444 allegations of abuse against the Catholic Church, involving 1800 alleged perpetrators.
Since the Australian Royal Commission, similar claims have surfaced in significant numbers around the globe.
And, now that one of their most senior clergy is behind bars, the calls from survivors has been loud and clear, they want acknowledgement of their suffering and a proper redress scheme.
Receive all of our articles weekly