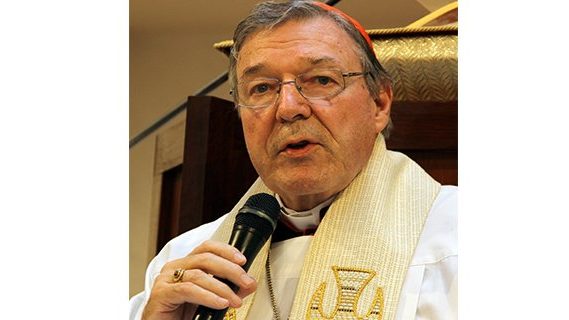 Cardinal George Pell faces a lengthy prison sentence after being convicted of sexually assaulting two choirboys.
The highest ranking Australian Catholic cleric was found guilty after a five-week trial in Melbourne late last year, but the verdict was suppressed until now, for legal reasons.
Those reasons related to the verdict's potential impact upon the ability to find impartial jurors for another trial that had yet to take place, which involved allegations the Cardinal engaged in inappropriate behaviour towards two boys at a public swimming pool in Ballarat in the 1970s. Those charges have now been withdrawn, and the suppression order has therefore been lifted.
In December last year, a jury of eight men and four women took three and half days to decide the Cardinal sexually interfered with the boys just months after being appointed Archbishop of Melbourne in 1996. This was around the same time Pell was implementing the Church's redress scheme to handle claims of child sexual abuse by clergy within the archdiocese.
The jury unanimously found Pell guilty of five offences, comprising one count of penetrating a child under the age of 16 and four counts of indecently assaulting a child under 16.
The Cardinal's legal team has foreshadowed an intention to lodge an appeal against the verdict.
Long and drawn out battle
It has been a lengthy legal process for Pell and his accusers.
Prior to the trial which concluded in December last year, Pell had faced an trial on the same charges in August and September. That trial resulted in a hung jury and the retrial was then ordered.
Pell was granted bail despite the conviction in December, on a number of grounds including that he was due to have knee replacement surgery. He is expected to be remanded in custody later today after a brief respite to get his affairs in order.
Having been found guilty, the Cardinal faces maximum penalties of 14 and 10 years behind bars for the respective offences. He will also have his name added to the sex offender register.
Vatican silent on child sexual abuse in Australia
Mr Pell is the most senior Catholic figure in history to be convicted of a sex offence, and news of the outcome will undoubtedly heighten the enormity of the global child sex scandal that is engulfing the Catholic Church, particularly given its timing.
The Pope has only just finished hosting a summit at the Vatican, the stated objective of which is to address its most pressing crisis: an increasing number of child sex abuse scandals from all over the world.
At the summit, Cardinal of Munich admitted that the Church routinely destroyed documents about priests who sexually abused children, suggesting systematic cover-ups of heinous crimes.
A report from Germany released just months ago also reported the abuse of thousands of children over the past 70 years, and a Pennsylvania grand jury recently named more than 300 clergy who it says have been responsible for abusing 1,000 children.
In the weeks leading up to the gathering at the Vatican, nuns from around the world launched the #nunstoo movement, putting the spotlight on something many senior Catholic Church officials had known for many years: Priests didn't only sexually abuse children, they sexually abused women as well.
Given his public stance of 'zero tolerance' for child sex abuse, Pope Francis may well de-frock Pell, as he did Chillean Priest, Reverend Fernando Karadima who was found guilty of a range of sexual offences against children in 2011.
But commentators say that Pell's seniority within the Church makes the Vatican's response hard to predict.
So far, Pope Francis has been tight-lipped regarding the accusations against the Catholic Church in Australia, despite the findings of the Royal Commission into Child Sex Abuse the 1800 Church officials faced 4,444 allegations of abuse.
Pell to face the music
Cardinal Pell took voluntary leave from his job at the Vatican to return to Australia to launch his defence after being charged in 2017.
And at 77 years of age, he could well spend the remainder of his life in a prison cell.
Pell's defence has reportedly cost around $2 million. Last year, Catholic Church goers were asked to donate to an appeal in order to provide funds for the legal battle.
His sentencing hearing is yet to take place.
Receive all of our articles weekly