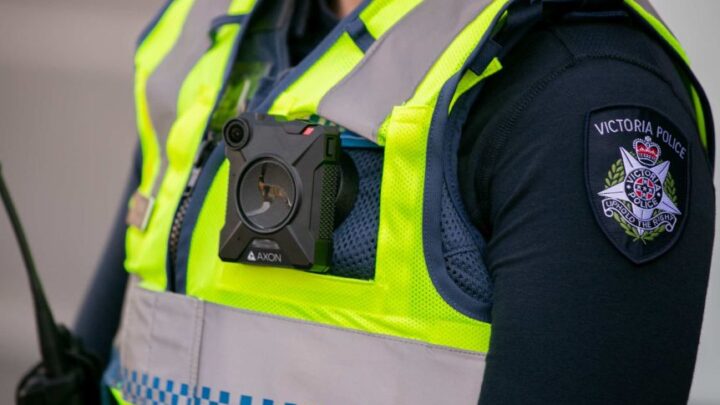 A recent Victoria County Court decision has renewed calls in that state to have the laws governing body-worn cameras overhauled.
Last month, Judge Sandra Davis found there's nothing in the law that requires footage from such cameras to be produced in relation to civil proceedings.
The judge made this finding in relation to a case involving prison guards. But it also applies to Victoria police officers, and it comes at a time when questions around police accountability and misconduct are front and centre.
During Victoria's first pandemic lockdown, legal groups were calling out the arbitrary manner in which police officers were enforcing COVID-19 restrictions. And since the second lockdown kicked in, numerous incidents of police brutality have emerged.
Policing systems across the nation are notorious for their reliance on police investigating their own. So, when it comes to questionable conduct in the field, civil proceedings are often the only way civilians can seek justice. And with this new finding, crucial evidence is set to be withheld.
Controlled accountability
Body-worn cameras are a small device capable of capturing video and audio content, which are mounted upon police officers' vests.
In Victoria, the use of these cameras was rolled out in 2017, as a measure to improve police accountability. And today, more than 8,000 are in use statewide.
As the Victorian government introduced the legislation to implement the use of body-worn cameras, it asserted that the devices should be observable to the public. However, it then proceeded to pass laws that allowed camera use to be hindered, and the footage to be hidden.
The laws governing the use of these devices are set out in the Surveillance Devices Act 1999 (VIC) and the Criminal Procedure Act 2009 (VIC). And it's the way that these laws have been drafted that's led to sustained issues around camera use, as well as an ongoing law reform campaign.
State laws currently allow Victoria police officers to have complete control over the cameras that they wear. Officers decide when cameras are switched on and off, how footage is edited, as well as having control over the access to video footage.
 The need for greater accountability
Spearheading the current campaign calling for body-worn camera footage to be made accessible in relation to civil matters is Australian Lawyers Alliance (ALA) Victorian state president Jeremy King, who specialises in police misconduct cases.
As Mr King puts it, "body-worn cameras do have the potential to increase the scrutiny of police behaviour", but the fact that officers aren't required to release footage "in civil proceedings completely undermines this potential benefit".
Sydney Criminal Lawyers spoke to solicitor Jeremy King about the increase in concerning police incidents during the COVID period, the law reform around cameras that he's pushing for, and how the Victorian government is ignoring an inquiry that could increase accountability in the force.
Firstly, last week, you stated that "recent events show that there needs to be far greater accountability for police in their interactions with members of the community, particularly with vulnerable people".
You made the statement in relation to Victoria police. Mr King, can you elaborate on why "recent events" are provoking this need for greater police accountability in your state?
There has always been a need for greater police accountability in Victoria. Unfortunately, the accountability system that we have is broken, and does need to be fixed.
There was a parliamentary inquiry into this. And that inquiry found that it was broken and that IBAC should be significantly reformed.
That was over two years ago, and we're still in a position where the Victorian government hasn't acted on that bipartisan committee report.
The recent COVID restrictions have meant that there has been a greater interaction between the public and members of police.
And as a result of that, there have been a number of incidents that are concerning, and a number of incidents that require independent investigation.
You made those observations in relation to the difficulty lawyers are having in obtaining police body-worn camera footage for civil proceedings.
A recent Victoria County Court case in September found police can't be compelled to release such footage for civil actions.
Why is there such difficulty in obtaining body-worn camera footage?
The release and use of body worn camera footage in Victoria is governed by the Surveillance Devices Act 1999 (VIC).
That legislation has specific provisions within it that say the release and use of the footage that's not for a prescribed purpose is a criminal offence.
There is a list of reasons called authorised use, and the use in civil proceedings is not specifically prescribed within the legislation.
So, it comes down to whether or not there is an interpretation of the laws that can allow for the use in civil proceedings.
How would you like to see these laws changed?
What the government needs to do to quickly fix this is to make sure that there's a specific legislative provision that makes it crystal clear that body-worn camera footage can be used by a court in respect to determining issues regarding liability.
And that's whether it be for police misconduct, or whether it be for any other civil proceedings.
The Victorian government rolled out body-worn cameras for police in 2017. How has the implementation and their use been since then?
Body-worn cameras are by and large now rolled out across the state. And they should theoretically be used every time police have some sort of interaction with a member of the public, but they're frequently not.
As you've suggested, there are issues around the power individual police officers have in using these cameras. Just how much control do officers have?
The discretion as to whether the cameras are turned off or on is completely within the control of the police. So, officers control when they're turned on and when they're turned off.
Police have absolute control over when footage is retained and when it's disclosed. And that's all, obviously, highly problematic.
NSW Greens MLC David Shoebridge recently pushed for the release of cost figures relating to civil actions brought against the NSW Police Force over incidents of misconduct.
This was difficult to do, in part because NSW police claimed it didn't, as a matter of policy, collate such figures, which means this obvious source of information pointing to where there's room for reform is being ignored.
How does Victoria police fare in terms of transparency and civil misconduct actions?
There has been an increase in respect to proceedings against Victoria police – both civilly and criminally – as well as there being a Royal Commission into the conduct of Victoria police and its management of police informants.
When you put all of that together, there's unfortunately a lot of money being spent in respect to addressing accountability issues within Victoria police.
And lastly, Mr King, you've recently stepped up your campaign to have body-worn camera laws improved in Victoria. But this is not new, towards the end of last year advocates were making a concerted push for reform in this area.
Why would you say there's reluctance amongst the authorities to improve the use of this device and in turn, hold police to greater account?
The County Court has only recently ruled to say that body-worn camera footage arguably can't be used in civil proceedings. So, that's certainly something that needs to be fixed.
But, in terms of the broader reform of body-worn cameras, there has been a huge call for that, and a huge call for law reform in the area.
Unfortunately, this government has been unresponsive on a range of police accountability issues.
One, as mentioned before, is implementing that bipartisan parliamentary committee's recommendations regarding reforming IBAC, so it can better deal with serious police misconduct. Another is reforming body-worn camera use.
There is a laundry list of things the Victorian government needs to do, but, unfortunately, it's sitting on its hands.
Receive all of our articles weekly