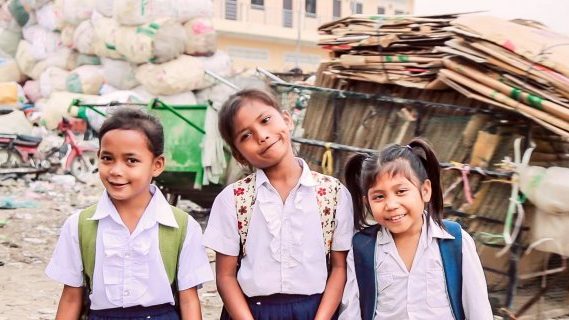 Cambodia is one of south-east Asia's most impoverished countries.
The nation still recovering from the effects of the brutal Khmer Rouge regime, during which dictator Pol Pot ordered the deaths of hundreds of thousands of his own people.
Despite their economic situation, Cambodian people are warm and hospitable, as our principal discovered during his recent trip to the country.
Like all of us, Cambodian families want the best for their kids – but it is often impossible for them to afford schooling, decent healthcare and even food, and many children find themselves on the streets.
Cambodian Children's Fund
The Cambodian Children's Fund works at the heart of some of Cambodia's poorest communities to ensuring that children receive education, healthcare and basic needs.
The Fund works with communities to provide free healthcare, childcare, interest free loans, food, nutritional education, housing and emergency support services.
Through that support, the organisation is able to ensure less families are put in a position where they are forced to choose between sending their child to school and putting food on the table.
The Fund also provides a leadership programme, which is designed to inspire students to reach their potential and help transform their communities.
The SCL Help Fund has donated $500 to this worthy charity.
If you would like to donate to a cause which scores very highly on the charity navigator (which assesses transparency and accountability of funds) click here.
Chab Dai
Chab Dai is an organisation which fights against child sex trafficking in Cambodia.
Because of the country's high rate of poverty, many children are forced to leave their homes in search of work when their families can no longer care for them. Thousands end up selling their bodies because there is no other alternative, often trafficked by criminal gangs.
Chab Dai – which means "joining hands" in Khmer – was founded in Cambodia in 2005.
The organisation's fundamental philosophy is that individuals, organisations and agencies must combine resources and work together to stop human trafficking and exploitation.
As well as working with communities all over Cambodia, the organisation now partners with groups in more than 20 countries around the world.
Chab Dai undertakes prevention programs, including education about child protection and building safe communities, victim support services including a telephone hotline and counselling and legal services.
It also works in the area of advocacy and research, and is currently conducting a longitudinal study examining reintegration process and outcomes for survivors of sex trafficking in Cambodia over a ten-year period. The overriding objective of the research is to understand the experience of reintegration from the unique perspective of the survivors.
We are proud to donate $500 to help Chab Dai continue its fight. If you would like to help in the fight against human trafficking, you can do so here.
Receive all of our articles weekly
Author
Sydney Criminal Lawyers
Sydney Criminal Lawyers®
is Australia's Leading Criminal Defence firm, Delivering Outstanding Results in all Criminal and Driving cases. Going to Court? Call (02) 9261 8881 for a Free Consultation.