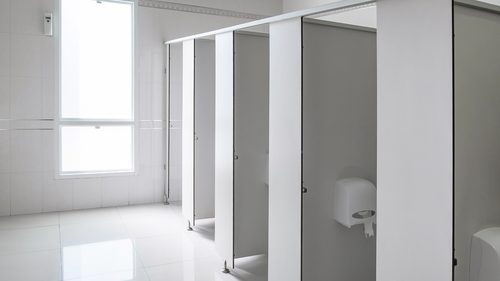 It has been reported that a 46-year old man was stabbed in the abdomen and neck during an altercation which ensued when he allegedly confronted a 54-year old man who was attempting to sexually assault a 7-year old girl in a toilet block underneath a dance studio on Railway Road in Kogarah just before 8pm last night.
It is reported the 46-year old attempted to perform a citizen's arrest on the suspected offender, before the pair got into a physical altercation during which the suspect sustained facial injuries and was transported to St George Hospital.
The suspect suffered facial bruising and swelling and remains in hospital under police guard.
The 46-year old received stitches to his stomach and neck, before being released from hospital.
The girl was taken to Sydney Children's Hospital for observation, and has also been released.
Police are currently investigating what in fact occurred, before deciding whether criminal charges will be brought.
The law on sexually assaulting a child under 10
Section 66A of the Crimes Act 1900 (NSW)('the Act) prescribes a maximum penalty of life imprisonment for a person who has sexual intercourse with a child under the age of 10 years.
The section makes clear that a 'person sentenced to imprisonment for life for an offence under… [the] section is to serve that sentence for the term of the person's natural life.'
The offence also carries a 'standard non-parole period' (SNPP) of 15 years' imprisonment.
An SNPP is a guidepost or reference point for a sentencing judge when he or she is deciding how long a person must spend behind bars (called the 'non-parole period') before being eligible to apply for release from prison to serve the remainder of his or her sentence in the community on parole.
'Sexual intercourse' is defined by section 61H of the Act as:
sexual connection occasioned by the penetration to any extent of the genitalia of a female person or the anus of any person by any part of the body of another person, or any object manipulated by another person, except where the penetration is carried out for proper medical purposes, or
sexual connection occasioned by the introduction of any part of the penis of a person into the mouth of another person, or
cunnilingus, or
the continuation of any of the above.
The law on intentional wounding
In relation to the alleged stabbing, section 33 of the Act prescribes a maximum penalty of 25 years' imprisonment for any person who wounds another with intent to cause grievous bodily harm.
The offence carries a SNPP of 7 years' imprisonment.
A 'wounding' is where both layers of skin are broken, namely the dermis and epidermis; Shepherd [2003] NSWCCA 351. It encompasses all cuts which penetrate into the flesh, and even a 'split lip'; R v Hooper [2004] NSWCCA 10 at [36].
'Grievous bodily harm' (GBH) covers the most serious types of injury, and has been defined by the common law as 'really serious harm'; DPP v Smith [1961] AC 290; Haoui v R (2008) 188 A Crim R 331.
Section 4(1) of the Act says GBH includes:
The destruction of a foetus,
Any permanent or serious disfiguring, and
Any grievous bodily disease.
The law on assault occasioning actual bodily harm
The reports suggest the suspect was struck by the alleged 'good Samaritan', sustaining bruising and swelling to the face.
Assault Occasioning Actual Bodily Harm (AOABH) is an offence under section 59 of the Act which carries a maximum penalty of five years' imprisonment.
'Actual bodily harm' (ABH) is harm which is more than 'transient or trifling'; in other words, more than slight harm – such as minor redness or passing scratches – which quickly subside; Donovan [1934] 2 KB 498.
Examples of ABH may include bruises or lasting scratches or swelling; McIntyre v Regina (2009) 198 A Crim R 549 at para [44].
The law on citizen's arrests
The alleged good Samaritan is reported to have attempted to perform a 'citizen's arrest' on the man he suspected of being in the process of sexually assaulting the 7-year old girl.
Section 100 of the Law Enforcement (Powers and Responsibilities) Act 2002 empowers persons other than police officers to arrest another person who:
is in the act of committing an offence under any Act or statutory instrument, or
has just committed any such offence, or
has committed a serious indictable offence for which the person has not been tried.
The person performing the arrest must, as soon as is reasonably practicable, take the person, and any property found on the person, before an authorised officer (most commonly through the police) to be dealt with according to law.
The law on self-defence
It is conceivable that the charged party or parties (there is nothing preventing police from charging both people involved in an altercation) will rely on the legal defence of self-defence, which is contained in section 418 of the Act.
The section provides that a person is not criminally responsible for an offence if he or she acts in self-defence.
It explains that a self-defence is available where the defendant believes his or her conduct was necessary to:
defend himself or herself or another person, or
prevent or terminate the unlawful deprivation of his or her liberty or the liberty of another person,
protect property from unlawful taking, destruction, damage or interference, or
prevent criminal trespass to any land or premises or to remove a person committing any such criminal trespass,
AND the conduct is a reasonable response in the circumstances as he or she perceives them.
Only time will tell what will become of the current police investigation.
If you are charged with a criminal offence and would like to arrange a free first conference with an experienced criminal defence lawyer at one of our nine office locations including the Sydney CBD, Parramatta or Liverpool, call us anytime on (02) 9261 8881.
Receive all of our articles weekly