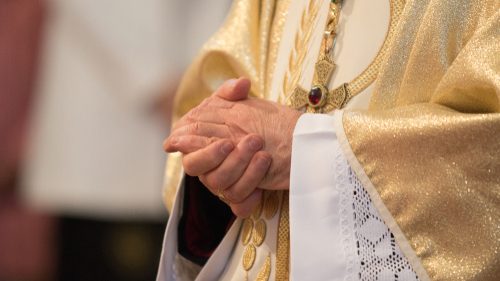 The most senior Catholic in the world to be convicted of concealing a serious indictable offence has resigned amid intense public pressure.
67-year old Adelaide Archbishop Phillip Wilson stepped-down from his position yesterday, more than two months after being found guilty of covering-up the abuse of two altar boys by a fellow priest.
The story so far…
Mr Wilson was charged with covering up sexual abuse committed by convicted child sex offender, priest James Fletcher, which had occurred in the New South Wales Hunter region in the 1970s.
One of Fletcher's victims, Peter Creigh, reported to police that he informed Mr Wilson in 1976 at the age of 15 that priest Fletcher had sexually abused him years earlier – when he was a 10-year-old altar boy.
Mr Creigh said he raised the matter again with Wilson some months later, but nothing was done.
Mr Fletcher was arrested and charged in 2004 with sexually abusing another altar boy, and the investigation revealed a long history of molesting young boys.
Mr Creigh stated that Wilson should have formed the belief at that time, if not beforehand, that Creigh was a victim of sexual abuse, but failed to report the matter to police or assist in their investigations.
Priest Fletcher was subsequently found guilty of the offences. He died in prison in 2006.
Guilty verdict
Mr Wilson's defence lawyers argued that while Mr Creigh was indeed abused by proest Fletcher as a child, Wilson, who was an assistant parish priest at the time, did not know about it.
However, Mr Wilson was found guilty as charged in Newcastle Local Court. While accepting the defendant had no role in the sexual assaults themselves, the magistrate found it was "incomprehensible" he did not remember something of the allegations.
"I am satisfied and find that Mr Creigh described to the accused he performed fellatio of Fletcher and masturbated Mr Fletcher", the magistrate remarked.
"The accused must have known he had very relevant knowledge. Further, he should have realised he had knowledge of a number of boys who had complained to him… I am satisfied the accused had information that he knew or believed that might be of assistance."
"Any allegation perpetrated on young boys by someone you have lived with is going to remain with you, no matter how long".
Sentencing hearing
At a subsequent sentencing hearing, Mr Wilson faced a maximum penalty of two years in prison for each of the counts of concealing a serious indictable offence.
However, he was ultimately sentenced last to twelve months behind bars with a six-month non-parole period, and is at liberty on bail while being assessed for home detention.
Public backlash
Wilson's conviction led to widespread calls for him to resign or be defrocked.
Even the Prime Minister and Leader of the Opposition chimed in by calling on the Church to terminate Wilson's position – but those calls fell on deaf ears.
In response, the Archbishop promised to resign if his appeal were to fail.
"I am conscious of calls for me to resign and gave taken them, very seriously," Mr Wilson said in a statement.
"I do not intend to resign at this time. However, if I am unsuccessful in my appeal, I will immediately offer my resignation to the Holy See."
Resignation
But amid intense public pressure, Wilson changed his mind and tendered his resignation yesterday.
"I made this decision because I have become increasingly worried at the growing level of hurt that my recent conviction has caused within the community", Mr Wilson said in a statement.
The Australian Catholic Archbishops Conference have said that Wilson "decided that his conviction means he can no longer continue as Archbishop because to do so would continue to cause pain and distress to many, especially to survivors and also in the Archdiocese of Adelaide".
"While the judicial process will continue, Archbishop Wilson's resignation is the next chapter in a heartbreaking story of people who were sexually abused at the hands of Jim Fletcher and whose lives were forever changed,"
Concealing a serious indictable offence
Concealing a serious indictable offence is an offence under section 316 of the Crimes Act 1900.
The section provides that:
"If a person has committed a serious indictable offence and another person who knows or believes that the offence has been committed and that he or she has information which might be of material assistance in securing the apprehension of the offender or the prosecution or conviction of the offender for it fails without reasonable excuse to bring that information to the attention of a member of the Police Force or other appropriate authority, that other person is liable to imprisonment for 2 years."
A 'serious indictable offence' is one that carries a maximum penalty of 5 years or more, which applies to most assault and sexual assault offences.
'Concealing a serious indictable offence' is a 'summary offence', which means it is dealt with in the Local Court, rather than committed to a higher court such as the District or Supreme Court.
Receive all of our articles weekly
Author
Sydney Criminal Lawyers
Sydney Criminal Lawyers®
is Australia's Leading Criminal Defence firm, Delivering Outstanding Results in all Criminal and Driving cases. Going to Court? Call (02) 9261 8881 for a Free Consultation.