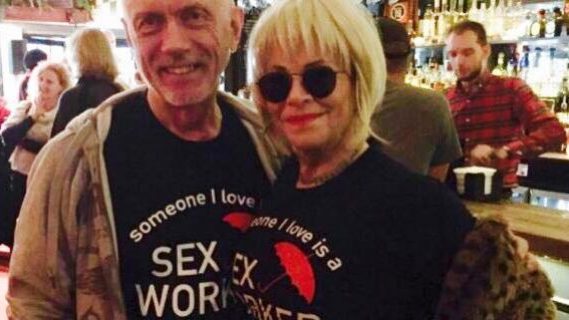 At around 12.30 am on June 24, a security guard opened the door to an apartment in Enfield, north London, and a group of five men wielding knives entered the premises. Ms Maria Benito (not her real name) was taken into a room by one of the men, who demanded she give him money.
The assailant took the cash she handed over, and proceeded to search around for more. Ms Benito was one of several women who had been conducting sex work on the premises. Another, who was hiding in a bedroom, saw a police officer through a window, and considered calling out for help.
But then she decided not to, as in the UK, while it's not illegal to be a sex worker, most other aspects of the sex work industry are criminalised. Under section 33A of the UK Sexual Offences Act 1956, it's "an offence for a person to keep, or to manage, or act or assist in the management of, a brothel."
Criminalising the victims
However, Ms Benito called the police after the gang left the premises, and whilst she was on the phone she mentioned that she was a sex worker. Officers turned up ten minutes later, but instead of asking about the attack and collecting forensic evidence, they focused on the women.
The officers asked intrusive questions about the money they were charging, and how many clients they had. A few days later, a letter arrived from police threatening to prosecute them for running a brothel. And Benito, who was visiting from Brazil, was served with a deportation notice.
On behalf of Ms Benito, Legal Action for Women complained to the Enfield police. The legal service pointed out that threatening the victims of violent crime with prosecution for non-violent sex work offences only serves to deter sex workers from reporting crime to police.
The LASH report
And it's the criminalisation of the sex work industry that leads to a situation where sex workers who are the victims of crime are reluctant to approach police, because they risk being punished for their occupation, rather than being assisted with any trespass against them.
Indeed, this injustice, along with the negative health and safety impacts of criminalisation, is why the researchers of the latest Law and Sex Worker Health (LASH) report are calling on the Western Australian government to decriminalise the sex work industry in that state.
"Criminalisation impacts on all aspects of your life," said Urban Realists Planning and Health Consultants principal Julie Bates, who was one of the LASH researchers. She explained the system fails to "protect sex workers by denying them equal human, legal and industrial rights which, in turn, fuels stigma and discrimination."
Increasing the harms
Ms Bates pointed out that more than a fifth of participants in the LASH survey "reported having been assaulted at least once in the past year." It was reported that clients often justify their abuse due to the illegality of sex work, and they feel a reduced risk of being reported because of this.
"The most commonly reported experience of stigma and discrimination described by our study participants was with police officers," Ms Bates continued. She further outlined that 27 percent of participants had experienced negative treatment from officers at least once.
The failed licensing scheme
In Victoria, the licensing scheme for commercial sex work was set up under the Sex Work Act 1994. It means that a sector of the sex work industry is legalised, while the majority of the industry continues to operate outside the legal framework.
Victoria's only peer sex worker organisation, the Vixen Collective, has stated that the licensing system leaves the police to "fulfil an enforcement role, which creates significant barriers for sex workers accessing police assistance."
Cameron Cox, chief executive officer at the Sex Workers Outreach Project (SWOP) explained that in Victoria in-calls – where a sex worker operates from their own premises – are illegal. And the prohibition surrounding this aspect of the industry is leading to incidents similar to the UK attack.
"Sex workers who were offering in-calls were targeted for robbery and rape by persons pretending to be clients," Cox told Sydney Criminal Lawyers®. He added that none of the victims were prepared to go to the police for fear of being prosecuted themselves.
And just like the brothel robbery in the UK, which appeared to be a part of a series of related incidents, so too the Victorian in-call robberies and assaults seemed to be serial in nature. It's criminalisation that's allowing offenders to prey on sex workers with little fear of punishment.
The case for decriminalisation
"The criminalisation of sex work makes sex workers criminals, and the so-called "legalised," "regulated" and "licensed" sex work frameworks are in practice criminalising frameworks," Mr Cox continued.
In NSW, the enactment of the Disorderly Houses Amendment Act in 1995, decriminalised most aspects of the sex work industry. This led to reduced police corruption, and a rise in peer-based sex worker organisations that began to work in collaboration with police.
It's only under decriminalisation models that sex workers aren't "regarded by police as either criminals or potential criminals," explained Cox. Decriminalisation empowers sex workers, rather than the state, to have increased control over their work.
Under decriminalisation, NSW police has appointed sex industry liaison officers, and officers in general, "take a more pragmatic approach to the sex industry and those who work in it," according to Ms Bates.
"The combination of these initiatives has created a safer and more supportive environment for sex workers to report crime," she added.
It's a human rights issue
In 2003, New Zealand implemented a similar decriminalisation approach to that in NSW. And today, the NZ model is often touted as the shining example in countries like the United Kingdom, where a sex work law reform debate is underway.
Amnesty International has adopted a decriminalisation policy to protect the rights of sex workers. Yet, research like the LASH report is still desperately needed, as jurisdictions, such as WA, continue with systems that increase sex worker vulnerability and provide them with little protection.
"No amount of evidence as to the harms of criminalisation, or the innumerable shortcomings of legalisation, has thus far moved governments to seriously address these findings," Ms Bates concluded, adding that politicians are more concerned with re-election, than sex workers rights.
Last updated on
Receive all of our articles weekly