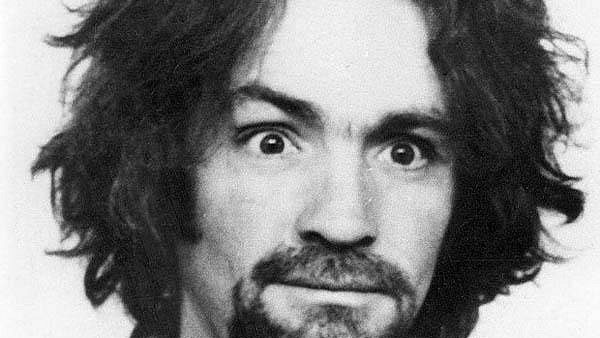 Charles Manson, one of the most notorious murderers in modern history, passed away of natural causes last Sunday, after spending close to half a century behind bars. But what many don't realise is that he was never convicted of killing anyone with his own hands.
Manson was the strangely charismatic leader of a cult known as the Manson Family, which was mainly made up of disaffected young women. And it was in the Los Angeles summer of 1969, that he sent out some of his followers to perpetrate a slaughter that would chill the world.
In 1967, the Haight-Ashbury district of San Francisco was the epicentre of the hippy movement. While many long-haired youths turned up for the promise of peace and love, coupled with LSD and marijuana, Charlie Manson showed up with darker ideas in mind.
Gathering together a group of middle-class women seeking to rebel against their backgrounds, along with some wannabe actors and bikie-types, Manson headed out to the Spahn Movie Ranch in north LA, before taking the congregation out to a more remote property on the edge of Death Valley.
And just a few years later, Manson was charged on multiple counts of murder and sentenced to life imprisonment. The prosecutor who eventually put him behind bars, Vincent Bugliosi, described Manson as "an evil, sophisticated conman with twisted and warped moral values."
The Tate murders
On August 8 1969, Manson instructed four of the Family members to carry out a series of murders at 10050 Cielo Drive in the Los Angeles' suburb of Benedict Canyon. At the time, the house was the residence of film director Roman Polanski and his wife Sharon Tate.
Polanski was in London working on a film the night that Manson's followers descended upon his residence. It's thought the cult leader sent them to that address as the previous occupant of the house, the Byrds record producer Terry Melcher, had snubbed Manson, who was an aspiring musician.
On the night of the slaying, long-term Family member Tex Watson took Susan Atkins, Linda Kasabian, and Patricia Krenwinkel to the house, and suggested they "totally destroy" everyone in it, in the most gruesome way possible.
Ms Tate was eight and a half months pregnant on the evening of the attack. Ms Atkins later bragged in prison that she repeatedly stabbed the model to death, and then wrote "pig" on the front door of the house in her blood. However, in later years, Watson admitted to killing her.
Coffee heiress Anne Folger was attacked by 19-year-old Krenwinkel, who stabbed her 28 times in the backyard. Hollywood stylist Jay Sebring was shot by Watson, who then proceeded to stab playwright Voytek Frykowski 51 times. And Steven Parent, a visitor of the caretaker, was also shot down.
Another night of carnage
On the following evening, the four killers, plus two other Family members, Leslie Van Houten and Clem Grogan, set out to the house of supermarket executive Leno LaBianca. Manson accompanied them this time, as he was unhappy about the panic that ensued on the previous evening.
Manson initially entered the house with Watson and tied up Leno and his wife, Rosemary. He then returned to the waiting car and ordered Krenwinkel and Van Houten to make their way up to the house to kill the couple.
Watson repeated stabbed Leno LaBianca with a chrome-plated knife, and carved "war" into his chest. While the two women stabbed Rosemary LaBianca a total of 41 times in her bedroom. Krenwinkel then returned to the living room and wrote "death to pigs" on the wall in Leno's blood.
Meanwhile, Manson took the remaining three Family members to the apartment of an actor friend of Kasabian's in Venice Beach, so they could kill him. Manson then drove home, leaving all six of his followers to hitchhike back to the ranch.
However, Ms Kasabian thwarted the murder attempt by knocking on the door of another apartment. Kasabian had been present at the murder scenes on both evenings, but she didn't actually take part in killings. And she ended up becoming the prosecution's star witness during the subsequent trial.
The downfall of the Family
In July 1969, local musician Gary Hinman was tortured for three days by several Family members, before being stabbed to death. This was allegedly done as Hinman had sold some bad mescaline to one of Manson's followers, Bobby Beausoleil.
Beausoleil was eventually arrested for the murder. But, when Manson did nothing to get him out of prison, he then implicated Susan Atkins in Hinman's murder. And whilst she was incarcerated, she bragged about killing Tate.
Ms Atkins then tried to deny the story, but it was too late. Manson, along with Van Houten, Kasabian, Krenwinkel, and Atkins, was charged with murders. By that time, Tex Watson had taken off to Texas, where he was fighting extradition.
Throwing away the key
On July 24 1970, Manson and his co-defendants went to trial. During the proceedings, they all turned their backs to the bench to insult the judge, and carved crosses into their foreheads. Manson later turned his cross into a swastika.
All four defendants were eventually convicted of murder. Manson was convicted of seven counts of murder, as well as one count of conspiracy to murder. On April 22 1971, he was sent to Corcoran prison in California to sit out the rest of his days.
Manson and the others were initially sentenced to death, but this was converted to life imprisonment, after the California Supreme Court briefly ruled capital punishment as unconstitutional in 1972. Watson was eventually extradited and convicted of murder as well.
A twisted life
Manson's failed music career seems to have been the impetus for his reign of terror. He'd briefly befriended Beach Boys drummer, Dennis Wilson, in the early sixties. The band had even recorded a song written by Manson, but he wasn't credited for it.
During the trial, prosecutors argued that Manson was hoping the killings would start a revolution sparked by a race war, as he'd expected the Black Panthers to be blamed for the murders. He was also heavily inspired by the lyrics of the Beatles' White Album, especially the song Helter Skelter.
In 2014, the 80-year-old Manson was set to marry Afton Elaine Burton. However, the relationship fell apart after it was revealed that 26-year-old Burton, who'd been visiting Manson in prison for 9 years, wanted to display his body as a tourist attraction after his death.
Last week, Manson was rushed to hospital, where he died at the age of 83. He'd been denied parole a total of 12 times.
Receive all of our articles weekly