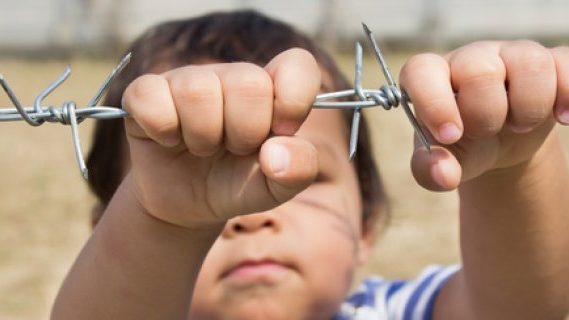 Since 2011, violence and air strikes have been a daily occurrence in Aleppo, Syria, terrorizing the local population.
Buildings including schools and hospitals have been reduced to rubble, the air has become thick with dust and pollutants, and basic necessities such as food and water have slowly disappeared in this horrific civil war that's killed more than 400,000 civilians and forced almost 5 million to flee.
While all of this is occurring, the western world watches the desperate pleas of civilians and aid workers via social media as one of the greatest humanitarian crises of our time unfolds before our eyes, reluctant to get involved. Countless families have been displaced; thousands of children have become orphaned.
Syrian President Bashar al-Assad's troops entered eastern Aleppo in late November in a final push to take control of the city and end the rebel stronghold. After weeks of constant bombings and fighting on the ground, the Syrian regime says it now has control of eastern Aleppo, which will force the rebels out. But the tragedy is far from over.
There's little left of this once thriving city, except a devastated landscape and nowhere near enough resources to help people to rebuild their lives.
Doctors without Borders
Doctors Without Borders/Médecins Sans Frontières (MSF) is a collective of volunteer doctors and health workers who provide medical assistance to populations in distress, and to victims of natural or man-made disasters, and armed conflict.
Earlier this month, the organisation began co-ordinating efforts on the ground in Syria by sending medicine and supplies to a hospital in Aqrabat which is treating wounded evacuees from East Aleppo.
The organisation says that in addition to the 45 tons of medical supplies, another 700 kits of non-food items will be sent and another 1,000 kits are being prepared.
White Helmets
White Helmets is an organisation that funds the work of volunteer rescuers in Syria.
Those who are part of the 'White Helmet Brigade' courageously rush to the scenes of bombings to pull people out from under the rubble and carry them to safety.
The volunteers are from all walks of life – bakers, teachers, office workers, tailors – ordinary Syrians who banded together in 2013 to save the lives others caught in the middle of the civil war that's ravaged the country, leaving heartache and devastation in its wake.
These brave men and women have saved thousands of lives by putting their own lives at risk.
Funds donated to the organisation go towards replacing rescue equipment and ambulances that have been damaged in the bombings, providing medical care for wounded White Helmets, as well as financially supporting the families of White Helmets lost in the line of duty.
Lending a helping hand
Sydney Criminal Lawyers® has donated $500 to each of these non-profit organisations, and you too can help by clicking on the following links:
Doctors Without Borders/Médecins Sans Frontières (MSF)
Receive all of our articles weekly
Author
Sydney Criminal Lawyers
Sydney Criminal Lawyers®
is Australia's Leading Criminal Defence firm, Delivering Outstanding Results in all Criminal and Driving cases. Going to Court? Call (02) 9261 8881 for a Free Consultation.