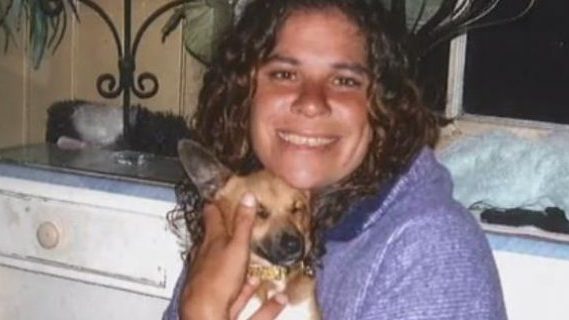 Lynette Daley was already dead by the time paramedics arrived at Ten Mile Beach in northern NSW. It was around 7 am on January 27, 2011 and the 33-year-old mother-of-seven's body lay bloodied and brutalised.
Two men, Adrian Attwater and Paul Maris, were with the deceased. They told paramedics that Attwater had engaged in "wild sex" with Ms Daley before she collapsed in his arms, as they walked down towards the ocean.
A nation's shame
A 2014 coronial inquest found that Lynette died as a result of a sexual act, which she could not have consented to due to her extreme level of intoxication. The official cause of death was blood loss due to "blunt force genital tract trauma."
An Associated Press article was published internationally last week, alerting the world to the shameful neglect surrounding the case. The article concludes that the reason it took five years for the men to face prosecution is that they're both white, while Ms Daley was Aboriginal.
An unsettled life
Lynette led a challenging life. She struggled to support her seven children, the first of which was born when she was just 16-years old. The courts eventually awarded custody of the kids to her mother and stepfather, as it became clear she could no longer care for them.
She suffered repeated family violence at the hands of a series of boyfriends, and had a long battle with alcoholism. She was homeless at the time of her death.
The horrific incident
The trio had set off on a fishing trip at a remote beach just north of the town of Iluka. During the evening, they'd all been drinking heavily, Ms Daley to the extreme. Blood samples taken after her death suggested a blood-alcohol reading of between 0.303 and 0.35 percent.
State coroner Michael Barnes said that if Maris' version of events was correct, then Lynette had ceased drinking after her injury was sustained. This means that her blood-alcohol level would have been considerably higher at the time her injury was inflicted.
Attwater asserted that he had engaged in consensual sex on a mattress in the back of Maris' four-wheel drive. He told police on the day of the incident that he inserted his fist inside the woman. And Maris, who was trying to perform another sexual act, agreed that this is what had occurred, re-enacting the event with a vigorous motion.
Later, Attwater gave a different account, claiming he had only used his fingers in a gentle motion.
Attempt to destroy evidence
The men said that they stopped as soon as they noticed Ms Daley was bleeding. They gave different accounts of what happened during the time that Ms Daley began bleeding profusely and when she finally stopped breathing.
During this period, Maris took the blood-soaked mattress out of the back of his vehicle, doused it in diesel fuel and burnt it, before partially burying it in the sand. He took Ms Daley's blood-stained bra and burnt it as well.
Maris called for an ambulance at 6am. When the police arrived, they found the four-wheel drive parked directly on top of the partially buried mattress. Maris told police that he burnt the mattress because it smelt bad, and he burnt the bra because he didn't think Ms Daley would want it anymore.
DPP drops charges
After an initial police investigation, Attwater was charged with manslaughter and Maris with accessory after the fact of manslaughter. But in 2012, NSW Director of Public Prosecutions (DPP) Lloyd Babb dropped the charges against the two men, claiming there was no proof they intended to harm Lynette.
However, it should be noted that manslaughter is a charge for an unintentional or accidental killing of another person, and does not require proof of intent. Further, there are several other assault and sexual assault charges which could have been brought in the alternative.
Coronial inquest
After the inquest in 2014, coroner Barnes recommended the case be reopened, as there was enough evidence to potentially secure convictions against the men. He referred the case back to the DPP.
Barnes had no doubt the injury that led to Ms Daley's death was inflicted by Attwater when he engaged in sexual activity.
The coroner also concluded that the fatal injuries were inflicted during non-consensual sexual intercourse, that the victim would have been in severe pain and that the person responsible failed to seek medical attention.
But despite the conclusions of the coronial inquiry, Detective Sergeant Graham Burke – the officer in charge of the investigation – visited Ms Daley's parents in December last year, informing them the DPP were still declining to press charges.
Public outcry
Public outcry ensued. An online petition garnering over 30,000 signatures called for NSW attorney-general Gabrielle Upton to review the case. Protesters gathered outside NSW MP Chris Gulaptis' office in Grafton, demanding the DPP reopen the case.
The DPP agreed after an appeal by the attorney-general in February this year. In May, Mr Babb referred the case to an independent review by barristers, and after receiving their recommendations, he decided to prosecute the men.
Attwater, 42, was charged with manslaughter and aggravated sexual intercourse without consent. Maris, 46, was charged with aggravated sexual intercourse without consent and accessory after the fact to manslaughter.
Granted bail
The pair appeared before Grafton Local Court on August 2. Their defence lawyers suggested that bail be granted on tough conditions, and the Magistrate ultimately acceded to that request. About 50 of Ms Daley's relatives were at the courthouse. They screamed and pushed at the men as they left the building.
Ms Daley's family are outraged that the men were granted bail. "If it was two Indigenous people who done that to a white girl, they'd be in gaol – bail refused," Gordon Davis, Lynette's stepfather said. "But with an Indigenous girl, nothing was done."
Not guilty pleas
Both Attwater and Maris pleaded not guilty to all charges, when they appeared at the NSW Supreme Court on December 1. Relatives and friends burst into tears when they heard the pleas.
Outside the court, protesters called for an end to violence against women.
Attwater, who now lives in Townsville, appeared via video link. Maris, who lives in Wauchope, enlisted the support of NSW police to leave the courthouse and avoid Ms Daley's supporters.
The men are due to stand trial on July 24 next year.
Receive all of our articles weekly