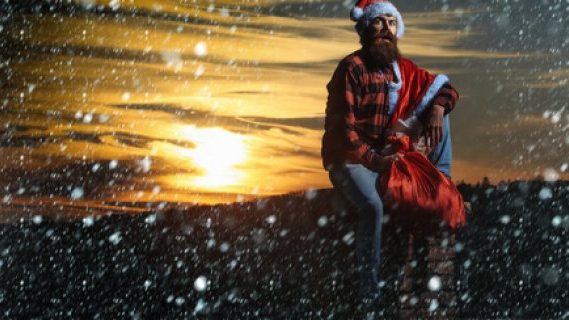 At 11:30pm on Christmas Eve, 2008, a man dressed as Santa Claus knocked on the door of a house in Covina: a small town 35 kilometres east of Los Angeles. An 8-year-old girl answered the door to find Santa holding a large wrapped gift in one hand and a 9mm semi-automatic handgun in the other.
The fake Saint Nick then levelled the weapon at the girl's face and shot her.
The man in the red coat entered the house of James and Alicia Ortega: an elderly couple, who'd lived in the area for many years. About 25 people were celebrating the festive season.
Christmas Eve massacre
The man unleashed a barrage of gunfire upon those gathered in the living room. Police believe he killed several of his victims execution style. He shot a 16-year-old girl in the back, who survived her bullet wound, as did the 8-year-old who opened the door.
Relatives and friends began trying to get away. Some smashed through windows, others hid behind furniture, while some ran up the stairs to escape via second storey windows.
After emptying four semi-automatic handgun catridges into the room, Bruce Pardo – the 45-year-old ex-son-in-law of the Ortegas – opened the gift he'd been carrying. Within the box was a makeshift flamethrower, he'd built himself.
He doused the living room in jet fuel and set the house ablaze, burning some of his victims to death.
Victims flee to safety
Joshua Chavez from Seattle was visiting his mother, who lived in the house behind the Ortegas. He heard a loud explosion and saw black smoke and a large flame. Chavez ran out into the backyard to find three girls screaming as they tried to climb over his mother's back wall.
Jeannie Goltz, a 51-year-old neighbour, saw another three partygoers fleeing out the front of the residence. One of them, a young woman, had broken her ankle jumping out a second floor window.
Just after Ms Goltz helped the three survivors into her house, the SWAT team arrived. But by this time, Mr Pardo had fled the house on Knollcrest Drive in a rented blue Dodge.
The death toll
Pardo killed nine people during his rampage, including his ex-wife – Sylvia Ortega – her mother, father, sister, her two brothers and their wives. Thirteen children were orphaned.
The bodies of his victims were burned beyond recognition, and authorities had to wait for dental and medical records to identify them.
Santa takes his own life
The Santa Claus killer then drove 64 kilometres to his brother's house in Sylmar. As he travelled, his body was covered in third degree burns and parts of the polyester Santa suit had melted to his skin.
He found the house empty on arrival. He booby-trapped his rental car, then entered his brother's home, took out a gun and shot himself in the mouth at 3am on Christmas morning.
A last ditch attempt to kill
When police searched the scene, they found $17,000 in cash and a flight ticket to Canada booked for Christmas morning. Authorities believe he chose to commit suicide rather than take the flight, because his body was too badly burned.
The rental vehicle exploded as the bomb squad examined it, but nobody was hurt.
Despite being critically burned, Pardo took the time to try and cause more damage. He filled the vehicle with ammunition and black powder. He'd rigged it to explode with a trigger he'd attached to the Santa outfit he left in the vehicle.
Detectives executed a search warrant at Pardo's Montrose home. They found high-octane racing fuel, five empty boxes for semi-automatic handguns and two high-powered shotguns.
A doomed relationship
At the time of the Covina massacre, Pardo was an unemployed electrical engineer, whose divorce to Sylvia Ortega had just been finalised at a court hearing the week before.
Pardo met Ortega in 2004. She had three kids to two previous marriages. Pardo's friends thought a down-to-earth wife like Sylvia and a large family could be just what he needed. They married two years later and settled into their Montrose home.
The marriage initially went well, but after the first year Sylvia complained that Pardo had grown cold and distant. The pair often argued over money.
They separated in March 2008. Sylvia asked if she could stay while her daughter finished kindergarten, but Pardo moved her belongings onto the driveway. Sylvia filed for a divorce and moved in with her sister.
Pardo tried to reconcile with Sylvia in April, but she wasn't interested. On June 18, 2008, a Burbank judge ordered Pardo to pay $1,785 a month in spousal support. His first cheque bounced and he stopped payment after the second one.
Santa's slaying preparations
Pardo then began planning the bloodbath. He bought a 9mm handgun at Burbank Gun World on June 13.
California law limits sales of concealable firearms to one per customer every 30 days. Pardo returned to the store after the 30 day period four times, to buy five weapons in total.
On July 31 that year, he was fired from his job for fraudulent billing hours of work. It's believed he was claiming the extra hours to meet spousal payments. He filed for unemployment compensation, but was denied, as workers fired for fraud aren't eligible.
In September, he dropped into Jeri's Costumes and ordered a custom-made Santa suit. He left a $20 tip when he picked it up in November.
You never can tell…
On the night of the murders, Bong Garcia, Pardo's next door neighbour, was smoking a cigarette on his porch. Pardo greeted him and said he was going to a party. "Just the same as always," Garcia said. "He didn't seem like he was mad or anything."
The only odd thing Garcia noticed was that Pardo didn't take his black Cadillac Escalade or his white Hummer. He got into a blue Dodge parked on the street.
After Pardo stormed into Ortega's living room firing his weapons, his former sister-in-law Leticia Yuzefpolsky called 911. She was the mother of the 8-year-old who was shot at the door.
It's believed Pardo dressed as Santa for the slaying, because the family had a tradition of neighbour, Pat Bower, dressing up as Kris Kringle and visiting the house on Christmas Eve.
Receive all of our articles weekly