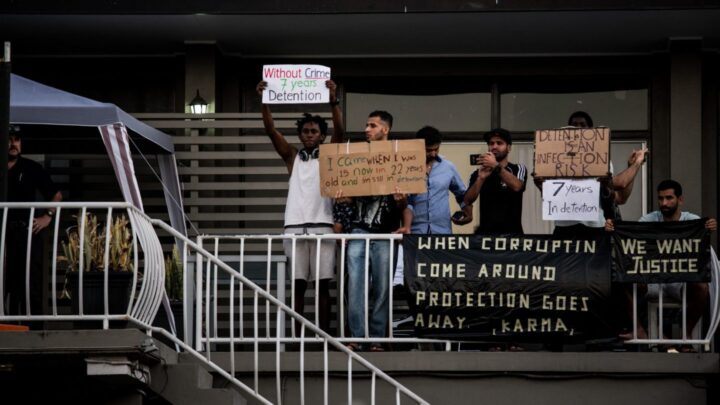 Exactly what goes on behind the walls of detention centres is not common knowledge.
In fact, the Federal Government has long sought to keep as many details as possible, secret, out of the public domain, going so far as to put forth a proposal to allow authorities to confiscate the phones of detainees so they can't use them to film, photograph and post images of their plight online.
Legislation currently before Parliament expands Home Affairs Minister Peter Dutton's powers to declare certain items as prohibited, and more easily search for, and seize, mobile phones. The move seeks to circumvent a 2017 Federal Court ruling that rejected a blanket ban on mobile phones in detention centres.
But human rights organisations and refugee advocacy groups say the proposal unacceptably breaches detainees' rights. Labor and the Greens have promised to block it, as they did with a version that was proposed after the 2017 court decision.
Transparency and accountability
It's important there is transparency in the way government departments exercise their powers, and accountability for violations such as the way authorities are currently in flagrant breach of the refugee convention Australia has long ratified.
But the current federal government's agenda is clearly about suppressing both dissent and avoiding accountability, as it has demonstrated time and again through the passing of laws which criminalise those who expose abuses by government departments.
The last thing the government wants is the publication of posts which bring to the public's attention the fact many detainees have been locked up for over 7 years, with little ability to physically distance during the current pandemic, or information on the alarmingly high rate of assaults at the hands of officers inside detention centres.
In a recently published review of detention centres, Commonwealth ombudsman Michael Manthorpe said that while force was sometimes "necessary and appropriate" for safety, it was being used "too readily, too often and not always proportionately; not in a way consistent with department's procedures and possibly without any legal basis".
It must always been borne in mind that it is perfectly legal to seek asylum in Australia, however a person gets here, and that despite their demonisation by people like Peter Dutton and even the mainstream media, these people are not 'criminals'. 
More than 4000 assaults over five years
Department of Home Affairs figures obtained under freedom of information confirm that detention centres have recorded 4115 assaults between 1 January 2015 and 31 March 2020 this year. Of these, 184 were reported to police.
While the assault figures do not cover the period of Covid-19 lockdown, during which visitors have been banned, and therefore tensions are likely to have increased, they do show that detention centres are becoming increasingly like prisons with guards using significant force to control detainees. It's important to remember that the majority of these people are not lawbreakers, they are simply waiting for the Government to determine their refugee status.
Others are confirmed refugees are still rejected and because their original countries won't take them back and they remain detained indefinitely.
In recent years, the population in detention centres has become inflated due to foreign nationals who have been charged with or convicted of criminal offences or "deemed to be of bad character" being housed in these centres as they await deportation under changes implemented to the Migration Act in 2014, which altered section 501. This change to the law made it mandatory for Australia to send non-citizens back to their countries of birth, after they had been sentenced to prison terms that total 12 months or more.
As of at the end of May this year, according to the Department of Home Affairs, there are 1458 people in detention.
Risk of a Covid-19 outbreak is high
The Asylum Seeker Resource Centre (ASRC) recently raised concerns about a possible outbreak of Covid-19, particularly within Victorian detention facilities, because the conditions are similar to those in the aged care sector.
Many facilities are overcrowded so social distancing is not possible at all times, and up to 70 staff members rotate on a regular basis across different facilities, not consistently using Personal Protective Equipment (PPE). There is also limited hand sanitiser available, and what is available, is alcohol free, despite the Centre for Disease Control recommending that hand sanitisers contain at least 60 percent alcohol. The reason for this is that alcohol is contraband in these centres.
Re-opening Christmas Island
The Morrison Government has so far ignored repeated calls for people to be released. Instead, earlier this month confirmed that it would reopen the detention facility on remote Christmas Island until at least February next year to create space for detainees in eastern states to be transferred to Western Australia to avoid the risks of coronavirus infection in Sydney and Melbourne.
But the ASRC says there are concerns that this means detainees will have limited access to lawyers and supporters because of poor wi-fi and mobile services on the island.
Australian Border Force has since confirmed that those who will be transferred to the island will be "those who have been convicted of crimes involving assault, sexual offences, drugs and other violent offences. This cohort is detained because of their risk to the Australian community."
And this is a concern for the current detainees of Christmas Island, the Tamil family, also known as the Biloela family who have been detained on the island for almost a year as they continue battling the Australian Government in the courts to remain in Australia.
The Government says the family will not be in the same facility as the one being reopened for those refugees who are being transferred in the coming weeks.
Receive all of our articles weekly