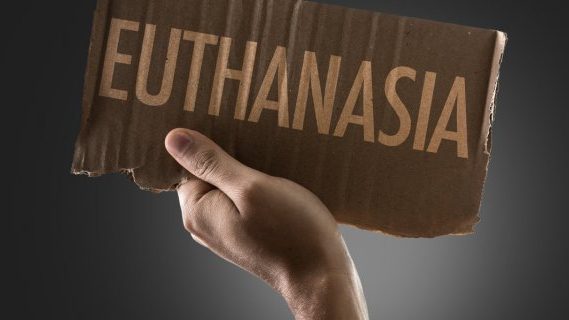 Suicide is no longer a crime in Australia. If a person attempts to take their own life and fails, they will not face criminal charges for doing so, as they did in the past.
Society now understands that survivors of suicide attempts need help, not punishment.
But the act itself is heavily stigmatised. A person who takes their own life is sometimes perceived as selfish. And for those who survive the deceased, there's a lot of pain and shame involved as well.
However, this is often the only option left for those suffering a terminal illness – such as cancer – who don't want to go through the prolonged suffering ahead.
It's a well-kept secret that many people facing a fatal disease in Australia choose to end their lives in this way.
Left with no other choice
What this means is that they have to take their own life in a secretive and sometimes dangerous manner. Saying goodbye to loved ones is not always an option, and the chance for closure is often lost.
If someone assists a friend or family member to end their life, they can be punished with up to ten years' imprisonment – voluntary euthanasia and assisted suicide are still a crime in Australia.
Permitted practices
Palliative care is an approach that improves quality of life and relieves some of the suffering endured by patients with terminal illnesses. Palliative Care Australia points out that euthanasia and assisted suicide are not part of these practices.
But there is the doctrine of "double effect" in palliative care, which are measures that seek to relieve symptoms that might also hasten a patient's death.
These include not initiating or not continuing life-prolonging procedures  and the administration of certain treatments that promote pain relief, such as high doses of opioids.
For those living with a terminal illness and arguing that they have a right to die, it's often difficult to see where the line is drawn.
Doctors will follow politicians
On Thursday, the Australian Medical Association (AMA) said that a majority of doctors would help to end terminally ill patients' lives if voluntary euthanasia became legal. This was revealed in a survey of 4000 general practitioners and medical specialists.
The AMA released a position statement outlining that they don't support euthanasia and assisted suicide, but acknowledge that right-to-die laws are a matter for the public and politicians to decide upon.
Voluntary euthanasia is when a person gives their consent to have their life ended by a doctor, who then performs the act. Whereas physician-assisted suicide involves a doctor prescribing a lethal dose of medication to a patient, who performs the final act themselves.
Doctors prepared for future involvement
The survey found that 50 percent of doctors believe they shouldn't be involved in euthanasia or assisted suicide, 38 percent believe they should, while the remaining 12 percent don't have a view either way.
AMA President Michael Gannon explained that while the majority of the doctors surveyed said they didn't want to carry out the procedures, most of them thought doctors should be the ones to do the job.
The position statement also asserted that if these practices were made lawful, the medical profession "must be involved in the development of relevant legislation, regulations and guidelines", and the laws should protect doctors and vulnerable patients.
Arguments against euthanasia are that patients might be coerced into making the decision by relatives who are concerned about the expense of nursing homes and whether a person is capable of making a clear decision about their death if they're suffering depression or dementia.
Another argument is based upon the sanctity of human life – that only God should be able to decide when a person dies.
A pattern of failure
The AMA spent a year revising its position after the 'Death with Dignity' bill got knocked back by South Australian parliament last November. A conscience vote tied at 23 for and against, with the speaker Michael Atkinson then casting his vote against.
This bill was defeated after fourteen similar bills also failed in SA parliament in recent years.
The revised bill provided the option of voluntary euthanasia to people with a terminal illness suffering unbearable pain that couldn't be relieved by other measures. And the decision had to be endorsed by two doctors.
Victorian politicians ruminating
The Victorian state parliament is currently considering reforms recommended by a parliamentary committee to allow some terminally ill patients to choose to die.
The report tabled in June this year recommends that the option only be given to adults with decision-making capacity. It excludes those with dementia and other mental health conditions alone. It would only apply to Victorian residents.
Victory revoked
The Northern Territory became the first jurisdiction in the world to legalise euthanasia, when a bill passed before territory parliament on May 25 1995.
But the law was subsequently overturned by the 1997 Commonwealth Euthanasia Laws Act. The private member's bill was introduced by Liberal MP Kevin Andrews, with the help of Labor frontbencher Tony Burke, then director of the group Euthanasia No.
Marshall Perron was NT chief minister at the time. He told the ABC last year that he was surprised how much attention the NT euthanasia bill received. "What we underestimated was the strength of feeling by the religiously powerful in federal parliament," Mr Perron said.
A hidden network
Australian television presenter and producer Andrew Denton is a vocal proponent of euthanasia. In a speech he gave at the National Press Club in August this year, Denton criticised the network of Catholic politicians and businessmen that championed the repeal of the NT euthanasia law.
Denton went on to explain that these forces "are still in play", described those against euthanasia as "the theocracy hidden inside our democracy."
The support is there
But not all Christians are against legalised euthanasia.
An ABC Vote Compass survey of 34,000 people in March last year found that 68 percent of Protestants and Catholics support euthanasia, while 72 percent of overall respondents support it. And there are numerous other polls that show similar figures.
Australian doctors have said they'll abide by the will of the public and politicians. The Australian public has spoken out in favour of the right to die. Yet politicians repeatedly vote down euthanasia bills.
And this does nothing to relieve the suffering of those with terminal illnesses.
Receive all of our articles weekly