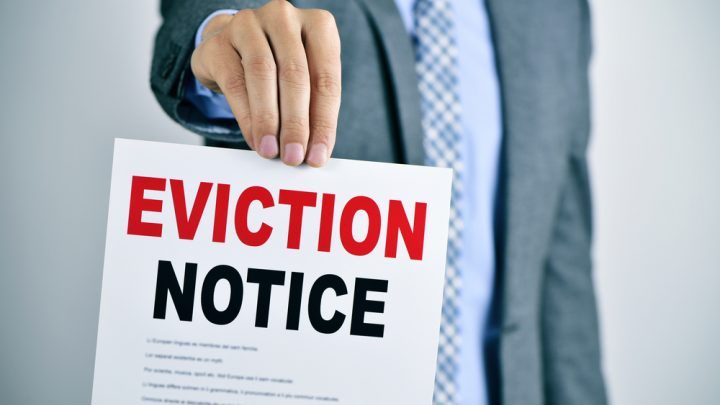 There are currently 60,000 people on the waiting list for public housing in NSW, signifying the huge demand that exists for the service.
And the wait is becoming excruciatingly lengthy – with families in Grafton, Byron Bay, Port Macquarie and Coffs Harbour having to wait over 10 years for a three bedroom house.
But proposed new laws mean that public housing tenants could be evicted much easier than before, potentially making way for others.
The election promise:
Earlier this year, NSW Premier Mike Baird announced that he would be "cracking down" on crime in public housing, declaring that:
"Public housing is a privilege, not a right. We will have no tolerance for people who don't play by the rules and make other people's lives a misery."
Baird's announcement follows several cases where the NSW Civil and Administrative Tribunal (NCAT) refused to allow landlords to evict tenants who had been convicted of serious crimes.
But the situation may soon change, with the government's proposal enjoying bipartisan support.
What is the proposed new law?
The proposed new law would mean that those convicted of certain serious crimes could be evicted immediately, while those who commit less-serious offences could have their tenancies terminated under a 'three strikes and you're out' rule.
The Bill is the Residential Tenancies and Housing Legislation Amendment (Public Housing – Antisocial Behaviour) Bill 2015, and is an amendment to the Residential Tenancies Act 2010 and the Housing Act 2001.
Its stated purpose is to "facilitate the termination of public housing for antisocial behaviour and for other purposes".
Section 154G(1) of the Act allows for an order is to be made for termination of a social housing tenancy, requiring the tenant to vacate the premises within 28 days.
Offences may lead to immediate termination include:
Re-birthing cars or boats on public housing property,
Intentionally destroying public housing property,
Using public housing as a brothel, and
Possessing or distributing child abuse material.
The Bill introduces a scheme for 'strikes' to be issued against tenants who breach agreements with their landlords if the breach alone is not enough to justify ending the tenancy.
Tenants can be evicted if the landlord gives them three strikes within a 12 month period.
Behaviour that can attract a strike include: loud televisions, wild parties and leaving large amounts of rubbish in the home or garden.
Neighbours are able to report anti-social activities, with the proposed legislation also giving neighbours the opportunity to make 'Neighbourhood Impact Statements'.
Dangers
The legislation has taken discretion away from NCAT – meaning that in certain situations, the Tribunal must make a termination order even though it may seem harsh given all of the circumstances.
It has been argued that this gives the Department of Housing enormous power when it comes to deciding who remains in government housing, while at the same time taking power away from a tribunal that normally looks into a whole range of factors when deciding whether or not to terminate a particular tenancy.
There are also concerns that existing tenants – many of whom have mental health issues – will be left homeless as a result of the legislation, leading to destitution and all of the associated problems. They may even end up turning to criminal conduct in order to make ends meet.
While Labor is expected to support the Bill, it has raised concerns regarding tenant rights.
Labor MP Tania Mihailuk believes that tenants should have 60 days to respond to accusations made against them, instead of just 28.
But Minister for Social Housing, Brad Hazzard, has justified the move by saying that:
"The majority of public housing residents are law abiding citizens. However you can get bad neighbours….tenants have demanded that drug dealers and criminals ruining their lives are moved out fast. The NSW government wants social housing to be a safe place."
Receive all of our articles weekly