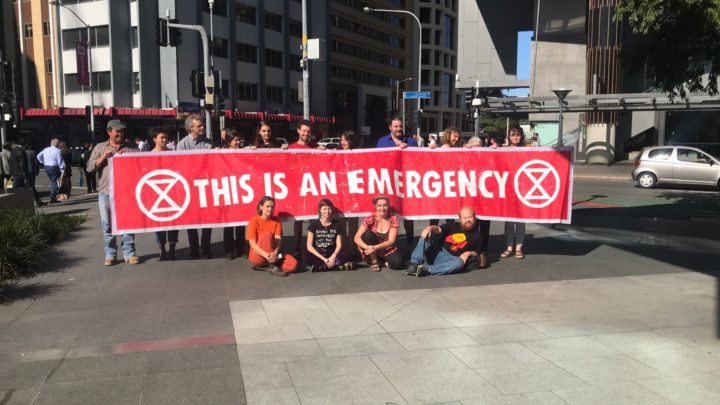 The 6 August marked Rebellion Day in Meanjin-Brisbane. The day of action saw Extinction Rebellion activists shutdown four key city intersections to protest against government inaction on the climate emergency. And for their trouble, around 90 protesters were arrested by Queensland police.
Extinction Rebellion (XR) is a global civil disobedience movement, which uses nonviolent direct action to disrupt "business as usual" in order to bring about societal and political reforms that will halt the human activities that are causing a climate and ecological crisis.
Four of the activists taken into custody appeared in Brisbane Magistrates Court on 4 September and pleaded not guilty to various traffic offences. And on 22 October, they'll be arguing the extraordinary emergency defence on the basis that the crisis is so extreme it warrants breaking the law.
Section 25 of the Criminal Code 1899 (Qld) contains the extraordinary emergency defence, which provides that "a person is not criminally responsible for an act or omission done or made under such circumstances of sudden or extraordinary emergency" if it's a reasonable response.
Of course, in arguing the defence, the aim of the four activists – Holly, Emma, Greg and Clancey – is to be found not guilty. However, it's also to set a precedent, where not only will fellow activists have this defence to fall back on, but the legal system will have acknowledged the climate crisis.
Obligated disruption
"Four of us decided that we would plead not guilty," said XR activist Holly Porter, "because climate change is an extraordinary emergency and we believe we shouldn't be punished for standing up for the future of this planet and all life that exists on it."
"We are seeing this in our own backyard with the fires happening," she continued. "Every day, people are losing their homes and that's going to continue to happen."
Ms Porter is set to argue the defence on 22 October in Brisbane Magistrates Court. This will be the second time extraordinary emergency has been raised in relation to climate activism in Queensland, with the first time being earlier this year in a case involving her co-accused Greg Rolles.
The 22-year-old climate activist explained that the emergency defence means that if "you broke the law because of an emergency" then you "were obligated" to do so, and therefore, it shouldn't be a crime. She added that the defence has been successfully argued in the UK on a number of occasions.
Ms Porter further told Sydney Criminal Lawyers that she believes that if the "courts see this as an emergency, this is one step towards our government and all of society seeing the climate crisis as an emergency".
In defence of climate
The extraordinary emergency defence is codified in criminal law in all Australian jurisdictions – including the Commonwealth – except for NSW and SA. It's a statutory version of the common law defence of necessity, which permits breaking the law under dire circumstances.
"Necessity says that sometimes it's necessary to break the law and the law has to acknowledge this" explained Dr Nicole Rogers. "Judges don't like it because it's a loophole. And the bigger the loophole, the more acknowledgement that legal norms are not rock solid."
The Southern Cross University Law School senior lecturer outlined that activists in the UK and the US have been arguing necessity for a decade. And in 2008, it was successfully argued by the Kingsnorth Six Greenpeace protesters in the UK, in relation to £30,000 in damages at a coal-fired power station.
The difference with the defence that's about to be argued in Queensland is that it deals with an extraordinary emergency, Dr Rogers explained. And when Mr Rolles argued it in Queensland in May, an IPCC lead author presented the scientific evidence in court relating to the climate crisis.
A report by the IPCC – the UN Intergovernmental Panel on Climate Change – released in October last year asserts that governments have to curb greenhouse gas emissions by 2030 in order to prevent a climate and ecological collapse.
"The magistrate completely dismissed the climate evidence and said that it wasn't relevant to the court's determination, which I think was inappropriate," Dr Rogers said of the outcome of the Rolles' case.
Setting the precedent
Dr Rogers recently published Law, Fiction and Activism in a Time of Climate Change, which delves into the narratives of litigants, judges, writers of fictions and activists that have developed since the onset of climate change.
The doctor explained there are two aspects to arguing extraordinary emergency in relation to climate. The first is to establish there is a climate emergency. And she believes this is becoming easier, not just due to the science, but also because of government declarations about the crisis.
"The second part of the defence requires the defendant to demonstrate that an ordinary person, with ordinary powers of self-control would reasonably act as he or she did," Dr Rogers continued. "And that is where magistrates are unlikely to agree."
However, she maintains that it's likely defendants will continue arguing the emergency defence "because the standard of what is reasonable conduct in the face of climate change is going to shift as increasingly people see the enormous damaging impacts."
"Legal standards of what is reasonable change with time," Dr Rogers added. "They always shift."
The rebellion continues
Climate activism is picking up in Australia, as well as around the globe. And it's not likely to be a passing aberration. In Australia, not only has XR started demonstrating throughout the country, but there's also School Strike for Climate, as well as Frontline Action for Coal at the Adani mine site.
And as far as Porter is concerned, she'll be out on the streets protesting in support of climate action once again, as the alternative – climate collapse – "is a lot scarier". Indeed, she said that XR activists will be out there until "our leaders bring action to the climate crisis".
"We have an International Rebellion Week, which will be starting on 7 October. That will also see continual civil resistance and disruption of business as usual, again, until we see action on this crisis," Ms Porter concluded. "And that responsibility lies on every one of us."
Receive all of our articles weekly