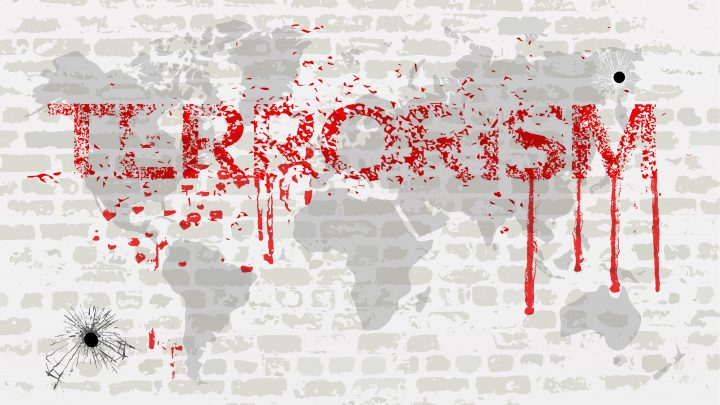 Media reporting about the threat of terrorism in Australia is relentless, with the focus almost exclusively being upon international Muslim extremist groups.
In the wake of the tragic Paris attacks, public fear has triggered calls for a range of measures aimed at preventing terrorist attacks here – from handing police even greater powers, to strengthening bail laws, to increasing maximum penalties and introducing mandatory minimum sentences for terrorism offences.
Despite Australia's anti-terrorism agenda, some individuals have either slipped through the cracks or been treated very differently to others.
The problem is, these people do not fit the mould of a 'typical terrorist': they are white, non-Muslim, and were born and raised in Australia.
These people are often treated more leniently by the police – who press minor charges rather than terrorism-related charges – and by magistrates and judges who regularly grant them bail and ultimately impose relatively lenient penalties upon those who are found guilty.
Extremist Gets Off Lightly
31-year-old Phillip Galea is a member of right-wing anti-Islam group Reclaim Australia.
The group has made headlines in recent weeks after organising a series of protests around the nation which aim to 'defeat or destroy the multicultural aspect of Australia' and preach hatred against Muslims.
Several weeks ago, police executed a search warrant upon Galea's Melbourne home, just days before he planned to attend a protest. They found Galea in possession of five tasers, a jar of mercury, bomb-making guides and a manual about how to make explosives and illicit drugs.
Despite the plethora of evidence indicative of planning an act of terrorism, Galea was charged with just two relatively minor offences: 'possession of a prohibited weapon' and 'possession of a precursor substance'; both of which remained in the Local Court.
Possession of a prohibited weapon carries a maximum prison term of two years in Victoria, while possession of a precursor substance carries a maximum of five years.
Galea pleaded guilty to both charges and came before Magistrate Jonathan Klestadt for sentencing, who noted that the weapons were likely to be used 'for an aggressive attack on others in the community'. and that the mercury was 'capable of being used for the most sinister purpose.'
Despite those findings, the magistrate sentenced Galea to just one month in prison and a fine of $5,000.
Many in the community have suggested that, had Galea been Muslim, he would have faced much more serious charges, including 'preparing for a terrorist act' which carries a maximum penalty of life imprisonment.
Are Muslims Treated Differently?
In a case that bears striking similarities to Galea's, a teenager faced the Victorian Supreme Court earlier this year after a police raided his home and found bomb-making guides and parts capable of making explosives.
But the case differed from Galea's in three important respects: Firstly, he was a Muslim person of 'Middle Eastern appearance' – not Caucasian like Galea.
Secondly, he is still a child (17-years-old) while Galea is a 31-year-old adult – yet the teen was sent to an adult court due to the seriousness of the charges.
Lastly, and most importantly, the teen was charged with very different – and much more serious – offences, despite the marked similarities in these cases.
As discussed in an earlier blog, the teenager was charged with committing 'other acts done in preparation for, or planning, terrorist acts' under section 101.6 of the Commonwealth Criminal Code, colloquially known as 'preparing for a terrorist act'. That offence carries a maximum penalty of life imprisonment.
In other cases, Muslims charged with 'preparing for a terrorist act' remain in custody for years awaiting their trial while the prosecution repeatedly delays the service of evidence.
In yet others, Muslims have been specifically targeted by police, only to be released days later without charge because there is no evidence against them.
Last year, police carried out a series of highly-publicised raids on 25 homes in Sydney and Brisbane. 800 officers were involved in the operation. Only two people ended up being charged with any offences.
During those raids, a number of families were awoken in the dead of the night and subjected to brutal treatment at the hands of teams of heavily armed and masked specialist officers carrying assault weapons. In one case, a mother was dragged from her bed semi-naked while her 14 and 15 year old sons were handcuffed by police and one of them struck in the face. Police then proceeded to search their home for 12 hours.
Despite the extensive search, police failed to locate anything suspicious or dangerous and did not lay any charges – nor offer any explanation as to why they had been targeted, let alone an apology.
The family is now pursuing legal action in the Supreme Court on the basis of their reprehensible and unjustified treatment.
Other Cases of Non-Muslim Terrorists
The way the media, police and the courts handle allegations against Muslims in these cases can also be contrasted with that of Daniel Fing, a 30-year-old Caucasian man whose Brisbane home was found filled with explosives in 2014.
Police searched Fing's home and located 22 litres of the liquid explosive TATP – the very same substance used by those behind the London bombings. Maps of 'targets' in Sydney and Newcastle were also located.
Mr Fing has an extensive criminal history and had previously served prison time for blowing up his ex-girlfriend's car.
Despite all of this, Mr Fing's story did not make front page news, and it was days before police even bothered to interview him. It is still unclear which, if any, charges were laid against him.
These cases clearly illustrate that while Muslims are routinely charged with serious terrorism offences when weapons and/or bomb making equipment are found, non-Muslims face much less serious charges and penalties.
The justice system is built upon notions of justice, fairness and equality. Rather than feeding the media-fuelled hysteria surrounding Muslim extremists, police and the courts would do well to uphold the rule of law and treat people equally.
Receive all of our articles weekly