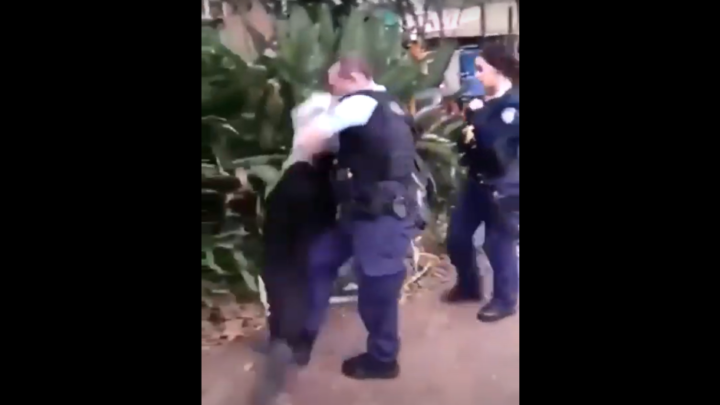 "Our son is a typical teenage boy and he feels more at home with his peers," said the mother of a First Nations teen, who was thrown face first onto the ground by a police officer on Monday. "He's got a good bunch of friends, and I'm happy with that."
The woman was responding to a question put to her at a press conference at NSW Parliament House on Wednesday just days after she'd seen mobile phone footage of a NSW police officer pinning her 16-year-old son's arms behind his back, before kicking his legs out from under him.
Despite the entire globe now condemning police violence against people of colour, the constable still felt emboldened to throw the minor onto the ground in a Surry Hills park, over some bad language that came his way during a back and forth verbal exchange that he'd been a party to.
The boy's mother went on to explain that her family experiences a lot of "extra obligations to answer to people" on the street regarding what they're up to, simply because they're Aboriginal. And she doesn't think her son should have to "feel like he's in a prison that's made up of the whole world".
"We would rather our son identify to the strengthens in our family," she added, "not to be marked out or targeted as a person who could possibly become a criminal."
Institutionalised racism
The press put a question to the family regarding whether they had a message for their supporters to "stay calm" in an obvious reference to the widespread unrest that's been sweeping the United States since police killed African American man George Floyd in Minneapolis on 25 May.
In response to the query, NSW Greens MLC David Shoebridge moved to the podium and said, "Only an Aboriginal family would be asked that question. If a white family was coming forward demanding justice for their son, they would not be put on the spot to be responsible for the actions of society."
The Greens justice spokesperson also raised concerns over NSW police commissioner Mick Fuller having dismissed the violent assault, as an officer having "a bad day". And he added that Fuller has previously suggested people in this state should have a "little bit of fear" of NSW police officers.
"He has shown a lack of leadership, which filters down amongst that organisation. And he has not been brought to account by any politician in this government," he underscored.
"Indeed, he's been egged on by the police minister, who celebrates that kind of violent policing in this state."
"It's systemic"
National Justice Project principal solicitor George Newhouse is representing the family. "We are standing here, yet again, with another traumatised Aboriginal family in circumstances where there has been an incident of police brutality," he told reporters.
Not only has the police killing of Floyd sparked protests in the US, but it has led Australia to take the moment to reflect on the ongoing oppression of First Nations peoples at the hands of Australian authorities.
Aboriginal deaths in custody are a major issue here, with 432 having taken place since 1991.
"The police commissioner said this was an incident caused by an officer having a bad day. That's wrong," Newhouse said. "This isn't an incident that was caused by an officer having a bad day. It's systemic."
"And if that is the attitude of the commissioner, then the systemic problems start at the top."
The human rights lawyer went on to explain that the family wants charges laid against the officer, so a court can decide on the matter, not police. And if that doesn't happen, then they'll be launching a private prosecution, which will be open to them if the officer is not charged with assault.
Stark injustice
In answering the question as to whether they had a message to calm supporters, the understandably distraught mother made clear that her family is "not about inciting violence". And she also queried why that question was being put to them in the first place.
"We're always checking ourselves. When can we just be people and be free and say that we've been hurt?" she asked. "Do we always have to be worried that we're offending someone else when we've been hurt?"
The boy's mother recalled standing on the side of the road as a young girl, watching the 1988 Aboriginal Deaths in Custody rally go by. And she added that her family were before the media calling for justice due to a series of circumstances beyond their control.
"We didn't know that this would be happening at this particular time in the global history, the national history and the state and local history, but here it is," she said.
"So, we're here. And we are mindful and we are humbled by all the Aboriginal families, who've experienced loss – real loss that I can't even fathom."
Receive all of our articles weekly