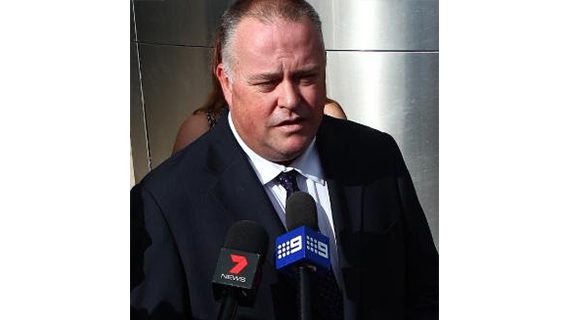 In January 2012, a pair of Queensland police officers arrested Noa Begic on the street in the Gold Coast. Charged with public nuisance, the 21-year-old chef was handcuffed and then taken to the basement of the Surfers Paradise police station.
With his hands still cuffed, Mr Begic was slammed face first into the concrete floor. Several officers then threw the young man facedown into the back of a paddy wagon and two of them proceeded to lay into him, while a third officer – a relative of the state's police commissioner – held his legs.
Just after the attack, that same officer returned to the scene with a bucket of water and washed his victim's blood off the floor.
This unprovoked assault would have gone unnoticed if the CCTV footage that captured the bashing hadn't subsequently been leaked to the press. The police report of the incident actually states that Begic had pushed at officers, which caused him to slip out of their hands and fall onto the floor.
The police officers involved in the bashing were part of the notorious Surfers Paradise patrol unit known as Team Two. At least 21 excessive force complaints had been levelled against the unit prior to the brutal assault on Mr Begic.
Good cop acquitted
Only one of the four officers involved in the assault were disciplined. And not one of them has ever been charged over the incident. Indeed, the only person to have ever been charged in relation to the bashing was then Gold Coast police sergeant Rick Flori, who played no part in it.
Mr Flori was charged with misconduct in public office for allegedly leaking the video footage. Section 92A of the Criminal Code 1899 (Qld) makes it an offence for a public officer to release information gained as a result of their position.
Flori was facing seven years behind bars for allegedly alerting the public to the brutality that goes on behind closed doors at the Queensland Police Service (QPS). The officer – who'd served 25 years in the service – was also stood down without pay.
After a six year battle, Mr Flori was found not guilty of misconduct in February this year. The jury acquitted the father-of-three by a majority of 11 to 1 in the Southport District Court after a six day trial.
Exposing police corruption
Mr Flori is currently suing the QPS for $1.3 million dollars claiming that eight officers acted "in an aggressive, inordinate and disproportionate manner" towards him following the misconduct allegations.
However, the oversight body that deals with police corruption in Queensland – the Crime and Corruption Commission (CCC) – still refuses to interview him or investigate the whistleblower reprisal complaints he's made against his former colleagues, some of whom include commissioned officers.
Today, Mr Flori is campaigning for an end to police corruption. The fact that the QPS seems to be more worried about the leaking of video footage, than the bashing of an innocent victim, has led him to the conclusion that nothing's changed since the 1989 Fitzgerald Inquiry into police corruption.
Sydney Criminal Lawyers® spoke to former Gold Coast police sergeant Rick Flori about the lack of accountability in the QPS, the reasons why the CCC refuses to speak to him and his burgeoning career in politics.
Firstly, you were acquitted of misconduct in public office last February, after being accused of leaking video footage of a violent bashing perpetrated by your former colleagues in the QPS. Mr Flori, how did it feel to finally clear your name after six years?
Words can't describe it. The police were never ever going to be able to prove that charge. They were simply causing me grief.
Even though I won, the cost of defending myself was substantial. And I can never recover that. Plus, there was the mental stress of going through it all.
What do you think about the lack of repercussions for the officers involved in the bashing? In your opinion, why haven't they faced criminal charges?
Because that's the culture within the Queensland Police Service. There's a lengthy history of not holding officers to account.
In reality, it wasn't unexpected that they didn't take action against them. But, it highlights the extent they will go to to protect their own, even when they've done the wrong thing. And it's obvious from that video that they did the wrong thing.
It extends beyond that, because the evidence that those officers gave in court was absolutely disgusting. And I've got the transcripts of it.
The main offender admitted to the assault. So, they could still charge him today, and of course, they refuse to.
Following the incident, you were suspended without pay and then you subsequently resigned from the QPS. It took six years to clear your name. You've just touched on the financial burden it caused you. What would you say the personal toll has been for you?
Huge. Not just for me, but my immediate family. They've endured this with me.
You've got to remember that criminally charging a police officer is a lot different from charging a member of the public. It's the ultimate, because police are supposed to be there to serve the community and not commit offences.
So, to criminally charge an officer is the ultimate. And the mental stress endured through that was just huge for both me and my family.
You served in the QPS for 25 years. How would you describe the culture within the service?
It's developed over decades. Even though the Fitzgerald Inquiry exposed some corruption – and note that's some corruption, not all of it – all they did was modify, adapt and overcome. All they did was work out better ways to hide it – better ways to disguise it.
They use such words as accountability and transparency, but really that's just rhetoric to put a shadow over the reality.
They were more upset with someone releasing that footage, then they were about what the content of the footage contained, which is really disgusting.
Unfortunately, the public aren't aware of the goings on, or it doesn't pique their interest until they're a victim of it.
It seemed that leaking the footage was a crime, but what was contained in the footage was permissible.
That's exactly right. And some of the initial comments from the union president were, "You don't know what this fellow did beforehand." Well, that video came out as well. And that fellow did absolutely nothing. You'll find that on YouTube.
The video came out that he actually did nothing. There was no offence. He was polite and cooperative. He turned around and walked over. They didn't have to wrestle him. There wasn't fighting in the street. He wasn't disrupting the public.
So, they falsely arrested him and then flogged him. It doesn't make sense.
And they gave three different versions. One to try and convict the young fellow. They gave a different version to the Ethical Standards Command. And then they came up with a different version for me.
They weren't even consistent in their approach. Each step needed a different version to achieve a certain purpose.
Last year, you lodged a claim against the QPS with the Brisbane Supreme Court. You're seeking $1.3 million in damages due to alleged bullying by eight police officers, following the misconduct allegations and also in regard to a public interest disclosure you made about another officer in 2010.
What's happening with this matter?
At the moment, it's still in the Supreme Court. The Crown is fighting it. They're vigorously defending it. They've brought forward two applications, which are being heard on the 6 December.
One of the applications is they're trying to deny a public interest disclosure. And the other one is to exclude officers from liability.
For those who I've claimed are responsible for a reprisal under a public interest disclosure, they're trying to exclude them from civil liability – basically excluding them from account.
They actually modified the legislation in 2014 for this purpose. They modified the Police Service Administration Act to try and avoid them being accountable civilly.
The Crime and Corruption Commission has flat out refused to interview you and investigate your complaints against your former colleagues. In your opinion, is there more to this than officials simply following the usual protocols?
Absolutely. It's not just the Crime and Corruption Commission, it's also the Ethical Standards Command of the police service. Neither have interviewed me about any complaint I've made.
It's the culture within the service. Their whole aim is to avoid accountability. And to send a message to others: not to reveal their dirty secrets.
The officer that charged me got promoted to a higher rank then went to work at the Crime and Corruption Commission, what does that tell you?
You ran in the last Queensland state election as an Independent for the seat of Southport. What sort of a platform were you running on? And how did you go?
It was mainly based around anti-police corruption. And there were also some local issues that I was in support of.
I had a short lead into it. It was a last minute decision to run. Even though I didn't win, I obviously had the support of the public. For a first timer, with no lead in, I received about 10 percent of the vote. So, I was quite pleased with that.
It would have been easy to go in through the party that had long held the seat, but I didn't see any point in going in through a party and then having to keep my head down and toe the party line. Why? Just to line my own pocket? That doesn't sit with me. I was going in for the purpose of making change.
And lastly, your name's been cleared, but the CCC continues to refuse to take your whistleblower reprisal claims seriously. Mr Flori, what's next for you? Will you be maintaining your campaign against police corruption?
I intend on maintaining that stance. The thing is, my matter is not totally finished. I was informed in writing the other day that my discipline matter in the service has not been finalised. It hasn't been closed. I'm not sure what they're aiming for there. But, they haven't actually given up yet.
However, I've been approached by a few people with a proposal that I run for the Senate in the next federal election. And I'm seriously considering that.
Receive all of our articles weekly