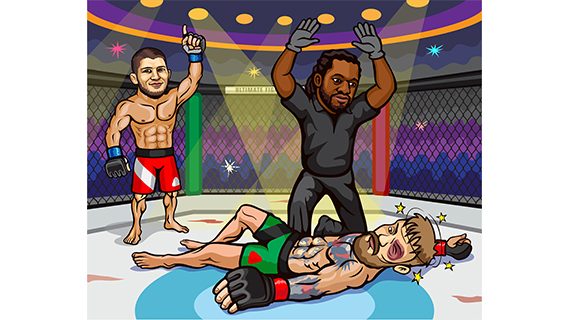 On 6 October 2018, UFC lightweight mixed martial arts (MMA) champ Khabib 'The Eagle' Nurmagomedov made easy work of serial trash-talker 'The Notorious' Conor McGregor in a spectacle touted as the biggest MMA fight in history.
McGregor's decimation in UFC 229 came months after he and his cohorts attacked a bus occupied by several UFC fighters, including Khabib, who had just finished a media day for the upcoming UFC 223. 'The Notorious' threw a metal dolly at the bus, smashing a window and causing injuries to a number of male and female fighters, including Ray Borg who sustained an eye injury which prevented him from competing in the upcoming event.
McGregor was charged with several crimes including assault, but later pleaded guilty to disorderly conduct pursuant to a plea deal. He was sentenced to community service and ordered to undertake anger management.
However, the sentence did little to subdue the fighter as he continued his tirade of offensive remarks about Khabib's religion, his country, his manager and even his father in the lead-up to their encounter.
Upon defeating the Irishman by way of submission, Khabib pointed at the McGregor camp and threw his mouth guard towards them, before jumping out of the Octagon and into McGregor's fight team.
Khabib later explained that McGregor's team member, MMA fighter Dillon Danis, had been baiting him with offensive remarks throughout the fight, including calling him a "Fucking Muslim rat" – a claim later denied by Danis but confirmed by nearby witnesses, including lawyer Harvey Levine of 'The People's Court' fame. Indeed, McGregor had been calling Khabib a "smelly rat" for weeks.
After the event, violence erupted in and around the Las Vegas arena as supporters of the opposing fighters went toe-to-toe. Several recordings of the encounters were later uploaded to social media.
The mayhem surrounding UFC 229 has once again triggered debate about the impact of violence in sport on the broader community, raising the question: does violence in sport increase the likelihood of viewers themselves engaging in violence?
The Australian experience
The Centre for Alcohol Policy Research (CAPR) at La Trobe University in Melbourne has sought to determine whether there may be a discernible link between the NRL State of Origin and domestic assaults.
Researchers analysed data from the NSW Bureau of Crime Statistics and Research (BOCSAR) over a period of six years, which indeed suggested a 40% increase in domestic assaults across the state on the night of State of Origin, compared with other Wednesdays – which was the day of the week the analysed games were played.
Increases in domestic violence have also been documented during the AFL Grand Final and Melbourne Cup.
Researcher Dr Michael Livingstone explained that it is common for spikes in violence to occur during large public events, suggesting the use of alcohol and close proximity of large numbers of people is more to blame than any aggressive acts they observe.
Canada
A 2017 Canadian study sort to determine whether professional sporting events and holidays correspond with spikes in domestic violence in the city of Calgary.
The study looked for correlations in spikes in domestic violence calls to police and a special domestic and sexual abuse hotline known as Connect. Among the sports included were NHL hockey, CFL (Canadian Football League) football, mixed martial arts and boxing. The Super Bowl and The Calgary Stampede were also included.
Overall, the results showed that between 2011 and 2014, the "Super Bowl had no statistically significant influence on DV calls, nor did UFC fights"; nor did Calgary Flames (NHL) hockey games.
The study, however, did find some correlation between Canadian football and domestic violence calls.
"Grey Cup games in which Calgary played were associated with a 40% increase in reports of domestic violence" the report stated.
The findings led one of the study's authors, Lana Wells, to conclude:
"the non-relationship between Ultimate Fighting Championship and domestic violence rates suggests that the level of contact or violence in the sport is not as important as the rivalry or the high stakes of the games that we found to be significant with the Stamps playing in the Grey Cup or against the Edmonton Eskimos."
In other words, high stakes rivalries are for more likely to lead to an increase in violence than observed aggression.
Little evidence of causal link
Academics from the University of Bristol published a report suggesting that football (soccer) was being used as a scapegoat to explain spikes in domestic violence.
They pointed out that studies fail to adequately consider a range of important variables, including increased policing, social stressors, factors relating to power disparities and the like – suggesting studies which have drawn a causal link are unreliable.
Victims' support groups also stress the importance of power disparities, suggestive aggressive conduct is more about control than anything observed, and that factors such as excessive consumption of alcohol can trigger overt displays of power.
"Specialist DNA service providers were concerned that focusing on football masks the underlying causes and potentially offers perpetrators excuses for their abusive behaviour, remarked researcher Dr Nancy Lombard.
"Domestic violence is systematic, patterned behaviour on the part of the abusive [partner] designed to control" their partner, said Sandra Horley CBE, chief executive of women's shelter organization Refuge. Sporting events "and the alcohol that tends to go with [them] — can be aggravating factors when it comes to domestic violence," she adds, "but they are not the root cause."
All in all, there is insufficient evidence to find a causal link between observing aggressive sports and engaging in violence.
Receive all of our articles weekly