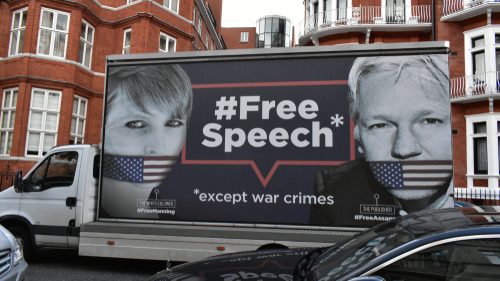 The US government arrested an Australian citizen in a foreign country last week for a crime he allegedly committed on foreign soil. And the response by prime minister Scott Morrison and his cronies was to slap each other on the back and collectively express the view, "Look at the boss go."
As the Ecuadorian embassy pushed its guest of seven years out the front door, relatively newly-incumbent president Lenín Moreno slipped $4.2 billion – of $10 billion promised to him – into his back pocket and assured embassy staff there would be no more skateboarding in the hallways.
British police were coincidentally waiting to arrest the Australian for breach of bail relating to allegations that were dropped in 2017. After tossing him in prison, British officers then arrested him on behalf of foreign agents from a country where he's never committed a crime.
And now one of the most renowned journalists and publishers of the digital age, Julian Assange, sits in prison awaiting an extradition hearing that could see him sent to the US, where, as human rights barrister Geoffrey Robertson points out, he'd face "charges that add up to 45 years" for publishing the truth.
Omnipresent reach
"This will set a really dangerous precedent, because the US has never charged a foreign national for committing a so-called crime not on US soil," warned Support Assange and Wikileaks Coalition member Ian Rose. "Is this what they mean by the new world order?"
The long-term Wikileaks supporter stressed that the United States intervention into the jurisdiction of another country to arrest a foreign national over actions carried out within the dominion of a foreign power has serious implications in relation to the nature of the sovereignty of all countries.
And as far as Rose is concerned, the response from the Australian government has been "worse than nothing". He pointed out that it "moved heaven and earth" to help journalist Peter Greste, who was imprisoned in Egypt in 2013 for reporting that was "damaging to national security".
They should "at least do as much" for Julian, Mr Rose told Sydney Criminal Lawyers. Indeed, the Australian government has been completely passive in its response to the plight of Assange since 2010. And it consistently denied evidence that the US was holding a sealed indictment against him.
Nothing hypothetical here
Geoffrey Robertson told the ABC that his client's case is a matter the Australian government should intervene in "if it had any gumption", which he "doubts". He said it should protest firstly to Ecuador, which has broken international convention by tossing an asylum seeker out.
Assange's long-time legal adviser pointed out that the South American country had changed its position on the journalist after the Moreno government came to power in 2017 and "became friendly with America". And he referred to the $10.2 billion loan from the Bretton Woods institutions as "blood money".
Never one to mince words, Robertson said Australia should "particularly" object to its citizen being put on trial "for publishing abroad – not in America – the truth", adding there's no reason why Assange should stand "rather than the editor of the Guardian", who published the same files.
A chilling effect
Not only do the actions of US authorities run roughshod over the territorial principle of international law, but it has grave implications for the independence of journalism and the public's unfettered right to access information.
As John Pilger made clear the "shocking arrest" of Assange is an "explicit" warning to all journalists that what happened to him "can happen to you". "Real journalism is being criminalised by thugs in plain sight," the veteran Australian journalist wrote last week. "Dissent has become an indulgence."
And Assange's crimes? Pilger listed exposing "the homicidal way America conducts its colonial wars", revealing that Clinton is "a backer and beneficiary of jihadism" and leaking details of American ambassadors describing "how the governments in Syria and Venezuela might be overthrown".
A noted contribution
According to Rose, the irony is that Julian Assange is one of the most awarded journalists of our time. Not only did he receive a Walkley Award for outstanding contribution to Australian journalism in 2011, but he also received the British Martha Gellhorn Award that same year.
And in 2010, Assange was presented with the US Sam Adams award, which is given to a professional who has taken a stand for integrity and ethics in the field of intelligence. The association that bestows this award is actually comprised of a group of retired CIA officers.
In 2010, Australian political reporter Laurie Oakes was presented with the Gold Walkley award. And the distinguished journalist took a moment during his acceptance speech to criticise then prime minister Julia Gillard for her comments about Assange leaking classified documents.
"To brand what the Wikileaks site has done as illegal – when there's no evidence at all of any breach of the law – was, I think, demeaning of our government," Mr Oakes told the crowd. "As journalists we should make it clear that is our view."
Oakes went on to say that there was no difference between a letterbox being filled with classified documents or a CD with them stored on it, as "the principle is the same". He added, "We should fight for the right to do that."
Hung out to dry
"They're targeting Julian, because he's the sacrificial lamb," Mr Rose continued, going onto explain that this is the reason that its only Assange who's being pursued in this manner, while countless editors around the world that published the same information he exposed go free.
As for Assange he's sitting in London's Belmarsh prison awaiting sentencing for breaching his bail. And he'll appear in Westminster Magistrates Court via video link on 2 May for proceedings relating to his possible extradition to the US to face an initial charge of conspiring to commit computer intrusion.
"If the US can charge a foreign national for committing a crime in a land that's not theirs it's going to set a really dangerous precedent," Rose concluded. "And Australia should not be complicit in it."
On 3 May, World Press Freedom Day, the Assange Day rally is being held in Sydney's CBD. It will gather at midday at the MLC Centre in Martin Place, and then march to the British Consulate. The Support Assange and Wikileaks Coalition is hosting the protest, along with Defend the Right to Protest and Anonymous NSW.
Receive all of our articles weekly