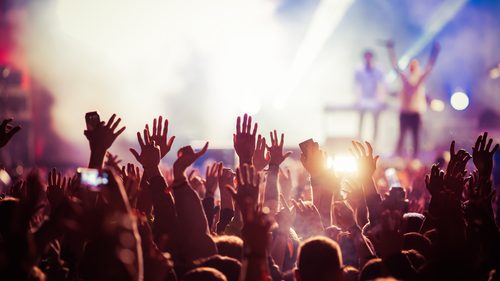 Over the long weekend, 25 people aged between 16 and 25 were hospitalised after taking illicit drugs at music festivals around Sydney. This, of course, follows on the deaths of five young people in drug-related circumstances at festivals over the last five months.
This week, NSW premier Gladys Berejiklian stuck to her heavily refuted "just say no" stance. She said, "please do not allow the debate over pill testing give you a green light to take these drugs", placing the blame solely at the feet of harm reduction advocates, rather than her outdated policies.
Health minister Brad Hazzard said on Monday that the government had spent half a million dollars in order to make the weekend's events safer. This included an increased medical presence. And he added that as 1 March, festival organisers would be bearing the brunt of such costs.
The minister was hinting at the roll out of a new festival specific licensing scheme in March that will see a tougher application process for event organisers, as well as new penalties to punish those that don't follow the rules.
Absolutely nowhere in the government's music festival safety rhetoric is there any mention of what the majority of Australians want, which is free pill testing services at festivals, so punters can check if the drugs they're about to consume could prove lethal.
The harsh licensing scheme
From March, festival organisers will have to apply for a festival specific liquor licence – similar to those for bars and clubs – for every event they put on. The licence will have to be approved by a panel, which will include NSW police, Liquor and Gaming NSW, NSW Health and NSW Ambulance.
The scheme was one of seven recommendations made by a music festival safety panel that was established by Ms Berejiklian following the deaths of two young people at the Defqon.1 festival in September. And the premier specifically told the panel members not to consider pill testing.
The finer details of the new licensing scheme are still yet to be finalised. But, some of the main requirements that will be involved have been released. These include adequate chill out spaces, increased medical staff and accessible water stations.
The Australian Festival Association (AFA) board members told Sydney Criminal Lawyers in early January that "promoters will have to become the licensees, whereas currently it can be a bar operator or any company that can provide an approved manager to be the license contact".
They also pointed out that "there will be a more rigorous risk assessment as part of the application" process. Indeed, festivals that have been associated with drug possession charges or fatalities will be put in the "extreme risk" category.
And organises can be penalised or even banned from running events for breaching the requirements of a licence, which will fall under the NSW Liquor Act 2007. The maximum penalties for failing to comply are up to 12 months in gaol, a fine of $44,000 for staff, and $110,000 for corporations.
Avoiding the real issue
But, while the AFA have welcomed the NSW Health interim guidelines for music festival event organisers "as a start to creating a comprehensive guide to harm reduction", the licensing scheme seems to miss the point in regard to recent fatalities.
The provision of water stations, chill out areas, medical staff and harm reduction educators is important and, for the most part, already provided at events. So, while just these measures continue to be available, nothing will be done about the dodgy drugs being consumed.
The Daily Telegraph reported that the "government crackdown means festival operators who skimp on medical staff, chill out zones and water stations will be held personally responsible". However, no one is putting the recent deaths of five young people down to the skimping of festival organisers.
And the Liberal Nationals government's approach is to try and wipe out these events where drugs are being taken, rather than attempt to make them safer. And this will only result in youths taking unregulated drugs in places where there are no medical staff in case they get into trouble.
The real culprit
Placing the blame on festival organisers for any drug-related fatalities that take place at their events is missing the point. The drugs are being made by criminals, who don't have to follow any safety controls or standards. It's this lack of production oversight that leads to deaths.
And when the increasingly heavy police presence at events, coupled with hopelessly flawed drug dogs, aren't having an impact on deaths on the ground, how are festival operators supposed to make a greater difference?
The real risk
"Festival organisers will need to ensure their events meet high safety standards," NSW racing minister Paul Toole, said in a statement. "Events with a poor track record and heightened risk will face greater oversight from authorities."
And going on current government policy, what this "greater oversight" will be is sniffer dogs and saturation policing. In fact, some of the festivals where young people have died recently have been the most heavily policed events in NSW history
There was saturation policing at the Defqon.1 festival. Despite the presence of 194 officers, two young Australians died after taking illegal drugs. And nobody knew at the time that this type of avoidable death would start to become commonplace over the coming months.
Harm reduction experts have warned that sniffer dogs have increased the risks around the use of illegal substances at festivals, as they encourage people to take dangerous amounts of drugs at once in order to avoid detection.
Panic overdosing occurs when an individual spots a police officer or a sniffer dog and due to their concerns over being arrested, they take everything they have on them. At least two young Australians have died due to panic overdosing.
Parliamentary dinosaurs
The Australian Medical Association supports pill testing. The National Drug and Alcohol Research Centre supports this harm reduction strategy. And the Royal Australian College of General Practitioners wants to see these services implemented.
However, the Berejiklian government is prepared to stick its head in the sand, ignore the wants of its constituents, whilst pointing the finger at festival organisers, as if they can somehow stop the consumption of illegal drugs.
Just test the damn pills Gladys, before another young person dies.
Receive all of our articles weekly