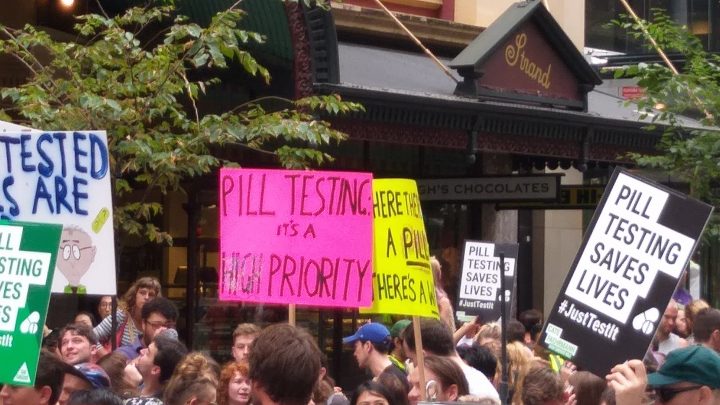 On Saturday, hundreds of Sydneysiders took to the streets to rally in support of the roll out of pill testing services at music festivals and beyond. And those gathered made clear that they're appalled by Gladys Berejiklian's refusal to see sense in the face of the rising death toll.
Five young people have died at music festivals in NSW this season, which isn't even half over. Alex Ross-King was just 19 years old when she became the latest casualty of the drug war, dying of a suspected fatal dose of an illicit substance at the FOMO festival in Parramatta on 12 January.
As the blood on her hands gets harder to wipe off, the NSW premier is still banging on about a lack of evidence that shows the harm reduction method works. This is despite the Royal Australasian College of Physicians having come out and said that the evidence is already there.
And following the first two drug-related deaths at the Defqon.1 festival in September, when Ms Berejiklian had a chance to do something positive, she established an expert panel to investigate safety at music festivals, but warned the members not to even consider pill testing.
Test pills prior to casualties
Australian Greens leader Richard Di Natale was the first to speak at the rally outside Sydney's Town Hall on Saturday afternoon. He put forth that what premier Berejiklian is basically saying is she's "happy to test a drug at an autopsy, but not while those people are alive".
"This idea that pill testing sends the wrong message, well, the message you're sending right now premier is that if somebody makes a choice to take a drug, they should pay for their choice with their lives," the senator went on. "No decent society does that."
The former drug and alcohol clinician told the crowd that pill testing shouldn't just be confined to festivals, but it should be available all year long. Indeed, last November, the Australian Greens released its $16 million plan to establish pill testing services at permanent sites across the country.
The Greens leader further suggested that the NSW premier get out of the way of the health professionals, so they can do their jobs. "So, we don't have to make that phone call at four o'clock in the morning to a young family" to tell them their child is dead.
A policy of harm maximisation
Co-founder of anti-drug dog campaign Sniff Off David Shoebridge reminded the crowd of the hopelessly flawed approach that NSW authorities are currently employing at music festivals: heavy-handed law enforcement.
The NSW Greens MLC explained that when young people approach a festival, they're "faced with a barrage of drug dogs", and once they make their way past the canines, they're then confronted with saturation policing on the inside, along with plain clothes detectives.
"In fact, at the last few music festivals where we've tragically seen young people lives lost, there's been some of the heaviest police presence at any music festival ever in this country," Mr Shoebridge continued. "And it has backfired terribly in terms of safety, tragic outcomes and lives lost."
And this over-policing leads festivalgoers to partake in risky drug taking practices. These include panic overdosing, which is when a punter consumes all of their drugs at once on spotting police, and preloading, when an individual takes all of their drugs prior to an event to avoid detection.
Mr Shoebridge pointed out that a recently enacted law has the potential to see those who pass on a pill to a friend imprisoned. "So, young people are too anxious to go over and seek help for their friends when they're in distress," Shoebridge explained, "and we know that's delaying access."
Passed in late November, the new offence of supply of drugs causing death can see an individual imprisoned for up to 20 years. This was a recommendation of Berejiklian's music festival safety panel in response to the Defqon.1 deaths.
Usual harm reduction hesitations
Independent member for Wentworth Dr Kerryn Phelps stressed that the "just say no" approach has been pushed for decades, but to no avail. And pill testing should start now, as it has the chance to reduce the deaths and hospitalisations related to illicit drug taking.
"Europe has had pill testing since 1992 in some countries. And they are still doing it because they see that it works. And it can work here too," the former president of the Australian Medical Association (AMA) said at the rally. "There is enough evidence, premier."
Dr Phelps also recalled past harm minimisation initiatives that caused initial controversy that are now widely accepted practices. She pointed out that just a few decades ago people were arguing over whether condoms were the right way to deal with teenage pregnancies and HIV infections.
And back at the turn of the century, when Dr Phelps was the head of the AMA, she campaigned for the introduction of the Uniting Medically Supervised Injecting Room in Kings Cross. In its time, the injecting facility has seen over a million doses, she said on Saturday, "and not a single fatality".
"The momentum is coming from the medical profession, from parents and young people," Dr Phelps added. "We want pill testing and we want it now to help save lives."
More debate equals growing tragedies
Keep Sydney Open campaign director Tyson Koh called not only for the immediate implementation of testing, but also, for an end to the demonisation of festivals, as he pointed out that the majority of drug taking occurs outside of these events, along with most of the harms associated.
And for this reason, his party is calling for fixed testing sites, as well as an online database where the community can access information about dodgy drugs that have been detected. Koh also said that pill testing is no pipe dream, as with the support of the majority of Australians, it's on its way.
"Just like how Tony Abbott stood in the way of marriage equality, just like how John Howard refused to apologise to the Stolen Generations, you mark my words, we'll be looking at Gladys in the future as one of those cretins on the wrong side of history," Koh concluded. "She needs to be voted out."
Receive all of our articles weekly