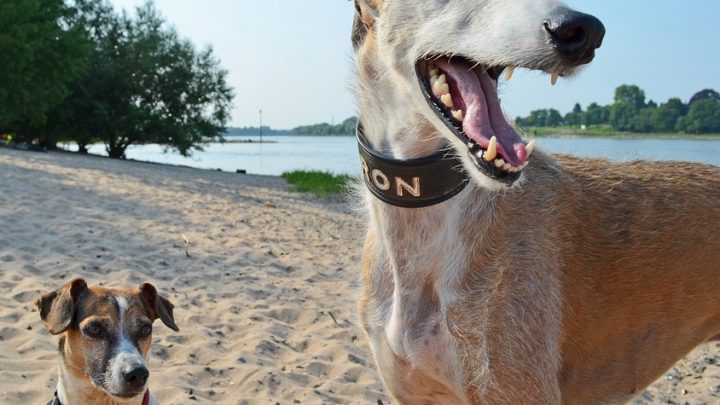 With the Greyhound racing industry reeling from the NSW government's decision to ban dog racing from July 2017, there is widespread concern about what's to become of the tens of thousands of dogs that will no longer be needed, or wanted.
Two charities that are doing great work to help destitute dogs are the Greyhound Adoption Programme (GAP) and Friends of the Hound, both of which assist with rescuing and rehoming former racing dogs.
The very sad and ugly truth behind the Greyhound racing industry is that many dogs are not only mistreated while being trained, but thousands are discarded each year because they are not fast enough.
Greyhounds bred for racing have one purpose: to win, to make their trainers money. The dogs that don't perform or get injured are not wanted, and are ultimately discarded in one way or another, usually put down.
In recent years, there's been a push to ensure that unwanted dogs are adopted out, but there are not many homes who want 'retired' greyhounds. The reality is greyhounds make great pets, and perfect companions for singles, couples and families.
With the end of racing just a year away, more greyhounds than ever need to find loving homes.
Greyhound Adoption Program
GAP has been operating in NSW for many years.
Its primary purpose is to educate the general public about what great pets greyhounds can be.
It also has a photo gallery of dogs that members of the public can take-in or foster.
To avoid a conflict of interest, GAP refuses to accept money from the racing industry, relying heavily on memberships and donations, and ensuring that dogs in their care are well-fed and looked after until they find a permanent home.
Friends of the Hound
Friends of the Hound was officially incorporated in 2010, and like GAP it aims to educate people about the breed, and rescues and rehome dogs.
It works with breeders and trainers across NSW and South-East Queensland to find new owners for dogs that are no longer wanted for racing. Members of the public are invited to become volunteers or foster carers, providing hands-on assistance to help save dogs that are otherwise destined to be put down.
It also relies on donations to fund its work, hoping to raise enough money to build its own adoption centre – a specific place to home rescued greyhounds while they wait for new families. It is trying to expand its current work in rescue, foster care and rehoming, so more dogs can be saved and lead the happy life they deserve – but funds are short.
Sydney Criminal Lawyers® is proud to donate $500 to each of these worthy charities, and you can also support their efforts in giving greyhounds new, loving homes.
To assist the Greyhound Adoption Program by taking in or sponsoring a dog of your own, or donating, click here.
Or to help Friends of the Hound by becoming a member, foster carer, volunteer or making a donation, click here.
All assistance is greatly appreciated by these terrific charities that genuinely care about the safety and welfare of these beautiful dogs.
Receive all of our articles weekly
Author
Sydney Criminal Lawyers
Sydney Criminal Lawyers®
is Australia's Leading Criminal Defence firm, Delivering Outstanding Results in all Criminal and Driving cases. Going to Court? Call (02) 9261 8881 for a Free Consultation.