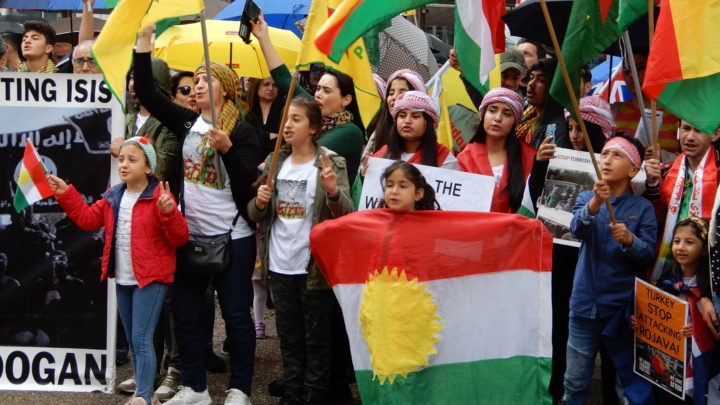 US president Donald Trump announced on 6 October that he was pulling American troops out of northern Syria, effectively greenlighting the Turkish Erdoğan regime's invasion of Rojava: a Kurdish majority society, which is forged upon radical democracy and the equality of women and minorities.
Led by the Kurdish YPG, the Syrian Democratic Forces (SDF) operating in Rojava had been the US's greatest ally on the ground in the fight against ISIS in northern Syria. Along with Kurdish fighters, the SDF is made up of a number of groups, including Arabic, Yazidi and Syriac troops.
The extent of the Trump administration's betrayal of its former ally is great. Not only did it clear the way for Turkey to begin its military attack with its withdrawal of troops, but it's come to light that the US provided Turkey with intelligence on Kurdish forces in the days leading up to the war.
The pretext for the Turkish invasion is the claim that the YPG is linked to the Turkey-based Kurdistan Workers Party (PKK), which has been in conflict with Ankara for the last three decades. However, Kurdish forces within Syria have never conducted an attack upon Turkish soil.
Ankara began its invasion of the Rojava region on 9 October and has since been backed by Syrian rebel forces. The assault has already led to the displacement of 130,000 various minority people living in the Rojava region. And at least 38 civilians have been killed, with hundreds wounded.
An unexpected withdrawal
"It's the beginning of a humanitarian disaster that could turn into a wholesale genocide," warned Peter Boyle, spokesperson for Rojava Solidarity – Sydney. "Not just of the Kurdish people, but of other minorities. There's a whole range of other people, who've been persecuted minorities."
"They've found – over the last seven years – a peaceful oasis in the northeast, because that area has been liberated from the Syrian Civil War," he continued.
Mr Boyle explained to Sydney Criminal Lawyers that the Kurdish liberation forces had always been aware that the alliance with the US was only "a temporary alignment of interests" not expected to last. However, "for it to turn so suddenly was a shock to many".
The long-time social justice advocate explained that the Kurdish people were left without their own nation, when the colonial carve up of the Middle East by European powers took place post-World War One. Today, Kurdish communities are found within Syria, Turkey, Iraq and Iran.
The sudden pull out of troops by Trump surprised US soldiers in the area, his own administration and the Pentagon, according to Boyle. And it turns out the US "supplied critical military intelligence, which pinpointed the locations of SDF forces five days before the invasion began", he added.
Democratic federalism
Mr Boyle explains that a large number of Syrian war refugees from diverse ethnic backgrounds have been able to seek refuge in Rojava. "Quite a lot has been achieved, because of the way the region has been run on the basis of democratic confederalism, which is a form of local autonomy."
Rojava is an example of a shift in the Kurdish liberation movement, Boyle went on, as instead of demands for a separate state, the local people have set up small autonomous worker collectives under a loosely linked confederacy.
Popularly known as Rojava, the Autonomous Administration of North and East Syria values principles of ethnic and religious inclusion, feminism, gender equality, ecology and social equality. Internationally, Rojava's female troops – the Women's Protection Unit (YPJ) – are renowned.
"It's the most feminist revolution of the 21st century," Boyle emphasised. "These are newly created aspects of history that have come together in a creative form. It's a rethinking of politics, which is very exciting."
"Democratic, lived alternatives"
Inspired by decentralised societies that have come before – such as the Zapatista communities in Chiapas, Mexico, as well as the brief 1936-37 worker collectives of the Spanish Civil War – Rojava is an example of a political system run directly by the grassroots population.
The Kurdish Women's Movement in Europe (TJK-E) set out in a statement last week that since 2012, people in north eastern Syria have established "a social system that enables a peaceful, radical-democratic, gender-liberated life for all ethnic, religious and cultural groups in the region".
The TJK-E said the women of the YPJ have illustrated to all women globally that "self-defence is women's only guarantee for a life of freedom". And it asserts that many states remain silent on the invasion because Rojava presents an alternative to "the patriarchal and capitalist system".
And further the group outlines that the developments of recent days are proof that Erdoğan has always planned to conduct the invasion of northern Syria, while Trump's actions of late demonstrate that the international community "tacitly agreed" to the attack.
So much at risk
On Monday evening, Washington time, it was announced that Trump has asked Erdoğan to bring a halt to the Rojava invasion. And the US head of state – who provided Ankara with important intelligence on Kurdish positions – is now moving to impose sanctions upon Turkey.
While in this country, Scott Morrison said last Thursday that he has "deep concerns" over the Turkish invasion, in that it could lead to a resurgence of ISIS in the region. However, the prime minister raised no issues around the fact that previous allies were under attack from a stronger force.
Boyle said that while regional stability is a very real concern, the PM neglected to mention the threat to the Rojava experiment. And he added that ISIS detainee breakouts from a camp in north eastern Syria on Sunday suggest that past collusion between Turkey and the Islamic State continues.
"The international community needs to step in as many ways as possible. There's a whole range of actions that could be taken by other countries," Boyle suggested, citing the decision of France, Germany and the Netherlands to halt the sale of arms to Turkey.
"What's at risk right now is not just the humanitarian disaster," he concluded. "There are all the social gains that have been made in Rojava."
Rojava Solidarity – Sydney is holding a Vigil for Rojava at Sydney's Town Hall at 7 pm on Wednesday 16 October. While it's also organising a rally for Rojava, which will meet at Town Hall at 1 pm on Sunday 20 October.
Receive all of our articles weekly
Author
Paul Gregoire
Paul Gregoire is a Sydney-based journalist and writer. He has a focus on social justice issues and encroachments upon civil liberties. Prior to Sydney Criminal Lawyers®, he wrote for VICE and was the news editor at Sydney's City Hub.