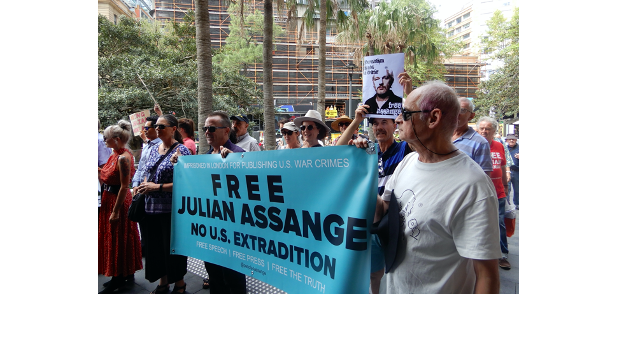 Last week marked the close of evidence in the current proceedings involving Julian Assange. The United States is attempting to have the Australian journalist and publisher extradited from the UK, under the UK-US Extradition Treaty.
This is somewhat suspect as the treaty specifically rules out extradition when the criminal charges involved are political in nature. And seventeen of the eighteen charges laid against the Wikileaks founder are espionage related.
Another stark anomaly is that the US government has reached across international borders and arrested an Australian citizen over publishing material that took place on foreign soil. And meanwhile, the UK has remanded Julian in prison for over a year now.
Presiding over the case in the Old Bailey, Judge Vanessa Baraitser indicated at the end of the hearings that she won't be handing down her final decision until 4 January: two months after the US presidential election.
Cruel, inhuman and degrading
The eighteen charges Assange is facing carry maximum penalties that add up to 175 years. And the court heard last week that if the Australian journalist is extradited and subsequently convicted, he's likely to be sent to the federal supermax prison in Colorado: the nation's toughest.
Also known as ADX Colorado, this maximum security facility is reserved for those who've been convicted of the most heinous crimes: the Mexican drug lord El Chapo, the Unabomber, an Oklahoma bombing conspirator and the coordinator of the World Trade Centre bombing.
If incarcerated in this centre, Julian would also likely be placed on the special administrative measures regime or SAMS. This would involve no communications with other inmates or the outside world, except for one half hour phone call a month.
SAMS also involves being placed in continuous solitary confinement, with limited exercise time, which is taken alone. This constitutes torture in most rationally minded books, including the UN's Mandela Rules on the minimum standard treatment of prisoners.
Time to step up
Australian barrister Greg Barns co-signed the Lawyers for Assange open letter in mid-August, calling on the UK government to release Julian, and calling out the torturous treatment the Australian citizen is already subjected to in London's Belmarsh Prison.
As an advisor to the Assange campaign, Mr Barns is keenly aware of the injustices and inconsistencies that are involved in the case of the man who revolutionised journalism, only to be persecuted for it.
And Barns asserts the Australian government needs to step in to assist the Townsville-born man.
Sydney Criminal Lawyers spoke to Greg Barns SC about the Kafkaesque nature of the extradition trial, the reasons Assange's plight should be of concern to all Australians, and why it's time local journalists put the pressure on foreign minister Marise Payne.
Firstly, there are numerous aspects to Julian Assange's detainment and extradition trial in the UK that undermine the rule of law.
Mr Barns, overall, how would you describe what's currently happening to an Australian citizen in a friendly foreign country?
There is no doubt this case is a travesty of justice, at a number of levels. Firstly, the charges themselves are inherently political.
It needs to be remembered that the United States are seeking to extradite Assange because he revealed serious war crimes committed by the US in the theatres of war of Iraq and Afghanistan, most graphically illustrated by the video Collateral Murder.
It also needs to be remembered that this is the first occasion the United States has sought to use domestic espionage laws against a person who has not entered the United States jurisdiction, is not a citizen of the United States, and who has published material which is seen to be adverse to the interests of the United States.
So, the precedent that's set is quite dangerous for any other person – including journalists – who publish material which the United States considers to be adverse to its interests, in circumstances where that person never enters the United States jurisdiction physically or even in an online sense.
The other issue is in relation to the fact that Julian Assange's lawyers in London have had a difficult time being able to access their client.
He's being held at Belmarsh Prison, which is maximum security. He's being held in conditions which are clearly inhumane, including effective solitary confinement.
And his lawyers have been acting in circumstances where they've had great difficulties in getting access to their client.
They're three of the most obvious points that can be made about this particular process.
Judge Vanessa Baraitser indicated last Thursday that she won't be handing down her decision on the extradition case until 4 January.
In your understanding, why the delay? And could the fact that it will come after the US election bode well for Julian?
Firstly, it's a complex case, and I'm not privy to the judge's workload. Although it would have been preferable to have this matter resolved before Christmas and the new year. But it will be resolved on 4 January in terms of this court.
Again, this proves the point that this case is inherently political, as there's no doubt there may be some shift in position on the part of the United States Department of Justice after the election.
But you would not want to take that risk, because at the end of the day, if Julian is extradited to the United States, he faces an effective death penalty of 175 years.
So, simply waiting for a new administration in the United States to get around to looking at the Assange case is not in my view sufficient.
There is an urgency about this case for a whole range of reasons, including the fact that it's a threat to freedom of speech, and it needs to be resolved quickly.
This delay means Assange will be kept in detention for further months. He's now been remanded in Belmarsh since September last year.
The only crime he's been convicted of in Britain is breach of bail, and the sentence for that offence has been served in its entirety.
What are your thoughts on the continued detainment of Assange under these circumstances?
One would have thought that there's sufficient technology today to ensure that more people get bail, and that includes Julian Assange.
There's no doubt that his detention has led to a deterioration in his mental and physical health. There was evidence of that in the hearing. And his detention has made life very difficult for his lawyers in terms of obtaining instructions.
So, it does mean that there's an inherent unfairness about the way in which the proceedings are being conducted.
Last week, it was heard that US authorities would consider imprisoning Assange in the maximum security ADX prison in Colorado and placing him on the special administrative measures regime.
This could entail being locked in his cell for up to 23 hours a day and being cut off from the rest of humanity.
These circumstances are usually allocated to the most serious criminals in the States. How can US authorities justify such extreme measures are necessary for an Australian journalist who obtained and published some documents?
That evidence was extraordinary, and it confirmed what a number of us have been saying for many years: that if Julian Assange is extradited to the United States, he will face on a daily basis cruel and unusual punishment and torture, and he will face an effective death penalty.
The real issue here is, why does the Australian government stand aside from this process, sit on its hands and refuse to assist an Australian citizen in circumstances when that's the future for them.
If this was a case where Julian Assange was being extradited to China, the Australian government would be pulling out all stops.
It has to get involved in this case, if for no other reason than that sort of punishment should not be tolerated and no Australian – in fact, no person – should have to endure it.
The Morrison government is well aware of all these inconsistencies and the injustices involved in Assange's case. What does its lack of action on this matter amount to? And what's behind it?
Successive governments have failed to deal with Julian's case. I would say a notable exception was Julie Bishop, who, in my dealings with her indirectly, treated this matter more seriously than others.
Australia's alliance with the United States is such that the Australian government thinks for some reason this is not a matter that it can put on the table for negotiation.
Well, that is wrong.
There is no loyaler ally, as Bob Carr, the former foreigner minister, has said. And therefore, there's no ally in a better position to ensure that one of its citizens is not subjected to an effective death penalty. And that's what needs to happen.
And lastly, Mr Barns, for those Australians who haven't been stirred to speak out about a fellow citizen being treated in such an unjust manner while their government looks the other way, why should they be concerned?
Every Australian should be concerned. It could be you. It could be any of us. And that is not an exaggeration.
I am surprised that more Australian journalists have not been pushing foreign minister Marise Payne on this issue, because this case represents a direct threat to freedom of speech for the reasons I've outlined earlier.
It's fundamentally important that the Australian media involve themselves more in this case. They did so in the case of David Hicks some years ago now, in different circumstances. And they need to do so again, because it's a direct threat to freedom of the press.
But it's also a direct threat to the life of an Australian citizen.
Receive all of our articles weekly