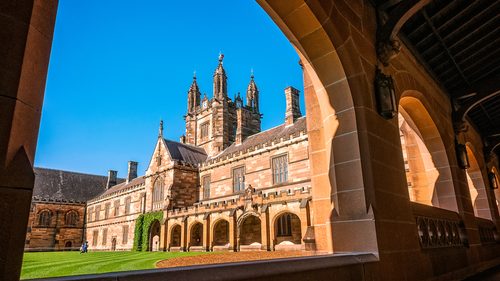 Being encouraged to ejaculate into the shampoo bottles of females students, lighting pubic hair on fire, posting photos of the underwear of sexual 'conquests', and dangerous binge drinking are just some of the rituals outlined in the 211-page Red Zone Report into Australian universities, which is the product of an extensive investigation into hazing practises at residential colleges.
What is hazing?
Hazing is the "imposition of strenuous, and often humiliating, tasks" as part of a program of initiation.
Perhaps best known for hazing practises are college fraternity houses in the United States and the military organisation, whose members may require applicants or new recruits to undergo days of harassment and demeaning and/or physically and mentally draining tasks before they can be accepted into a group.
Deaths from hazing have been documented in the US since at least the early 1800s.
The Red Zone Report
The report was published by the organisation End Rape on Campus on 28 February 2018 and documents 79 years of hazing rituals in Australian universities.
It coincides with the week before the commencement of formal university lectures, known as Orientation Week, or O-Week – a seven-day period when an average of one-in-eight incidents of sexual assault occur each year.
The report outlines case studies from residential colleges in 12 universities, including eight of Australia's leading institutions, with a particular focus on Sydney University colleges.
Academic and gender equality advisor Professor Catharine Lumby, who wrote the report's foreword, told the media it makes for "sickening reading", adding that many of the practises are performed by senior students upon first year students for "sexual and sadistic" purposes.
Hazing rituals
Other examples of rituals endured by 'fresher' (first year) students in order to gain social acceptance in university colleges include:
Pushing fresher students to consume large quantities of alcohol without access to a bathroom, causing them to urinate on themselves,
Locking first year students in bathrooms and dousing them with vats of dead fish,
'Fresher grooming' whereby senior male students solicit and sexually rank junior female students,
Labelling and constantly belittling fresher students with humiliating nicknames, like "Fresher Tampon",
A yearly tradition called 'the purge', whereby students are encouraged to post graphic and embarrassing photos of other students' sexual activities online,
A tradition known as 'Walkabout', whereby fresher students are pressured to go on their hands and knees "like cattle" before older students abandon them across the countryside, often naked and highly intoxicated.
Peer group pressure
Affected students reported that it was difficult to opt out of the rituals, for fear of being ostracised.
"College culture is widespread and manipulative and toxic," said Kendra Murphy, a former student at St. Andrew's College who reported being sexually assaulted by a fellow student.
"It's like an emotionally abusive partner… you feel like you hold power and are making decisions of your own free will but there is an unspoken pressure to adhere and perform as you should, and if you do not meet these expectations, you will be ostracised."
Whistleblower reprisals
Indeed, students brave enough to report the misconduct have been outcast by their peers.
In 2016, Justine Landis-Hanley wrote an article for student publication Honi Soit about the culture of sexual harassment at university colleges. She reports that many students stopped speaking to her as a result, or refused to make eye contact, and even defaced her living space.
And University of Sydney student, Kendra Murphy, publicly reported being sexually assaulted at St Andrew's College, she was accused of trying to "ruin the reputation" of a "great institution".
Katie Thorburn, a former resident at St John's College explained that members indoctrinated to be loyal to the institution and that those affected by practises such as hazing are unlikely to report the conduct for fear of jeopardising future professional connections.
Criminalisation
The report recommends that hazing be criminalised across Australia.
It formulated the proscribed conduct in the following terms:
"the act of requiring an individual to undergo any act which is likely to cause bodily danger or physical punishment to any student or other person, as a precondition of joining or participating in a student group or organisation."
Such an offence might capture conduct which does not amount to assault, but is nevertheless considered to be dangerous.
In the event such conduct might amount criminal hazing as well as an offence such as common assault, both charges might be brought at the same time – as is common practice with many types of criminal prosecutions.
Universities powerless
Representatives of Australian universities outline that they are powerless to stop hazing, as residential colleges are beyond their legal control.
A spokesperson from University of Sydney explained that state legislation known as the 'St John's Act' regulates its six largest colleges, and that university employees do not have the legal standing to enter the properties to conduct investigations.
In November 2017, NSW Education Minister Rob Stokes introduced legislation into parliament to repeal the St John's Act with a view to introducing new legislation enabling universities to appoint a representative to the council of colleges.
Mr Stokes said the representative would facilitate "greater accountability" for college misdeeds.
The reform bill passed the state's lower house on 14 February 2018, and is expected to pass the upper house later this month March.
But many feel only education and a broader cultural change can lead to the cessation of hazing rituals.
Receive all of our articles weekly