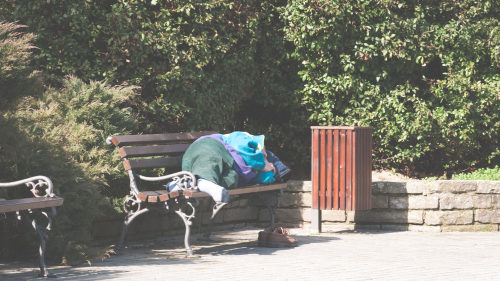 Dwayne Kennedy has finally been freed after two bail applications by his lawyers had been unsuccessful, forcing them to apply for an urgent Supreme Court Bail hearing.
In releasing Mr Kennedy, Victorian Supreme Court Judge Stephen Kaye found that a 'string of errors' led to the man's arrest and that he should never have been imprisoned.
The story so far
Mr Kennedy had been bailed on 13 charges, mostly relating to theft and drug offences, to appear before the Melbourne Magistrates Court on 2 April 2020.
But court staff told his lawyers he wasn't required to attend court after multiple hearings were suspended due to the COVID-19 crisis. When Mr Kennedy did not appear, prosecutors asked for a warrant for his arrest and the court granted it.
Police found Mr Kennedy the next day sleeping on a park bench. They took him immediately into custody and also issued him with a $1,652 infringement "for unlawfully being outside his place of residence during the COVID-19 outbreak".
Victoria police have handed out thousands of fines since they were granted permission under new public health regulations to enforce social distancing measures which encourage all Australians to #stayhome.
But there has been widespread criticism of both Victorian Police and New South Wales police for the lack of transparency around what constitutes an infringement and heavy-handed approach to dishing out fines.
It's understood that at the beginning of April Victoria Police implemented a new policy "to proactively review every infringement that has been issued to determine whether it was appropriately issued or whether a warning would have been more appropriate. Victoria police has said that any fines that were not properly issued or failed a 'common sense' approach would be withdrawn.
Justice System under pressure
However, Mr Kennedy's experience is particularly troubling because it highlights the potential for problems and errors with the justice system during the COVID-19 outbreak. When business and social lockdowns were put in place at the end of March, courts around Australia had to quickly implement new processes for dealing with cases currently before the system, relying on emails and texts and other electronic communication to deal with some urgent matters and delaying others.
We need to protect the vulnerable
But Mr Kennedy also falls into the category of 'vulnerable Australian'. The Yorta Yorta and Mutti Mutti man also suffers from an acquired brain injury and has severe cognitive and mental health issues.
And clearly, the systems we have in place are not working to protect these people as well as they should.
In releasing Mr Kennedy, Justice Kaye pointed out that he "belongs to a particularly vulnerable section of community, who are over-represented in the criminal justice system, and who also have poorer outcomes than non-Aboriginal persons… And, "while in custody, the applicant may be at greater risk of serious infection from the COVID-19 virus than otherwise."
Sister died in custody
Mr Kennedy's criminal defence lawyer said her client is particularly traumatised by the experience because his sister died in custody in January.
"I was very angry and outraged that this happened to my client," the lawyer told the media.
"Police came upon him and they actually issued him with a fine for being outside his house, despite him having homelessness issues."
Mr Kennedy's sister, Veronica Nelson Walker, had been on a Community Corrections Order when she was arrested for shoplifting.
She was withdrawing from drugs at the time, and according to inmates at the Dame Phyllis Frost Centre, Victoria's maximum security women's prison, where she was on remand, she was placed in an observation room the night before she died. Inmates say they heard her screaming for help. Prison staff say she was checked at 4am but not again until she was found dead about 4 hours later.
A coroner is currently investigating the cause and circumstances of her death.
Receive all of our articles weekly