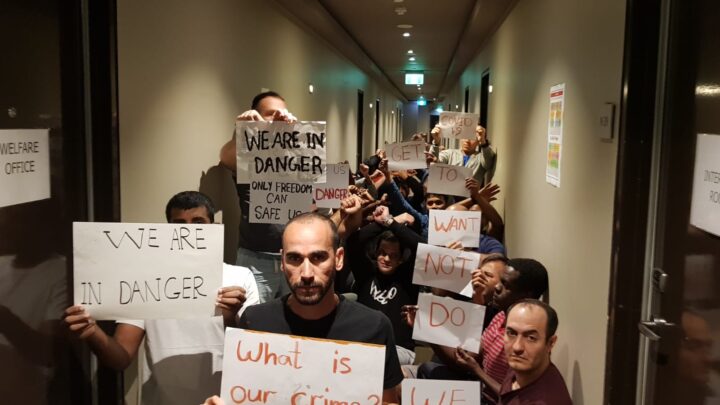 For a moment there, many Australians thought the COVID-19 pandemic was over. Even now, as the number of cases in Victoria rises dramatically, other regions around the country, like Queensland and the Northern Territory, are reopening their borders.
Whereas Sydneysiders are currently debating whether it's time to start wearing masks again, as there have been at least 34 positive coronavirus cases linked back to the Crossroads Hotel in the southwestern suburb of Casula.
And the escalating situation in the south west of the country has renewed calls on government to do something about the over 1,300 detainees in immigration detention centres nationwide. And some recent developments have made the case quite stark.
Around 30 Serco guards that work at Sydney's Villawood Immigration Detention Centre were stood down earlier this week to allow them to self-isolate after having attended a party at the Crossroads at the time the breakout of infections occurred.
While last Sunday night, it was announced that a staff member at Melbourne's Mantra Hotel had tested positive to COVID on 8 July. The hotel is classed as an alternative place of detention (APOD), as it's currently being used to hold close to 70 former offshore detainees with compromised health.
Caution to the wind
According to Refugee Action Coalition (RAC) spokesperson Ian Rintoul, the Australian government has been "reckless and negligent" in its treatment of all immigration detainees since the onset of the COVID-19 pandemic.
"The department admits that it's a high-risk environment, but they've been unwilling to safely accommodate people outside of the detention centres," the seasoned refugee activist advised.
"They've left them unnecessarily in these high-risk environments, exposed to the risk of infection."
In regard to the large number of Serco guards that could have been exposed to COVID-19, Rintoul explained that up to 50 Villawood detention centre staff members had attended a manager's party at the Crossroads Hotel on the weekend of the 4 July.
Of these, nine have so far tested negative, while a further 30 are in self-isolation as they await their test results. And an undisclosed number of these Serco guards had been working at the Villawood centre following the party, potentially having exposed the detainee population to the virus.
"There are no proper infection controls, as far as the guards are concerned," Rintoul told Sydney Criminal Lawyers. "It's just a wing and a prayer from the department."
She'll be right, mate
During the pandemic, it's been raised on numerous times that guards in detention facilities and APODs have not been social distancing or wearing masks. And a recent RAC report outlines that Villawood guards are actually prevented from using personal protection equipment (PPE).
Rintoul says his organisation hasn't been able to get to the bottom of why this is the case. "But we know none of the guards wear gloves," he confirmed. "This is true right across the hotels and the detention centres. None of the guards wear gloves, masks or protective gear of any kind."
The RAC spokesperson adds that he knows of cases where guards have tried to take hand sanitiser into a facility, and it's been confiscated. And while there have been some portable wash basins installed since the onset of COVID, these can often lack soap or even water.
"There are no extra precautions available in those places," he continued. "We know that some social distancing is possible inside the detention centres – which is not possible in the hotels – but that's not uniformly the case either."
Virus enters the Mantra
Currently, there's close to 70 asylum seekers being held in the Mantra Hotel in the Melbourne suburb of Preston. These former offshore detainees were transferred from either Manus or Nauru under the provisions of the now repealed Medevac laws.
This means two doctors deemed it necessary that they be transferred here because their health conditions made it necessary, while the home affairs minister didn't intervene over any risk to the public they may have posed. It also means that they're more susceptible to contracting COVID-19.
And while the men locked up in the APOD, along with their supporters, have been drawing attention to the fact that they – along with the men in a similar situation in Brisbane's Kangaroo Point Hotel – are in a very vulnerable situation, it seems this hasn't drawn any compassion from authorities.
Indeed, the government has simply left these men at the Mantra in their precarious state, until one staff member tested positive on 8 July, after having recently worked in the establishment. And while the hotel was promptly cleaned, the men are still stuck inside, with no room for distancing.
Akin to cruise ships
"These are life or death decisions for people who have already fled torture in their countries of origin and remained here despite brutal government pressure to return," refugee rights advocate Jane Salmon makes clear.
Despite the fact that all the men in the hotels currently have people in the community willing to put them up during the pandemic, the refugee campaigner added, the government is simply ignoring this option, as it clings to its Sovereign Borders stance.
Salmon further posits that the government continuing to hold these asylum seekers in the hotel, even after having been potentially exposed to the disease, is a form of necropolitics: meaning Dutton is using his power to dictate who has a right to stay alive, and who is simply left to die.
And one only has to look as far as Europe to see that alternatives are possible. Back in March, the Spanish government released everyone from its immigration detention centres for the pandemic period, while Portugal extended the rights of permanent citizens to all asylum seekers for COVID-19.
"Our argument, in terms of best practice, is that, just in like Portugal, get the people out of those high-risk environments and put them in the community," Rintoul concluded. "Then they can be more sensibly and safely accommodated."
All photos from inside detention supplied by Kurdish musician and detainee Farhad Bandesh
Receive all of our articles weekly
Author
Paul Gregoire
Paul Gregoire is a Sydney-based journalist and writer. He has a focus on human rights issues, encroachments on civil liberties, drug law reform, gender diversity and First Nations rights. Prior to Sydney Criminal Lawyers®, he wrote for VICE and was the news editor at Sydney's City Hub.