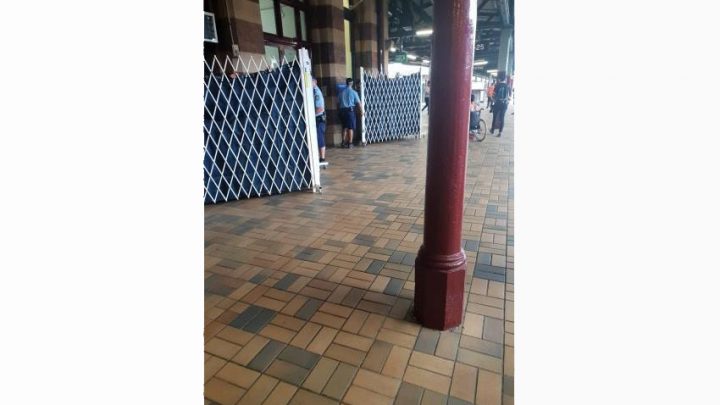 On Wednesday 13 March, photos emerged on Facebook that showed NSW police officers on a platform at Sydney's Central station at 2.25 pm, accompanied by sniffer dogs and with strip search tents set up on the side of the walkway.
This was not some law enforcement operation in response to information regarding a terrorist threat. This was part of regular NSW police drug detection dog operations. And rather than any weapons or bombs, officers for the most part were searching for small quantities of cannabis.
Anti-drug dog campaign Sniff Off posted the images on the social media platform. The page admin confirmed that there were around 15 police officers and a couple of drug dogs waiting to greet commuters on their way home with a respectful order to remove their clothes in front of them.
And while it's unclear whether police arrested anyone on the day. The data makes clear that the majority of searches result in nothing being found. And the odd joint or bud the 2006 Ombudsman report noted is being detected, certainly doesn't warrant this repugnant humiliation of citizens.
An insult to the public
"This is the first time we've seen these sort of operations set up at one of our major train stations," NSW Greens MLC David Shoebridge told Sydney Criminal Lawyers. "In fact, it's the first time at any train station."
Mr Shoebridge, in collaboration with the NSW Young Greens, kicked off the Sniff Off campaign back in 2011. And his monitoring of drug dog statistics over the years has shown that searches following a positive indication by a dog result in no drugs being found two-thirds to three-quarters of the time.
Statistics obtained in NSW parliament in July last year revealed that the employment of strip searches following a dog indication had doubled from 590 in 2016 to 1,124 in 2017. And these searches resulted in no illicit drugs in 64 percent of cases.
According to Shoebridge, threatening people going about their daily business at Central station "with not only being harassed by police and drug dogs, but also being strip searched", was an insult to young people and the travelling public.
"It's a very ugly precedent and particularly, so close to a state election," he made clear.
A surge in humiliating searches
The NSW Greens justice spokesperson also obtained figures regarding police use of strip searches in general last December. And what these revealed was a staggering spike in the use of this invasive and often traumatising procedure.
Over the last four financial years, the use of strip searches in NSW has surged by close to 47 percent. In 2014-15, officers carried out 3,735 strip searches, while in 2017-18, 5,483 citizens were told to remove their clothes in front of uniformed officers carrying guns.
Shoebridge said that he's been asking NSW police minister Troy Grant to explain this "staggering increase". And he stresses that he finds it hard to comprehend, when NSW police minister Mick Fuller has replied to this questioning with a denial that any change in policy has taken place.
"Clearly, there is a directive that has been given to operational police that if their first search finds nothing," he continued, "they're to ramp it up to a strip search wherever possible and see if they can prove that measure to validate drug dog operations."
And the routine use of strips searches has been shown to be as fruitless as the average drug detection dog operation. Following asking people to remove their clothes, police are finding no illegal items or illicit substances on average 64 percent of the time over the last four year period.
Alleged abuses
Along with these startling figures there were a number of other developments regarding the use of strip searches last year. The state's police oversight body the Law Enforcement Conduct Commission announced in October that it's investigating claims some officers have been abusing their powers.
While November saw Aboriginal Legal Service Western NSW deputy principal solicitor Emily Winborne report that she was aware of instances of officers searching Aboriginal children as young as 11. And in certain cases, the protocols set out in the legislation weren't being followed.
The police powers to conduct strip searches are contained in division 4 of part 4 of the Law Enforcement (Powers and Responsibilities) Act 2002 (the LEPRA). Section 33 of the LEPRA provides the rules of conduct that police must comply with when carrying out such a search.
The Redfern Legal Centre launched its Safe and Sound campaign last December, with the aim of lowering the number of strip searches being carried out by police, along with seeing the laws around them changed, as the wording in the LEPRA is too "vague and legalistic".
Penalised after unsuccessful search
And a fortnight ago, Lucy Moore posted about her strip search experience at the Hidden festival on 2 March. The Newcastle woman detailed how she'd been taken into a tent with the door still half open and asked to take her clothes off, squat and cough.
The 19-year-old woman claims that she was not given a pat down search initially, as required. And following the search that found she wasn't in possession of illegal drugs, she was detained for over an hour, kicked out of the festival, and issued with a six month ban from the Olympic Park precinct.
"Once police start seeing strip searches as routine, that's when the powers become even more likely to be abused. And we've seen that with that young woman," Mr Shoebridge remarked. "This is what you get when you have police feeling like the government will let them do whatever they like."
Growing opposition
While Sniff Off has been leading the outcry against police use of drug dogs without a warrant in public places, there's many more groups calling for an end to their use. Harm reduction organisation Unharm has long been calling for the dogs to be ditched.
Australian Drug Law Reform Foundation president Dr Alex Wodak has been a firm critic of this "uniquely Australian" practice. While the NSW Council for Civil Liberties has been calling for an end to sniffer dogs since the release of the Ombudsman report.
But, despite this growing opposition, the dogs remain and strip searches are now on the increase. Shoebridge put forth that this police reaction is like a "deliberate organisational response" to the rapidly increasing "civil liberties campaign" against these failing drug war tactics.
"It's almost as though the police are saying to civil society, 'Well, it doesn't matter what you say. It doesn't matter about the principled opposition you put forward. We've got the government in our back pocket. And we'll do whatever we like,'" Mr Shoebridge concluded.
"And that's a very dangerous thing for NSW."
Photo credit: Sniff Off
Last updated on
Receive all of our articles weekly