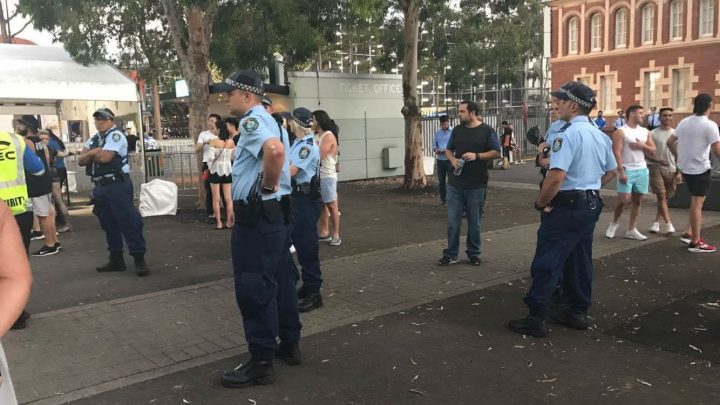 The use of strip searches by the NSW Police Force (NSWPF) has recently skyrocketed. Over the last four years, strip search use has risen by close to 47 percent, with 3,735 carried out in the year 2014-15, while 5,483 people were asked to remove their clothes and squat in 2017-18.
Not only is NSW police beginning to employ this invasive method like it's routine, but on the overwhelming majority of times officers have asked the public to get their clothes off nothing has been found.
On average, these strip searches have turned up no illegal items 64 percent of the time. Take the last financial year, of the over 5,000 individuals ordered to remove their clothes, police found nothing on 3,435 of them: no illicit drugs, no concealed weapons and no stolen goods.
NSW Greens MLC David Shoebridge obtained the figures on 19 December, after having asked questions in relation to the matter of the minister who was acting on behalf of the police minister in state parliament in November.
This data relates to the use of strip searches for any reason. And its release follows on statistics that were obtained in July last year that showed the employment of strip searches following a positive indication by a sniffer dog had basically doubled from 590 in 2016 to 1,124 in 2017.
Again, the success rate was shocking, as 64 percent of these searches resulted in no illicit substances being found.
A harmful practice
At the time the figures were released, Mr Shoebridge said in a statement that "being strip searched is deeply humiliating, especially for young people who so often are the targets of this kind of discretionary policing".
The NSW Greens justice spokesperson explained that as the majority of strip searches result in nothing being found, all they're doing is causing embarrassment to those being forced to disrobe in front of police.
"Government programs that get it wrong the great majority of times, especially where they are causing real damage, need to be brought to heel," Shoebridge continued. And he called on the NSW police commissioner to explain why officers are humiliating thousands of people for no reason.
"Strip searches are only meant to be done when they are urgent and necessary," Shoebridge added, "but this requirement is clearly not being complied with by police who have performed thousands more searches in recent years."
Strip search powers
The police powers to stop and search people in public without a warrant are contained in the Law Enforcement (Powers and Responsibilities) Act 2002. Section 31 of the Act specifies when police can carry out a lawful strip search.
If an officer "suspects on reasonable grounds" that the "seriousness and urgency of circumstances" make a strip search necessary, then they can order one take place. And it's these requirements of necessity and urgency that make the sharp rise in strip search use questionable.
Section 33 of the Act stipulates that a strip search must be carried out in an enclosed area, such as a tent. Although, incidents where they've been conducted on the street in full view of others have been reported.
A strip search must be carried out by someone of the same sex. And at no time, should an individual be present that doesn't need to be. Body cavities shouldn't be searched and an officer should never touch an individual. And the search shouldn't involve the removal of more clothes than necessary.
In the case of a child between the ages of 10 and 18, a strip search should be carried out in front of a parent or guardian. If this is not possible, it should take place in front of another person who's not a police officer and is capable of representing the interests of the youth.
And section 34 of the Act outlines that strip searches should never be carried out upon individuals under the age of 10.
An obvious change in policy
NSW police commissioner Mick Fuller stated in late September that there had been no NSWPF policy changes that had led to the spike in strip searches police carried out following a positive drug dog indication between 2016 and 2017.
Although, Shoebridge and the Redfern Legal Centre's head of police accountability practice Samantha Lee both asserted that an official change in practice must have taken place. And now, looking at the recently released broader four year figures, this seems even more certain.
An overreach of powers
The sole police oversight body in NSW, the Law Enforcement Conduct Commission (LECC) announced last October that it's conducting an investigation into allegations that some NSW police officers have been abusing their strip search powers.
And it came to light a few weeks later that NSW police has not only been dramatically increasing its use of strip searches, but it's also been conducting the intrusive searches upon First Nations children as young as 11 years old.
Aboriginal Legal Service Western NSW deputy principal solicitor Emily Winborne told Sydney Criminal Lawyers last November that "police seem to have a poor understanding of the legal powers they have to conduct searches and the legal obligations they must abide by when conducting" them.
The lawyer further explained that these strip searches that are often being carried out illegally are continuing to proliferate as most of them result in no illegal items being found, so they don't come to the attention of legal professionals, let alone a body such as the LECC.
Changing the law
Last month, the Redfern Legal Centre launched the Safe and Sound campaign, which has the aim of bringing about a halt to the rising numbers of strip searches being carried out in NSW at music festivals, as well as other locations.
The use of sniffer dogs and a heavy police presence at music festivals have been shown to lead festivalgoers to partake in dangerous drug taking practices like panic overdosing. This is when an individual is so concerned on seeing police that they take all their drugs at once for fear of arrest.
And the rising use of strip searches can only increase these risky responses to law enforcement presence.
The Safe and Sound campaign asserts that the wording of the laws around strip searches set out in the legislation is so vague, legalistic and open to wide interpretation that they fail to provide adequate safeguards for the general public.
And the Redfern Legal Centre wants to improve the legal safeguards around the use of this invasive practice, especially when it comes to young people. Of course, one might add that perhaps adults in uniforms carrying guns shouldn't be asking minors to strip off whatsoever.
Receive all of our articles weekly