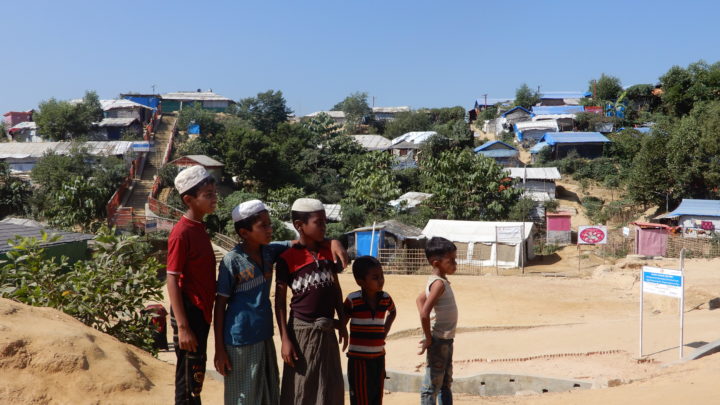 Kutupalong refugee camp is the largest such camp on the planet. It's situated in Cox's Bazar district in southern Bangladesh. There are over 600,000 mainly Muslim Rohingya refugees living there, after having fled persecution in their homeland of Myanmar.
The Rohingyas come from that nation's north-western state of Rakhine. The situation for them there has become increasingly unbearable over the last decade. And a military crackdown in August 2017 drove around 740,000 Rohingyas across the border into neighbouring Bangladesh.
On entry, the striking thing about Kutupalong is that it resembles a small city, or rather, the outskirts of a much larger one. The landscape is dotted with thousands of makeshift shelters constructed out of bamboo and tarpaulins.
And as you drive along the brick road that was constructed by the Bangladeshi military, every so often you come across a group of people lined up at a distribution point waiting to be provided with foodstuffs or liquified natural gas from one of the numerous NGOs operating at the site.
Displaced persons
"The desire of the majority of the Rohingya refugee population is to return home," explained Louise Donovan, the UNHCR communications manager in the local area. "However, not until the conditions are in place for them to return home in safety and in dignity."
There was an estimated 1.3 million Rohingyas living in Myanmar in 2014. But, they're a stateless people, as a local law passed in 1982 doesn't recognise them as a distinct national ethnic group and denies them citizenship.
Recent decades have seen the relationship between the Rohingyas and the majority Rakhine Buddhists deteriorate. And in 2012, riots broke out across the state with military and locals attacking the Rohingyas, leaving 140,000 of them to internally displaced persons camps.
While in August 2017, a military crackdown in response to isolated incidents at some police posts was so brutal and out of proportion that hundreds of thousands were forced to flee the country, as they escaped widespread killings, burnings and mass rape.
A temporary city
Today, there are close to one million Rohingya refugees living in two major government-run refugee complexes in south-eastern Bangladesh. And while aid organisations provide much, they can't provide a sense of belonging.
According to Donovan, what's needed right now is solidarity from the international community, so as to bring about a situation where Myanmar puts in place conditions and policies that "are conducive for voluntary returns".
Sydney Criminal Lawyers spoke to a few Rohingya refugees living in Kutupalong camp about the reasons why they fled their homeland, what their living conditions are like, and how, despite the permanent look of the camp, their present situation is only temporary.
Nazi Ahmad is from the village of Talatuli in the northern Rakhine district of Maungdaw. The 40-year-old stopped working on his makeshift shelter situated on the side of a hill at camp 11 of the Kutupalong camp, so we could talk.
Mr Ahmad you fled Myanmar in August 2017, when much of the population at this camp evacuated. Can I ask what happened to you?
In the morning time, the military came to our village. They were firing at the villagers. My family members and other villagers moved towards the beach.
In our village, there's a river. That's where we went to the beach. At that time, it was high tide, so we could not cross. We had to wait to cross.
So, what happened at the beach?
We were waiting there. There were so many Rohingya people at that beach waiting to cross the river.
And then the military came, with Buddhist civilians, and they surrounded the people. They fired on the people. They shot some.
Then a Myanmar military helicopter was flying overhead, and they put down some weapons. They were handing these weapons over to the military.
They killed many people there, those who were on the beach. But, some were able to cross the river.
I was one of the men who got to cross the river. And I was watching all of this from the other side.
What else did you see?
The Myanmar military took some of the women to a shelter. And none of these women came out.
Some of the military went there and they selected some of the women and girls and took them.
They kept them there for an hour. Then they burnt some of the houses, with the women inside. Also, there were so many children on the beach who were just thrown into the river.
Twenty one members of my family were killed on that beach. Actually, mostly, all of my family were killed there.
And why did the Myanmar military do this?
I don't know why they did this. The military had come to our village so many times before and they did not do anything.
But, finally, they just came to our village and drove us out. And I don't know why.
Zurul Tok is a 55-year-old Rohingya man now living at Kutupalong. He fled Myanmar in 2016, which is before most of the refugees at the camp left. He's from the village of Kyet Yeo Pyin in Maungdaw district, Rakhine state. He was walking along the market road when we met.
So, how did you come to leave Myanmar in 2016, before most of the refugees here?
A conflict happened in my village. There was an incident that occurred at the police station. So, when the incident happened over there, the military came through and attacked my shelter. And they took away two of my sons.
Some of the military came to the village and they attacked it. They were using launchers, mortars and heavy artillery weapons to kill all the people.
Also, they targeted my shelter. So, some of my family members fled. But, my two sons were arrested.
Why were they arrested?
I don't know why they were arrested. They were arrested without any reason. They just came and took them away.
Are they still there now?
When my two sons were arrested, I thought that they were killed by the military. But, now, I have heard from people that they're still in prison.
Is it possible for you to take legal action in Myanmar in regard to your sons?
I was not able to do anything for them over there, because our voices were not heard by anyone. I could not do anything for my children, my two sons.
But, when I got here, I spoke to different people about my children. What they're doing right now? What will be done to them?
And why did you come here?
They were driving us out. They were killing people. Burning our houses. My two sons were already arrested. So, there was no option for me to live there, so I had to leave.
How is your life here?
The conditions are not very good. We're just surviving. There are just broken shelters here: tarpaulins, bamboo. It's very hard to live under these conditions.
Do you have employment?
No. I don't have any employment here.
Do you want to go back to Myanmar?
Yes. If I got the chance to go back there, I would leave right now. But, I'm not getting any chance to go back.
There's been talk from government of repatriation programs. What about those?
If I had the chance to go, and my rights and safety granted, then I will surely go.
How would you say the general community here is living?
We are all very depressed here. This is not our homeland. So, we can't live here like it is our homeland. All the people are very upset here.
Receive all of our articles weekly