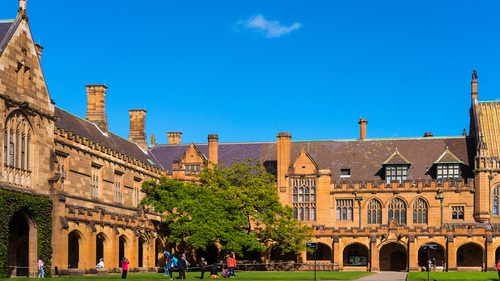 As stories continue to emerge of dangerous and sadistic initiation rituals on University campuses, it's interesting to explore where 'hazing' stands in terms of the law in New South Wales.
Earlier this year, the Red Zone Report into Australian universities was published by the organisation 'End Rape on Campus', after an investigation into residential colleges found 79 years of hazing rituals in the nation's universities.
It outlined case studies from colleges in 12 universities, including eight of Australia's leading institutions, with a particular emphasis on the University of Sydney.
At the time, academic and gender equality advisor Professor Catharine Lumby, who wrote the report's foreword, described the document as "sickening reading."
What is hazing?
Hazing is the "imposition of strenuous, and often humiliating, tasks" as part of a program of initiation.
Examples of hazing in Australia include beating naked or semi-naked students, masturbating into shampoo left in the bathrooms of female residents, encouraging students to set their pubic hair on fire… and the list goes on.
Most of the rituals were performed while students were intoxicated by alcohol.
In the wake of the report, universities have come under pressure to crack down on hazing rituals, to provide better support for victims and to expel perpetrators.
But universities say they have had little control over what goes on in residential colleges, because they are often considered to be 'off campus' which means administrators have no legal standing to regulate the.
That being the case, Education Minister Rob Stokes introduced a Bill earlier this year to amend the so-called 'St John's Act' , which sets out certain rules regarding the governance of university campuses. The proposal seeks to give university administrators broader powers over students' behaviour in residential colleges.
Difficult to prevent hazing
But the lack of formal regulatory mechanisms is not the only problem, say complainants.
They report finding it difficult to get administrators to listen complaints, let alone take them seriously enough to conduct investigations.
There are reports of universities being too concerned about their standing and reputations to initiate action, preferring to sweep the issues under the carpet.
There are also difficulties in getting students to provide corroboratory statements, because they fear being ostracised for 'snitching'.
Latest report
Melis Layik is a former resident of Mannix College, which is affiliated with Monash University. She has reported an incident whereby:
"One man, with assistance of two others, climbed into my second-storey room [at 3:00am] and threw raw meat at me".
"I went to the college numerous times and each time, they did nothing about it and in fact, they made me feel like I was making a big deal out of this and that I was seeking attention or something like that."
Ms Layik subsequently left the college and university, after her complaints to staff fell on deaf ears.
Her account, while disturbing, is considered to be tame in comparison to some of the others that have emerged in recent times, including several from one of Australia's most prestigious educational institutions, St Paul's College in Sydney. The college came under fire for a 'pro-rape' Facebook group, as well as a post that labelled having sex with large women 'harpooning a whale'.
But hazing rituals aren't just aimed at women. First year male students are also heavily targeted, and subjected to brutal and perverse acts that leave them traumatised.
Mystery surrounds college attendance
There are still many unanswered questions around what happened to Stuart Kelly (brother of Kings Cross one-punch victim Thomas Kelly), on the first – and only night – he attended St Paul's College in 2016.
Mr Kelly spent little more than 24 hours at the college and never returned. Six months later, he committed suicide. At his funeral, fellow students informed his parents their son been held down and had alcohol poured down his throat that night, by a gang of students, as part of an 'initiation' into college life.
Is hazing a crime in New South Wales?
There is no specific offence of 'hazing' in our state.
However, such acts can amount to an assault or act of intimidation under the criminal law.
Offences which may capture acts of hazing including:
What can victims do?
Victims of hazing should contact police as early as possible after any incident.
The statement to police should contain as much detail as possible, and will be the basis for pursuing a criminal investigation and potential prosecution.
If you are suspected of, or charged with, a criminal offence arising from an allegation of hazing, it is important to speak with an experienced criminal defence lawyer as soon as possible.
A good lawyer will be able to advise you of your rights, options and work to ensure there are minimal negative repercussions.
Receive all of our articles weekly