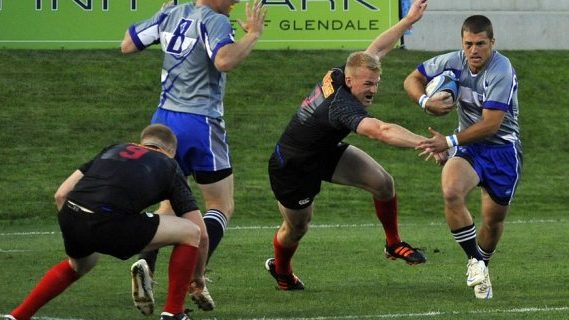 Stunned NSW Blues fans could not believe their eyes when the NRL bunker overturned two critical decisions by the on field referee in Wednesday night's State of Origin opener, letting Queensland off-the-hook in the last fifteen minutes.
Only 14 minutes from full time, the touch judge – who was just metres from the ball – indicated that NSW Centre Josh Morris had scored a try, a decision confirmed by the on field referee. For those unfamiliar with the rules of rugby league, the bunker (or video referee) can only overturn an on field decision if there is conclusive evidence that an incorrect call was made. The bunker footage appeared inconclusive, with Queensland arms and legs obscuring vision of the ball. Yet the bunker saw fit to overturn the on field decision, leaving Blues fans incredulous.
Just moments later, the bunker did it again…With pressure mounting near the Queensland try line, Maroons player Justin O'Neil appeared to knock on an Adam Reynolds bomb, giving the Blues a scrum feed and a tremendous opportunity to score. But seemingly out of nowhere, the bunker saw fit to step in, claiming NSW had knocked the ball on and giving the Maroons possession. Veteran commentator Ray Warren declared it 'an incredible decision', and NSW supporters were left furious – shouting 'rigged'.
It should be said that the bunker has access to state-of-the-art audio visual equipment, which presumably has the ability to zoom in on images with far greater clarity than those projected in pubs and clubs across Australia. While this may indeed explain the decisions, it is little consolation to many Blues fans.
Just two points ultimately separated the teams, Queensland winning 6-4.
Match Fixing Allegations
For frustrated league fans left shaking their heads this week, there's also been news that the NSW Crime Commission has launched a criminal investigation into allegations of match fixing in the NRL.
There are two suspicious matches being looked at from last season:
Manly v Souths in round 16 and Manly v Parramatta in round 24. Manly lost the games 20-8 and 20-16 respectively.
It's not clear at this stage whether players are alleged to be involved, but NRL boss Todd Greenberg has vowed to inflict the toughest penalties possible on anyone found guilty – including life-long bans from the game.
Correspondence sent by Greenberg to the CEOs of all 16 NRL clubs expressed disappointment that the investigation would put the game's integrity at risk.
"The possibility of the existence of match fixing within our sport cuts to the core of our sport and our values. "We will take whatever action is necessary to protect the integrity of our sport," his statement said.
Greenberg then told the media:
"This is a professional sport. We run the world's best rugby league competition and our job is to protect and to promote our sport. We won't stand for anyone compromising our sport. The police have our full support in taking whatever action will be necessary.
"I want everyone today involved in our sport at every level, whether professionally or at the grass roots, to understand that our job is to act for the sport and for the 99.9% of the men and women who contribute to our sport, who do so with passion, integrity and commitment and if some people are found to fail that threshold, then there is simply no place for them in this game and we will not hesitate to ban them for life."
Gangsters and Greed
More recently, media reports have emerged that gambling identity Eddie Hayson is alleged to have admitted paying NRL players $50,000 each to fix the round 16 game between Manly and South Sydney.
Senior organised crime squad detectives have expressed concern that the NRL has been infiltrated by underworld figures, saying that clubs are in denial.
Detective Inspector Wayne Walpole, in charge of the state's charter against organised crime infiltrating sport, told the media:
"I'm not saying corruption or match fixing has happened, but I'm saying the infiltration is there and that infiltration can lead to the compromise of the sports of the athlete."
Some players including Parramatta's Corey Norman and Junior Paulo and Penrith's James Segeyaro have already been issued with warnings against consorting with convicted criminals and known gamblers.
There is no suggestion the men were engaged in, or intended to engage in match fixing, but the message from the crime squad is clear, they're 'watching closely'.
If these fresh allegations are validated, it won't be the first time the NRL has become embroiled in a match fixing scandal.
Former Canterbury-Bankstown player Ryan Tandy was convicted in 2011 of attempting to fix a 2010 match between the Bulldogs and the Cowboys. He was fined $4000 and placed on a 12-month good behaviour bond, with the Magistrate finding that Tandy planned to make money off the first scoring play of the game.
However, the Rugby League Players Association has cautioned the public not to jump to conclusions, and to let the investigation take its course.
"It is important people respect the presumption of innocence principle and avoid pre-judgement and speculation in relation to any allegations subject to the police process."
Receive all of our articles weekly