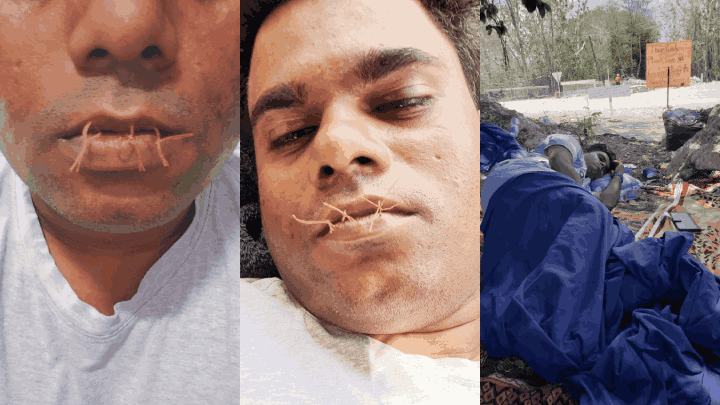 Two offshore detainees in Nauru were lying on a blanket outdoors last Friday, after having spent four days without eating or even taking water.
These men were hunger striking in protest against our government having held them on the island for close to a decade, without having committed any crime.
Sydney Criminal Lawyers was in contact with one of the men, Mohammad Shofiqul Islam, on 25 February and asked whether it was possible to speak early this week.
"I can't talk because I closed my lips," he wrote over WhatsApp. He added that he wasn't sure if he would still be alive this week or not, because his condition was "very bad".
However, after he didn't respond on Monday, a WhatsApp message was received at 3 am Tuesday morning, apologising for the lack of reply and explaining that they had been with International Health and Medical Services (IHMS). 
"I just came to Australia today," Islam wrote. "Thank you so much for helping me." 
Pushed to the brink
Islam and his fellow hunger striker, Mohammad Kaium, were amongst 60-odd men who continue to be detained on Nauru. And coming on ten years now, these refugees have no idea why they've been singled out as the final detainees when once there were thousands.
Over the weekend, the hunger strikers were taken into the Nauru Regional Processing Centre by staff and placed on drips. 
The detainees on the tiny island, however, no longer live at the facility, as, for many years now, they've lived amongst the local community in a restricted manner.
These men still on Nauru are being used as scarecrows by the Australian government to deter other asylum seekers from attempting to come to this country. And after ten years, their physical and mental health is progressively failing, as Canberra displays their degradation as a warning sign to all.
In our name
So desperate were Islam and Kaium that they were able to forgo water for four days, and the Bangladeshi men, who've been issued with refugee identification cards, were prepared to end their lives after close to a decade of being in the custody of the Australian government.
The Rudd administration implemented mandatory offshore detention for refugees arriving by boat in September 2013. And those captured by the policy are some of the most desperate people on the planet, who consider risking their lives on rickety boats preferable to persecution at home.
The now medevaced men were living in the Nauru detention facility while the atrocities that were compiled in the Nauru Files were taking place. These horrors included sexual assault, violent attacks and self-harm incidents, on top of the trauma of being confined in an under resourced prison.
Slowly being tortured on behalf of all Australians, the evacuees were present when some of the dozens of children then held by our government on the island developed a rare mental health condition that slowly sees sufferers withdraw from life to the point of becoming comatose.
Nauru doesn't have adequate medical care. IHMS couldn't treat Islam's broken collarbone, so he has been suffering through it since it occurred. Both men have multiple health conditions. And they've watched hundreds being medevaced before them, to receive the treatment they were being denied.
Tortured to death
Under the rights-forward Albanese government, the political year began with an error, as Home Affairs had forgotten to update an instrument last October that permits the island nation of Nauru to continue being used as a person dumping ground by our country for another ten years.
Despite the dodgy administrative look, the law was renewed with bipartisan approval, which led many in the constituency to question why our nation is keeping the Nauru Regional Processing Centre open when no one has been kept there for years, not even the remaining refugee detainees.
In January, the Albanese government signed a contract with US private prison operator MTC to run the facility and oversee the remaining detainees welfare at a cost of $420 million over a three year period.
The empty detention centre is, like the men, to act as an expensive deterrent to prevent would-be asylum seekers from arriving in Australian waters.
To keep offshore detainees on the island, it costs taxpayers $2.1 million per body annually.
And acting in accord with its colonial roots, our government propagates the fallacy that these men are "too risky" to live in the Australian community, even though it's completely happy to allow them to live amongst the Nauruans.
Indeed, our nation has turned the country of Nauru into an open-air prison because Australia's wealth gives it the power to do so.
Ten years too long
Immigration minister Andrew Giles recently delivered on an election promise, announcing that 19,000 refugees living in the community on temporary visas will now be able to apply for permanent protection. Although this leaves 12,000 more living under temporary legal limbo in Australia.
This visa reform, of course, does nothing for those remaining offshore detainees on Nauru and nor the 90-odd left in Papua New Guinea.
So, Greens Senator Nick McKim has introduced his Evacuation to Safety Bill 2023, which has been drafted in line with Labor's policy settings and allows for the final 150 detainees to be brought here, provided with treatment and kept in community detention prior to being settled in a third country.
"They've suffered from being deliberately harmed and denied acceptable medical care, and it's just simply time for Australia to abide by the Refugee Convention," McKim told SCL a fortnight ago. "There's simply no reason to keep punishing them by maintaining their exile overseas."
Australia ratified the 1951 Refugee Convention in 1954, which means our nation has agreed to the terms of the international agreement that includes people fleeing persecution in their homelands being able to enter Australia to seek asylum, even if they arrive by boat.
"Most refugees who are currently offshore are physically sick or mentally unwell," said long-term refugee advocate Jane Salmon.
"I call upon Labor to support the bill as a voter who has engaged with Labor politicians and Labor members on the issue of refugee treatment for over a decade."
Receive all of our articles weekly