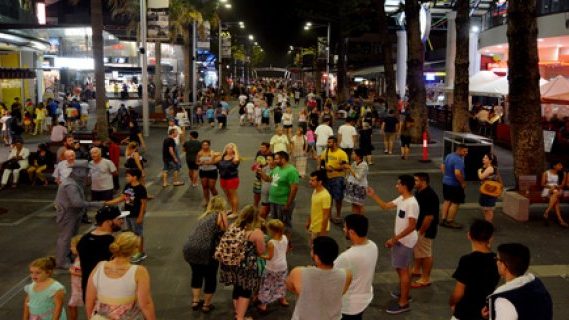 By Blake O'Connor and Ugur Nedim
Sydney's lockout laws signalled the death of many well-known bars, clubs and restaurants in the CBD and Kings Cross, with some labelling them "religious ideology gone made" and an "international joke thanks to the NSW liberal government".
While the laws have coincided with a drop in assaults of 32% in the CBD and 40% in Kings Cross, this has occurred in the context of falls in foot traffic of up to 80% in those areas.
Meanwhile, assaults at The Star Casino – which is exempt from the laws – have risen considerably since lockouts came into effect in 2014.
Indeed, many feel the laws have merely shifted the problem of assaults to other areas and into the domestic context – with many choosing to drink at home or venture to unaffected areas.
Queensland's 'scanning' laws
But Sydney isn't the only place where licensed establishments are being affected by strict government regulations.
From 1 July 2017, venues holding liquor licences in Queensland's 'safe night precincts' who permanently trade beyond midnight have been required to install 'approved ID scanners' at each entry and use them on patrons after 10pm.
The stated purpose of the measure is to reduce assaults by checking names, addresses and dates of birth to ensure that those who are the subject of 'banning orders' are refused entry.
However, in just over a week the scanners have caused mayhem as venues report significant losses by having to refuse entry to sober, well-meaning patrons.
The Gresham Bar, which holds the only heritage bar licence in Queensland, has labelled the laws "absurd" after being forced to deny entry to French winemakers because they were not carrying the required form of identification.
The manager of the bar, Ryan Lane, told the ABC that the laws were "embarrassing":
"These guys were anywhere between 40 and 65 years old, sober, incredibly polite, lovely people", Mr Ryan stated.
"They ticked every single box to enter our venue, except for the fact that two of them didn't have their passport on them so they're not going to break up a group, so they all left…"
"The four years we've been open, we have an absolutely perfect record when it comes to alcohol-related violence and safety".
Not only are the scanners expensive to install and maintain, they are reportedly leading to large groups of cashed-up tourists turning their backs on the regulated businesses.
One Cairns nightclub owner reported being left out-of-pocket when scanners failed to recognise the IDs of a large group of visiting US Navy Sailors, costing the venue an estimated $5,000 to $10,000 over a single weekend.
Despite the problems, a spokesperson for acting Attorney-General Anthony Lynham is adamant the laws are here to stay.
"ID scanners are designed to keep patrons safe and ensure they can have a fun night out", the spokesperson stated.
While the premise behind the regulations is seen as commendable by many, there are concerns their practical impact will unfairly impact on businesses that are merely trying to do the right thing.
Receive all of our articles weekly
Author
Sydney Criminal Lawyers
Sydney Criminal Lawyers®
is Australia's Leading Criminal Defence firm, Delivering Outstanding Results in all Criminal and Driving cases. Going to Court? Call (02) 9261 8881 for a Free Consultation.