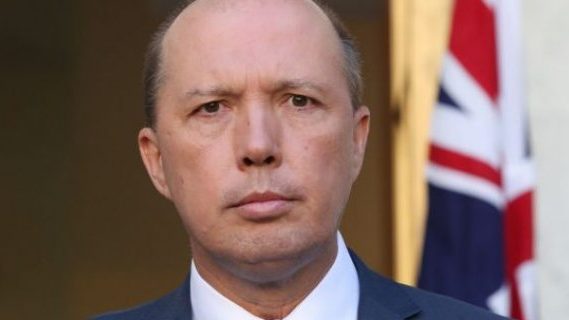 These days, it seems that every time a nasty policy suggestion is announced in Canberra, it's Peter Dutton standing at the podium. Indeed, the ultra-conservative Liberal minister doesn't seem to be at ease unless he's making some divisive statement.
The Australian Border Force, ASIO and the Australian federal police all now lie under his tutelage as the head of the new home affairs super-ministry. And a legislative process is currently underway that will provide him with control of an all-pervasive national facial recognition system.
Since 2014, Dutton's been lording it over the sheer brutality of Australia's offshore immigration detention regime, whilst back home he's been threatening to kick out the thousands of asylum seekers that make up the legacy caseload.
And the minister in charge of immigration, who's shown little compassion to anyone who's been forced to flee their home country, suddenly became concerned about "persecuted" white South African farmers in March this year, stating that they need "help from a civilised country like ours."
But, what's even more frightening, is the former Queensland cop is often touted as a potential future prime minister.
For all these reasons and more, GetUp officially launched their Time to Ditch Dutton campaign last Saturday with the aim of convincing voters in the Queensland seat of Dickson that it's time to oust the minister in the next federal election, before it's too late.
Dutton's Achilles heel
"As minister for home affairs, Peter Dutton is one of the most powerful people in Australia," explained Ellen Roberts, GetUp action network director. And that's why the activist group are investing $225,000 into a campaign to hit him where he's most vulnerable: his marginal electorate.
While Dutton has a strong powerbase in the party room, his support is wavering in the north Brisbane seat of Dickson, which he's held since 2001. In the 2016 election, the home affairs minister suffered a 5.2 percent swing against him, leaving him with a mere 1.6 percent margin.
According to Roberts, Dutton is a major powerbroker in the Turnbull government, and he's "dragging their policies on everything from offshore detention to climate change further to the right." She added that the only way to stop his "destructive impact" is to vote him out.
"After managing the immigration portfolio with unprecedented cruelty, he is now engaged in an anti-democratic power grab," the Brisbane-based activist continued, "with new powers to spy on ordinary Australians and punish whistleblowers for speaking out."
Second time successful
The swing against Dutton in the 2016 election was in part due to a push by GetUp and other entities against him. And the $225,000 in funding the non-profit has amassed for the new campaign was raised via its members in a little over a week last year.
"If GetUp want a fight, they'll get one," Mr Dutton told Fairfax media at the time. He said that the GetUp campaign announcement had elicited commitments of $650,000 in funding for his own campaign. And he went on to describe the group as a front for the Labor Party and the Greens.
"Dickson is on a knife's edge," Ms Roberts declared. She explained that a recent boundary change has improved Dutton's distribution slightly to margin of 1.7 percent. "That means we would only need to shift about 1,500 votes to have a huge impact and potentially unseat a cabinet minister."
"There are also a lot of disengaged voters in Dickson, fed up with party politics," the grassroots campaigner told Sydney Criminal Lawyers®. "We think connecting with people person-to-person on issues they care about is the best way to engage voters."
Dutton's greatest hits
Peter Dutton joined the Young Liberals in 1988 at the ripe young age of 18. Two years later, he graduated from the police academy and served in the Queensland police force for nine years. But, by 2001, he was elected into parliament and served as a minister in the Howard government.
And over his last 17 years in office, the boy from north Brisbane has done a lot of things to tick the Australian public off.
In 2008, when Kevin Rudd delivered the apology to the Stolen Generations, minister Dutton was the only frontbencher to boycott the event. And his reasoning behind abstaining, which he outlined on Q&A two years later, doesn't warrant mentioning.
Prior to a meeting regarding Syrian refugees in Canberra in September 2015, Dutton was caught on an overhead microphone making a quip to then prime minister Tony Abbott about Pacific Island nations that are slowly shrinking due to rising sea levels.
"Time doesn't mean anything," the minister said, "when you're about to have water lapping at your door."
Prior to the 2016 federal election, in a move that made it obvious why a man of Peter Dutton's sensitivities was in the role of immigration minister, he stated that many refugees that come to Australia "won't be numerate or literate in their own language, let alone English."
"These people would be taking Australian jobs, there's no question about that," he continued on, just for good measure.
Dutton stated in late 2016 that letting Lebanese migrants into Australia in the 1970s was a mistake. In April last year, he lied about Manus Island detainees trying to coax a five-year-old boy into the detention centre.
While in January this year, the minister made out that residents of Melbourne were too scared to go to dinner because of a so-called African gang crisis. And to top it all off, Dutton opposed marriage equality.
The era of Dutton doesn't ring true
Ms Roberts said that GetUp members have been out there talking to Dickson voters, and they share similar concerns. "They value an equal society, where corporations pay their fair share and ensure well-funded schools and hospitals," she explained, adding that they also want more transparency.
The action network director said that the local voters would be very interested to know who the personal donors are that have provided Mr Dutton with the $650,000 in campaign funding.
As GetUp puts it, they're out there connecting with voters door-to-door in the minister's electorate of Dickson trying to prevent Australia from going down that same misguided path that the United States has regrettably stumbled onto with Donald Trump.
"We saw in 2016 that Dickson was ready for change," Ms Roberts concluded. "It's now time to put that into action."
Receive all of our articles weekly