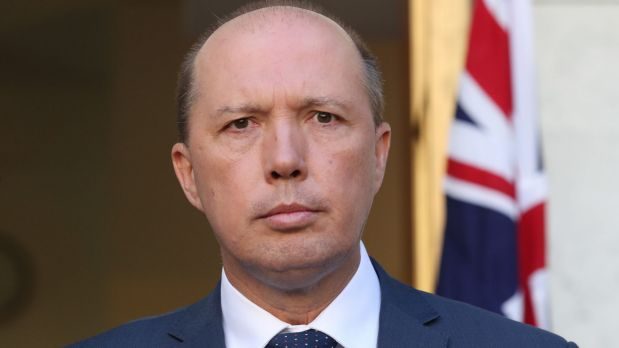 .
As federal Coalition ministers lined up to take a New Year's swipe at the Victorian Labor government's handling of youth crime, home affairs minister Peter Dutton took the opportunity to make yet another attack upon the legal profession.
This time, the minister focused upon the Victorian judiciary.
Dutton partly blamed what he termed "African gang violence" on the appointment of "civil libertarians" as Victorian magistrates.
On January 3, he told radio station 2GB that judicial officers in that state were handing down "jokes of sentences," due to the "political correctness that's taken hold."
Dutton continued his criticisms a week later, when he told Adelaide radio station FIVEaa there's a problem with some of the magistrate appointments made by Victorian premier Daniel Andrews.
The Turnbull government's claim that there's an African gang crisis in Victoria has been repeatedly refuted by local police. However, this idea, along with the Coalition attack on the state's judiciary, has come at a politically expedient time, as a Victorian election is set to take place later this year.
Backlash from law bodies
The day after Dutton's condemnation of judicial appointments, the Law Institute of Victoria issued a media release stating it was "extremely concerned by the ongoing political attacks on Victorian judges, magistrates and the legal profession."
The Law Council of Australia backed up the institute, releasing a statement on January 15 pointing out that Dutton's attacks were eroding "public confidence in the judiciary," as well as undermining the rule of law.
Law Council president Morry Bailes said the criticisms were threatening the "independence of judges and magistrates." He further stressed that while "informed comment" is expected, "politicised criticism" damages the foundations of democracy.
Castigating lawyers
Over the last 12 months, bad-mouthing the legal profession has become a Turnbull government tactic, especially when lawyers or members of the judiciary support positions that are contrary to those espoused by the Coalition. The chief proponent of this strategy has been minister Dutton.
In August last year, the home affairs minister caused outrage when he accused lawyers that represent asylum seekers on a pro bono basis of being "un-Australian." He was unhappy that some law firms were providing free legal representation "as part of their social justice agenda".
Dutton stated on Alan Jones' 2GB radio program that "these lawyers have been playing the game", with asylum seekers as "willing participants." He went on to imply that he and the prime minister were going to bring an end to this practice.
This criticism of lawyers for helping vulnerable people free of charge came at the same time when Dutton announced up to 350 asylum seekers could be issued with "final departure" visas, meaning their welfare payments would be cut off and their accommodation would be taken away.
Further attacks on the judiciary
And in May last year, Dutton lashed out at the Administrative Appeals Tribunal (AAT), which is an independent authority that reviews Australian government decisions.
The minister expressed his frustrations with the tribunal on 2GB for overturning 4,300 visa decisions that had either been made by himself or one of his delegates. He noted that then AAT president Justice Duncan Kerr was a former Labor MP, whose appointment he described as "a frustration we live with."
The AAT reviewed more than 11,300 visa decisions over the 12 months ending in April last year, and rejected 39 percent of them. The issue came to a head when the tribunal blocked attempts to deport six Iranian refugees, who had returned to their country of origin for a period of time.
Then Law Council of Australia president Fiona McLeod condemned the minister for undermining the judiciary, stating that the tribunal members reviewed government decisions "in accordance with law, not personal preference or ideology"
In early June last year, 50 members of the AAT were informed that they wouldn't be reappointed, following the attacks by federal ministers over decisions the government was not happy with.
Chief lawmaker chimes in. Or does he?
Former attorney general George Brandis rebuked minister Dutton for the criticisms he made concerning lawyers who provide their services to asylum seekers on a pro bono basis. Brandis did so during the keynote speech he gave at the International Bar Association conference on October 8.
Taking Dutton to task, Brandis outlined that judicial power shouldn't be subordinated to the executive, and ministers should respect "the rule of law and the authority of the courts." And he stressed that a lawyer's duty could involve "standing up to the powerful."
More recently, Labour has accused new attorney general Christian Porter of failing to stand up for the judiciary following Dutton's fresh criticisms.
Shadow attorney general Mark Dreyfus said Porter had been "missing in action, while his colleagues make shocking attacks on the independence of the judiciary." He further stressed that a key part of the attorney general role is protecting the judiciary and the rule of law.
Defying court authority
However, Dutton isn't the only Coalition minister to have had a go at Victorian judicial officers recently. Ministers Greg Hunt, Alan Tudge and Michael Sukkar barely avoided contempt of court charges last June, after they accused the state's judiciary of being soft on terrorists.
The ministers criticised three Victorian Court of Appeal justices – including former Chief Justice Marilyn Warren – describing them as "hard-left activists" conducting an 'ideological experiment," over comments that they made during the appeal of two convicted teenage terrorist offenders.
The Commonwealth Director of Public Prosecutions had brought the appeal, requesting the offenders be given longer sentences. And the comments of the federal ministers were made prior to the appeal court delivering its orders.
Both men were subsequently given heavier sentences on June 23 last year. And Chief Justice Warren warned that three Coalition ministers only avoided trial after they issued a last minute apology for the comments they'd made.
A balance of powers
So, it seems that the Turnbull government is currently conducting an assault upon the judiciary, and indeed, the legal profession a whole, in attempt to undermine public confidence in the ability of the courts.
However, whilst Dutton, and other ministers, make these attacks due to fears that the judiciary is not in alliance with the Coalition government's party line, their short terms gains could have far lasting effects for the nation.
The foundations of Australian democracy rest upon the autonomy of the judiciary, as one of the three independent arms of government, along with the legislature and the executive. And weakening the judiciary's authority would damage the rule of law.
And once that principle is eroded, re-establishing it would be quite a task.
Receive all of our articles weekly
Authors
Paul Gregoire
Paul Gregoire is a Sydney-based journalist and writer. He has a focus on social justice issues and encroachments upon civil liberties. Prior to Sydney Criminal Lawyers®, he wrote for VICE and was the news editor at Sydney's City Hub.