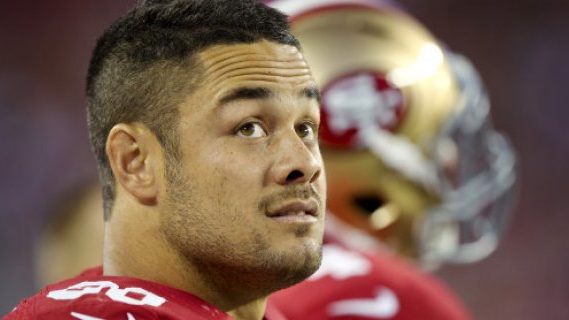 NRL star Jarryd Hayne could have a protracted and complicated legal battle ahead of him, now that civil proceedings have been filed in California's Supreme Court, by a woman accusing him of sexual assault.
He said, she said
Hayne met the woman, known only as 'Ms V', at a bar in California in December 2015 while he was in playing for the San Francisco 49ers.
After a night of drinking, the woman voluntarily accompanied Hayne to his home in San Jose, California.
The woman says she was extremely intoxicated and doesn't remember travelling to Hayne's apartment, or what happened next. She recalls waking up in pain, next to a pool of blood.
In her lawsuit, the woman accuses Hayne of sexual battery, gender violence, emotional distress and negligence.
Her lawsuit claims she intended to save her virginity until marriage, and had 'that decision taken away from her' by Hayne's conduct, which has had a 'huge impact on her and her psyche.'
According to her lawyers, she had the presence of mind to take Hayne's underpants from his apartment when she left the following morning, in case they were required for testing, but was initially too scared to report the incident. The claim says she only went to police after suffering months of ongoing pelvic and vaginal pain.
After an initial investigation in mid-2016, police refused to press criminal charges against Hayne due to insufficient evidence.
'Implied consent'
The footballer has repeatedly and vehemently denied the allegations, and his legal team has formally filed documents in the Santa Clara Superior Court defending the allegations.
The papers contend that the woman gave 'implied consent' by following him out of the bar and ordering an Uber on his phone, to his apartment.
The documents say that at no time did Hayne have reason to believe the encounter was anything but consensual, stipulating that Hayne "not aware [Ms V] objected to any" of the sexual activities that occurred.
Hayne admits the pair had sexual interactions, but says there was no intercourse, and that the next morning, Ms V had a 'cordial' conversation with a friend who was in his apartment at the time, before leaving.
His defence points out that there was no to him, and that the complaint to police was delayed several months.
Probable cause versus reasonable suspicion
In the United States, police must establish 'probable cause' before they can charge a person with a criminal offence.
This means they are unlikely to press charges based upon a mere complaint – other corroborating evidence is normally required to meet this test.
The situation is very different in New South Wales. Here, police merely need a 'reasonable suspicion' that an offence took place – and charges are often brought based solely on a complaint being made, without any supporting evidence.
So, police in the US will often ordinarily conduct appropriate investigations – like they did in Hayne's case – before deciding whether to press charges, whereas in NSW, police will often bring criminal charges and then spend months trying to gather evidence to support those allegations.
The situation in the US may be described as an 'ask questions and then shoot' approach, whereas in NSW police are empowered to 'shoot first and ask questions later'.
To make things worse for defendants in NSW, tough bail laws mean those accused of sexual assault offences will need to prove to the court that they are not an unacceptable risk to the community – or even have to pass the more stringent "show cause" test – in order to be released on bail awaiting the police investigation and ultimate finalisation of their cases.
This can take months or even years, and has resulted in the ballooning of people held in prison on remand awaiting the disposition of their cases, many of whom are innocent and will ultimately have their cases dropped or thrown out of court.
Evidently, the US legislature places far more importance on the presumption of innocence and right against detention without proper cause than we do in New South Wales.
Perhaps Mr Hayne is fortunate to have been in accused in California rather than here, although the civil proceedings remain on foot.
Civil suit
The US civil suit is claiming both compensatory and punitive damages for the alleged conduct.
Compensatory damages may seek money for f such things as: medical bills, psychological counselling, lost wages, lost earning capacity, pain and suffering, loss of enjoyment of life, scarring, insomnia, anxiety, and/or emotional distress or trauma.
Punitive damages are intended to punish a defendant over and above the damage caused, and to deter others from engaging in similar conduct.
 What's next for Hayne?
American lawyers explain there may be a long legal battle ahead for Hayne.
Mediation is set down for next month – it is the first part of the judicial process. If the case is not settled out of court and eventually proceeds to trial, it could be heard by a judge alone or by a judge and jury.
In the meantime, Hayne plays his 200th game today with the Parramatta Eels. While the allegations against him are now firmly in the global public eye, he has been chastised by the NRL for not disclosing them sooner – when her first returned to Australia.
The NRL Integrity Unit is now monitoring the legal proceedings.
Receive all of our articles weekly
Author
Sydney Criminal Lawyers
Sydney Criminal Lawyers®
is Australia's Leading Criminal Defence firm, Delivering Outstanding Results in all Criminal and Driving cases. Going to Court? Call (02) 9261 8881 for a Free Consultation.