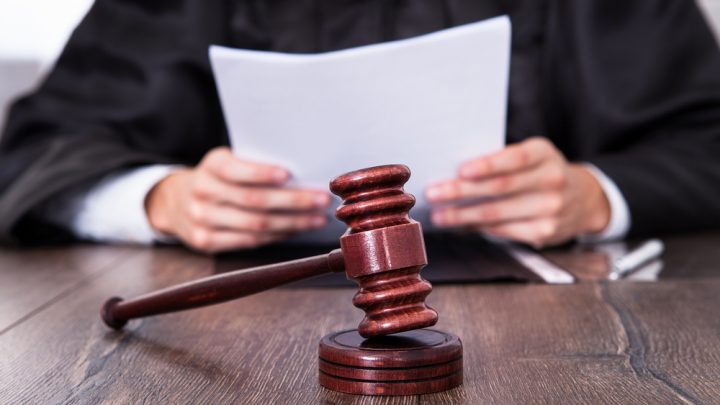 It started as a routine hearing, but ended with the defendant facing contempt of court charges, and the judge also facing possible disciplinary action over a heated exchange that included profanities and vulgar insults.
Denver Fenton Allen, accused beating a fellow inmate to death last year while they were both inmates at the Floyd County Jail, was appearing in court before Judge Bryant Durham requesting a new public defender. The hearing lasted less than 20 minutes. The judge rejected Allen's request, and Allen said he would represent himself. Shortly after this, the obscenities began to fly.
The two men traded insults, with Allen swearing and making sexually graphic comments, even going so far as threatening to masturbate in front of the court.
A part of the court transcript is as follows:
Durham: I — I am finding — I'm finding you in contempt of court," Durham said, after Allen made an obscene comment.
Allen: I don't care.
Durham: I know you don't. And I sentence you to 20 days for that. And if you say anything else, I'm going to add 20 days for everything you say.
Allen: Fuck you.
Durham: Forty days.
Allen: Fuck you again.
Durham: Sixty.
Allen: Go fuck yourself.
Durham: A year.
Allen: Your mama.
Durham: Ten years.
Durham: "You know something, this is going to be an interesting trial."
The conversation continued to spiral down from there, as the men escalated their verbal exchange.
At one point the judge said to Allen: "You know, you look like a queer."
"Well, okay," Allen responded. "So now you're calling me a queer in the courtroom."
"I didn't call you one," Durham said. "I said you looked like one."
Judge calls defendant 'dumbass'; Defendant makes death threat
As the clash dragged on, Durham eventually told Allen that he had a "constitutional right to be a dumbass."
Most of the courtroom attendees responded with mild banter, but the mood became sombre when Allen issued a threat to kill the judge's family, saying:
"How about this? I'll kill your whole family. When I get in this trial, I will murder your whole family. I'll cut your children up into pieces. I'll knock their brains out with a fucken hammer and feed them to you."
"Are–are you taking this down?" Durham asked a court reporter, who confirmed the conversation was being recorded. He later told Allen that he did not have any children. Allen then threatened his nieces and nephews.
The full transcript including obscenities and crass language has been published by US Law blogger, Keith Lee.
Judge could face disciplinary action
While Allen is charged with contempt of court, the judge's comments could also result in disciplinary action.
The Atlanta Journal-Constitution reports:
"The judge, while provoked in the extreme, made comments that could land him in trouble with the state judicial ethics agency.
He not only exchanged vulgarities with Allen, he also said it was his "guess" that he'd find Allen guilty and that Allen would find out 'how nasty I really am.'"
Judges are expected to remain calm and professional when in the courtroom, no matter how much they are provoked. They are required to remain impartial and refrain from using obscene language.
In Australia recently, Sydney magistrate David Degnan found himself in hot water after calling into a popular breakfast radio talkback programme and voicing his opinion about aspects of the Australian judicial system.
However, back in Georgia, as Judge Durham wrapped up the hearing, he called Allen "stupid" and said he had "no idea of the English language."
As Allen was taken from the courtroom, he looked over his shoulder and told everyone present he would subpoena them.
Receive all of our articles weekly
Author
Sydney Criminal Lawyers
Sydney Criminal Lawyers®
is Australia's Leading Criminal Defence firm, Delivering Outstanding Results in all Criminal and Driving cases. Going to Court? Call (02) 9261 8881 for a Free Consultation.