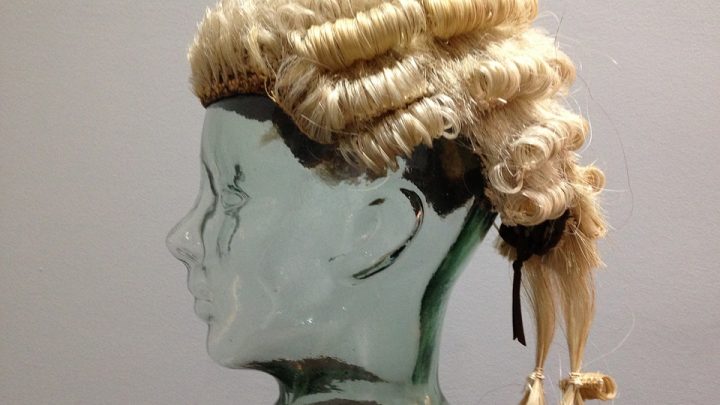 The barristers' wig is slowly but surely becoming a thing of the past.
Victorian Chief Justice Marilyn Warren has officially banned wigs across all courtrooms in the southern state, saying they are outdated and no longer relevant.
The ban was effective from May 1, but last week a Supreme Court Judge reprimanded five barristers for wearing them in a Melbourne courtroom.
Judge Kevin Bell refused to hear barristers when a trial opened on Tuesday. He suspended proceedings until the barristers removed their wigs.
"You are not showing, and neither are your colleagues showing, the respect that I expect of the Chief Justice from you and I want to record my profound disappointment," he said.
One of the senior barristers said he meant no disrespect, but Justice Bell continued his tirade:
"Well I want to make it clear to you that it's not a question of respect for me, though I do feel disrespected. Whether you intend that disrespect or not, and I accept the fact that you do not intend it and that you are wearing wigs by ­reason of principle, but I experience disrespect.
"But the more important question is how this treats the Chief Justice, not only of this court, but this state …
"She is the constitutional chief of the judicial system of Victoria and has directed that judges not wear wigs, and you five stand there wearing wigs — it's untenable."
Wigs or No Wigs
Many courts have banned wigs and robes, but opinion is divided. Those in favour of the age-old official dress, say it enforces solemnity and a sense of authority in the eyes of those who might otherwise devalue the law, plus it has the more practical benefit of helping disguise the courtroom players against revenge.
Others say it helps identify the roles of those inside the courtroom, so anyone can determine 'who is who' during the proceedings.
On the other hand, those who would like to see wigs and robes abandoned, say they're too formal and intimidating, and make lawyers and judges seem out of touch with the rest of the community.
In banning the wig, the Victorian Chief Justice said: "This is a modern court and the abolition of wigs is all part of the progression towards a modern way."
Many countries are debating this same issue. In other modern countries such as Canada, the US and many parts of Europe, wigs and robes have not formed part of the traditional garb of barristers and judges for a long time, if ever.
Even countries that did have the robe and wig, such as Ireland and New Zealand, have now abolished them. However in England, wigs are still worn in criminal cases, as they are in New South Wales.
Australian lawyers adopted wigs and robes as court attire because it originated in England, where our justice system also originated from. In the UK, judges have been wearing robes since the 14th Century, but wigs were not introduced until much later. The costumes have no real significance in the justice system. English judges and barristers began wearing wigs and robes simply because everybody in polite society was wearing wigs and robes at that time – they were, for the 'upper classes', the absolute height of fashion.
With a ban being enforced in Victoria, wigs may soon become relics from the past, seen in museums and displays rather than courtrooms.
Receive all of our articles weekly