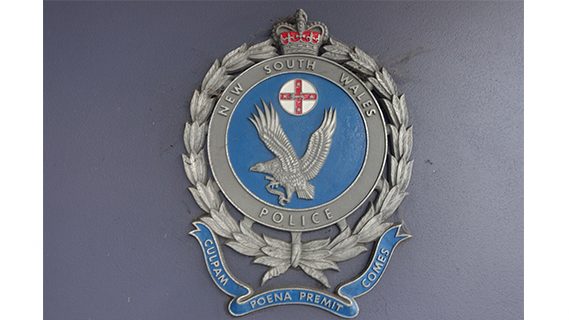 A Sydney police officer has been arrested and charged with a range of child sex offences, including attempted sexual intercourse with a child under 10, two counts of sexual intercourse with a child aged between the ages of 10 and 14, aggravated indecent assault and grooming a child under the age of 14 for sex.
43-year old senior constable Dean Perkins was employed by the NSW Police Force as a youth liaison officer, tasked with warning school children about the dangers of online predators.
He would visit schools and advise children about how to protect themselves against online threats, including adults who contact kids online for sex.
One school wrote that his "presentations were well received by all staff and students, as we hope to inform and protect our students in the changing online world".
It is alleged the offences occurred over the course of a decade, between 2007 and this year.
The 16-year veteran of the force was suspended from duty and refused bail in Penrith Local Court.
His matter was adjourned until 21 December 2018 and police are in the course of preparing a brief of evidence to serve upon his lawyers.
Unless the most serious charges against him are withdrawn, the officer's case will ultimately progress to Penrith District Court for determination by a jury.
Child sexual offences
The laws and maximum penalties relating to child sexual offences in NSW are contained in the Crimes Act 1900 (NSW) ('the Act')
Section 66A of the Act prescribes a maximum penalty of life imprisonment for anyone who has sexual intercourse with a child under the age of 10 years.
Subsection 66A(2) make it clear that any 'person sentenced to imprisonment for life for an offence under this section is to serve that sentence for the term of the person's natural life.'
Section 66B states that a person who attempts to have sexual intercourse with a child under 10 is liable to a maximum penalty of 25 years in prison. This is one of the charges levelled against officer Perkins.
That offence also carries a 'standard non parole period' of 10 years, which means a court is required to use that term as a guidepost or reference point when determining the time spent behind bars (known as the 'non parole period') before becoming eligible to apply for release into the community on parole for the remainder of the sentence.
Section 66C(1) sets down a maximum penalty of 16 years' imprisonment for a person who has sexual intercourse with a child between the age of 10 and 14.
'Sexual intercourse' is defined by section 61H of the Act as:
sexual connection occasioned by the penetration to any extent of the genitalia of a female person or the anus of any person by any part of the body of another person, or any object manipulated by another person, except where the penetration is carried out for proper medical purposes, or
sexual connection occasioned by the introduction of any part of the penis of a person into the mouth of another person, or
cunnilingus, or
the continuation of any of the above.
Section 77 makes clear that a child under the age of 16 years is not capable of giving consent to sexual intercourse; in other words, the fact a child 'agrees' to the act is not a defence.
Section 66EB(3) prescribes a maximum penalty of 12 years in prison for a person who exposes a child under the age of 14 to indecent material or provides the child with an intoxicating substance, with the intention of making it easier to procure the child for unlawful sexual activity.
The section applies to 'fictitious children' – such as a police officer pretending to be a child – and makes it a defence where the defendant 'reasonably believed' the other person was not a child.
Section 61M makes it an offence punishable by 7 years' imprisonment, or 10 years in the case of a child is under the age of 16, to 'assault… another person in circumstances of aggravation, and, at the time of, or immediately before or after, the assault, commit… an act of indecency on or in the presence of the other person'.
The Act does not provide a definition of 'act of indecency' or contain a list of actions which may constitute such conduct, but the case-law makes it clear that it must have some sort of sexual connotation such as exposing the genitals, touching private parts of the complainant or self, or engaging in sexual exhibitionism.
The relevant circumstances of aggravation are listed in subsection 61M(3) as where:
two or more people were present at the time of the alleged offence,
the complainant was under the defendant's authority,
the complainant has a cognitive impairment, or
the complainant has a serious physical disability.
Presumption of innocence
It is important to bear in mind that the officer is presumed to be innocent until and unless he is found guilty by a court of law.
In that regard, the allegations are just that– allegations – and it should be remembered that charges can be brought by police against any person based upon a mere 'reasonable suspicion' of an offence having occurred.
The basis of that suspicion can be, and often is, little more than a complaint by an alleged victim – and complaints can, and often are, brought mistakenly, maliciously or otherwise influenced by outsiders with ulterior motives.
It is also important to keep in mind that the prosecution that bears the onus at all times to prove every element (or ingredient) of each offence beyond a reasonable doubt and, if it is unable to do this, the defendant is entitled to an acquittal.
It should also be said that in criminal cases like these, the defendant may have any number of legal defences available, and the applicability of any such defences should be considered by legal representatives.
Receive all of our articles weekly